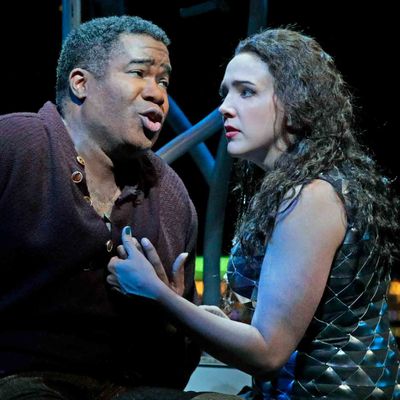 From L'amour de loin at the Met.
Photo: Ken Howard/Metropolitan Opera
Sixteen years after its world premiere, Kaija Saariaho's opera L'amour de loin has finally blown into the Metropolitan Opera like a breeze in a silk emporium, all iridescent flutterings and ravishing mystery. The plot is skeletal, bordering on nonexistent: A French troubadour, Jaufré, hears tell of Clémence, a beautiful lady in Tripoli, and falls in love with his fantasy of her. He sails across the Mediterranean to meet her, falls ill on the voyage, and dies in her arms. That's it. And yet those scant events generate music that's unlike anything I know yet is also strangely familiar, filtering the intoxicating languor of Debussy and the ecstatic jangle of Messiaen through fresh, sparkling mists of orchestration. Saariaho has produced a profoundly exotic score, not by trotting out souvenir-shop Orientalism or snaky Byzantine scales, but by fashioning a tapestry of dreams and allusions that would evoke lost horizons no matter where or when you happened to hear it. Jaufré and Clémence communicate through song across miles of open sea, and the music is heavy with distance.
Saariaho has said that as a female composer, she identifies with both the lady and the troubadour, and the Met's cast gives ideal voice to all her creations and alter egos. Eric Owens sings Jaufré with touching seriousness and vulnerability, his supple, tender baritone sliding over the syllables of Armin Maloof's libretto. As Clémence, Susanna Phillips does honor to a female character of rare spine and depth. Like a wartime nurse watching over a wounded soldier, she lets herself be mesmerized by the ardor of a dying man, and in Phillips's timbre you can hear skepticism softening into curiosity and then full-throated love. Tamara Mumford sings the Pilgrim who sails back and forth across the Mediterranean, her gentle but muscular voice like a chain across the water.
Despite the abstract atmospherics and the sheen of antiquity, the opera has a visceral immediacy. It's hard to watch two men drift southward across the Mediterranean in a frail vessel without thinking of the multitudes who have followed the same trajectory in reverse. At first, the journey seems pointless and punishing. Though the Pilgrim has made it many times with ease, the troubadour, who has spent his life cooing behind battlemented walls, cannot endure the limitless sea. Jaufré, who usually sings with incantatory solemnity, spits out his lines in an anxious jitter: "I'm afraid of not finding her, and I'm afraid of finding her. I'm afraid of being lost at sea before reaching Tripoli, and I'm afraid of reaching Tripoli. I'm afraid of dying, Pilgrim, and I'm afraid of living. Do you understand me?" We do, we do — if only because Saariaho puts flesh on those terrors: pairs of fortissimo drumbeats and brassy snarls that shoot up from the depths of the orchestra pit.
When he does arrive on the shores of Tripoli, so sick he can barely stand, let alone properly court a woman he has never met, Owens's Jaufré regains his composure and command of his voice. "Here you are before me," he marvels in urgent, lilting melody haloed by a murmuring chorus and washed in the steady lapping of strings. Doomed love is a grand opera staple, but Saariaho's version lingers on the poignancy of desire. The Pilgrim points out that loss gives meaning to joy: If not for your imminent death, he tells Jaufré, Clémence might have remained out of reach. "The air you breathe would not be suffused with her perfume."
The director Robert Lepage tries to match the score's iridescence by stretching strips of Christmas lights across the stage to form twinkling waves of LEDs. The chorus bobs among the luminous undulations, a canoe cuts through them and the principal characters hover above them, borne on a flying gangplank. That machine is one fancy piece of stage business. A truss rests on a massive center hinge so that it can swivel, tilt, and glide slowly across the stage. In computer simulations it must have looked magical and weightless. In real life the cumbersome piece of equipment undercuts the lightness of the score.
Like Wagner's Das Rheingold, which opens at the bottom of the Rhine, and Debussy's Pélléas et Mélisande, which takes place at the edge of an ominous pool, L'amour de loin is full of liquid music. Saariaho has a fine feel for the fluid dynamics of music. She conjures currents, surf, spray, and geysers, not with picturesque clichés but with a ceaseless, phosphorescent sea of sound.
Nothing would kill this opera deader than a clumsy conductor; fortunately, Saariaho's fellow Finn Susanna Mälkki summons the score's swells and undertows with Poseidon-like powers. In this first Met engagement — as in her New York Philharmonic debut last year — she proves herself an indispensable marvel, drawing clarity and brilliance from the score's complexities. Both organizations passed her over for the job of music director (allowing the Los Angeles Philharmonic to nab her as principal guest conductor), so they should at least make sure she returns on a regular basis. In hiring her, the Met fielded only its fourth-ever female conductor — and had her lead the second opera by a woman (and the first in more than 100 years) ever to reach its august stage. I hope the Met doesn't consider its commitment to gender equality duly fulfilled.
L'amour de loin is at the Metropolitan Opera through December 29.