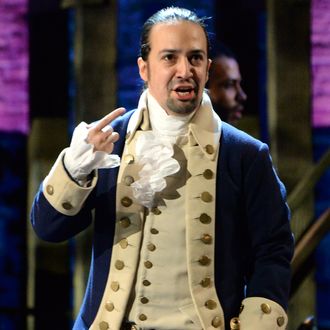 Photo: Kevin Mazur/Getty Images for Tony Awards Productions
As it turns out, that weird guy you saw in the bright blonde wig, coke-bottle glasses, and fake handlebar mustache staring at President Obama throughout the entirety of Hamilton was not, as you assumed, a potential security threat. It was Lin-Manuel Miranda! Hope the musical's creator and former leading man was okay with Questlove just absolutely blowing up his spot, because now the world knows Lin-Manuel Miranda used to purposely invite celebrity guests to Hamilton so he could watch their reaction to the show … while in disguise. As Questlove told Entertainment Weekly :
"Whenever a high-profile celebrity would come, or someone of Obama's caliber, Lin would not do Hamilton. So there's a whole bunch of high-profile people like the president, and Oprah, [where] Lin would rather watch them watch the show. Obama's never seen Lin as Hamilton, which is crazy to me. Lin sat in disguise. That's how much of a nerd and dweeb Lin is. He kept tabs on everyone who watched — who got the jokes, who laughed the most, who didn't get the jokes. Even the one high-profile celebrity that was on their phone more than they were watching the whole play. I would never name that because that person is very close to me. I don't want to air them out! For real, he was like, 'This one yawned at this part. This one was sleepy but I forgave them because I knew they were on a long flight. This one gave it three standing ovations.' I'm like, 'Yo. Are you trying to tell me that every time somebody important was in the audience, you had your stand-in do it?' He's like, 'Yep. Exactly.'"
So congratulations, Questlove. Looks like we know who will be serving as the Aaron Burr in Miranda the musical.