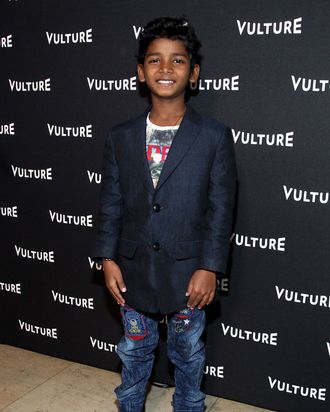 Sunny Pawar at the Vulture party in LA.
Photo: Tommaso Boddi/Getty Images
Dev Patel might be getting the Oscar buzz for his emotional role in Lion — a film based on the true story of a man named Saroo who was separated from his family as a boy in India only to be adopted by an Australian couple — but it's his co-star Sunny Pawar, who plays his younger counterpart, that's winning everyone's hearts. His presence at last night's Vulture Awards Season party at the Sunset Tower Hotel was no exception. Vulture chatted with the 8-year-old while he was getting a piggyback ride from his translator. "Very nice!" he said in English, when we asked him what it felt like to try out for the role. "I was scared during the auditions," he continued in his native Hindi, speaking through his translator. "But I'm a brave, brave, brave boy." And he was quick to name his favorite parts about filming: "The spoon scene, the train scene, and all the running scenes." Is that because he likes to run? "Of course!" he exclaimed in English before graciously offering a parting handshake, still perched on his translator's back.