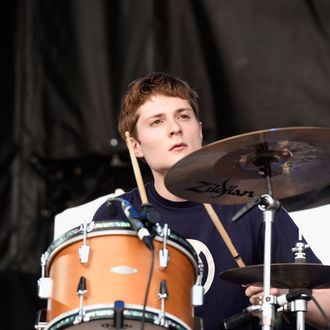 Spencer Tweedy.
Photo: Stephen J. Cohen/Getty Images
If you're a longtime fan of Wilco, you've probably watched the great 2002 record-as-metaphor documentary I Am Trying to Break Your Heart, in which the band's internal struggles mirror the struggles of its front man and of the recording industry at large. In the black-and-white film, there's much to quietly appreciate; however, a truly wonderful and emotional moment is the sight of Wilco front man Jeff Tweedy sitting with his then very small son Spencer on the band's bus. The two spend a few moments playing a game where Spencer "drums" on his legs and his father takes turns guessing which of Wilco's songs the boy is metering out. Aside from being super-cute, the moment was interesting in another sense: That little tiny kid could definitely keep rhythm.
To those of us who held that sweet moment in our hearts, it was no surprise when, years later, Spencer Tweedy became an excellent drummer. Later still, when he and his father joined forces as Tweedy, it also made sense. And so now, it is with delight (but not too much shock) that we can announce that the little drummer boy has released his first solo EP via Bandcamp, on his 21st birthday to boot, as Pitchfork reports. Cheers to that, Spencer. Listen to Geezer Love, below, and buy it for $4 if you're inclined to help a cool musical kid out on his birthday.