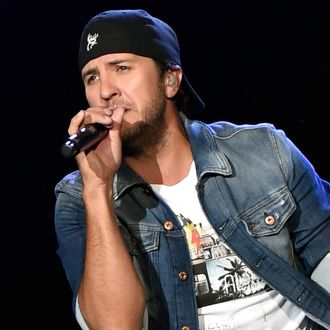 Photo: David Becker/Getty Images
Luke Bryan just took a page from fellow country star Beyoncé's playbook: Sorry, he ain't sorry. The singer has released a statement to The Hollywood Reporter addressing Wednesday night's concert kerfuffle, in which he sang and shimmied to "Move" during a performance for Charlie Daniels's all-star Volunteer Jam in Nashville and appeared to briefly step down from the stage to punch a man in the front row:
Bryan's statement clarifies everything but his own hit, positing that it was the venue's security that stepped in to handle the rowdy fan, not Bryan's fist:
"A man in [the] front row was making crude hand gestures toward Luke during his performance. It was insulting not only to him, but more importantly to the men, women and families sitting around him who were there to support and celebrate Charlie Daniels and the efforts of raising money for the military veterans — some of who were in the audience. The concert security personnel saw the man's disruptive actions of the event and he was escorted out."
Hecklers be warned: If you show up at a Luke Bryan show, be prepared to catch these hands.