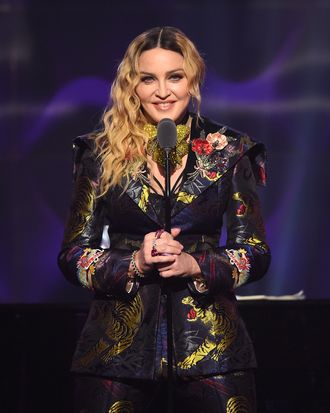 Madge herself.
Photo: Nicholas Hunt/Getty Images for Billboard Magazine
At the Billboard Women in Music Awards on Friday night, Madonna was presented with the "Woman of the Year" statue. In a long and heartfelt — but also caustic and funny — speech, the 58-year-old entertainer touched on a lot of themes that have pervaded her career: misogyny, power, New York City, spirituality (remember when she was way into Kabbalah?), and, of course, music. Lots of music. From 1982 onward. After setting the tone by straddling the mic stand and saying, "Ah, I always feel better with something hard between my legs," she was off, adding, "I stand before you as a doormat. Oh, I mean a female entertainer."
Through the bulk of her speech, a celebratory-yet-feminist tone pervaded; that she could be in this business for this long and still be here was a point of personal pride. "Michael is gone, Tupac is gone, Prince is gone, Vicki is gone, Amy Winehouse is gone. David Bowie is gone. But I am still standing," she said, citing Bowie as an influence in her early career, mainly for his playfulness with gender. But, she soon realized, that playfulness was afforded more to men than women: "He made me think there were no rules," she said of the late glam icon. "I was wrong. There are no rules if you're a boy."
This continued throughout her career, she noted, especially upon the release of her Sex book and Erotica album. She saw the press reaction as laden with misogyny. "I was called a whore and a bitch. One headline compared me to Satan," she said. "I said, 'Wait a minute, isn't Price running around with fishnets and high heels and lipstick and his butt hanging out?' Yes. He was. But he was a man. This was the first time I truly understood that women really did not have the same freedom as men."
The internet and technology have subsequently added another layer of scrutiny for women in the business, she added. But Madonna, ever the innovator, had a solution. Before closing out her speech by thanking both her supporters and "doubters, naysayers, anyone who gave me hell" alike, she advised women to proceed in the spirit of collaboration:
As women, we have to start appreciating our own worth and each other's worth, seek out strong women to befriend, to align yourself with, to learn from, to be inspired by, to collaborate with, to support, to be enlightened by. True solidarity amongst women is a power all on its own and no opposing force stands a chance in the face of the solidarity. But women need to feel secure and trust themselves, to believe in themselves. And when you do, you will be unstoppable.
Additional reporting by Hilary Sheinbaum.