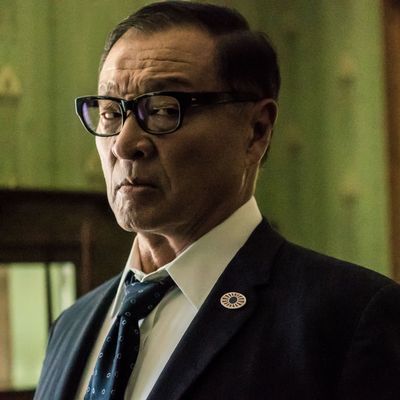 Cary-Hiroyuki Tagawa as Nobusuke Tagomi.
Photo: Liane Hentscher/Amazon
Who would've guessed that most transitional, slow-paced episode of the season so far would be called "Escalation"? This is a surprisingly sluggish one, despite a pair of noteworthy developments: a terrific sequence in a train station that recalls some of the great noir directors, and the introduction of a new character who will clearly be a major player in season two.
As the episode opens, Tagomi (Cary-Hiroyuki Tagawa) is harnessing his Neo-esque powers to meditate his way to an alternate universe. He soon discovers he's reached a plane of existence — or whatever it may be that he's doing — where his wife is still alive. As he stands in a living room and sees her pull up outside, we can hear his heart racing. She isn't dead anyway. He closes his eyes again, and he's back in the real world.
From there, the first half of the episode jumps around brief scenes with many of our major players. In New York, Mrs. Adler comes over to tell Mrs. Smith that her husband had a heart attack. Of course, we know that Smith (Rufus Sewell) killed him to avoid having to murder his own son. In Berlin, Joe Blake (Luke Kleintank) fights with his father, who claims that Joe's mother was the one who created the divide between father and son. In the Pacific States headquarters, Tagomi and Onada (Tzi Ma) continue to fight over strategy: Onada wants war, while Tagomi knows peace must be maintained. Finally, in San Francisco, Ed (DJ Qualls) notices the news that Reinhard Heydrich is retiring. Reading between the lines, Ed realizes they want Hitler gone next: "Once Hitler's out of the way, the Nazis are going to level this place with an A bomb." At the same time, Frank (Rupert Evans) is scrambling to get supplies and the Kempeitai are taking revenge on innocent civilians for the guard Frank killed. The Resistance kill one; the Kempetai kill ten. That's how the fight goes.
Joe Blake is hanging out with Nicole Becker (Bella Heathcote), his new burgeoning love interest. He tells her how he wants to return home and work construction and live a normal life. She knows he can't. She tries to remind him that his father is only trying to do right by him and the Reich, but Joe doesn't want to give him another chance. Can Joe Blake's soul be saved? Or is he the future of the Nazi party?
Meanwhile, Juliana (Alexa Davalos) goes to Smith's house to study for a citizenship test known as the ACT. She meets with Thomas, Smith's son, who asks what the Pacific States are like, and wonders if she's been a victim of propaganda. Naturally, he then quizzes her on "Civics," which is basically just Nazi propaganda about the greatness of the Führer.
Back on the West Coast, Sarah (Cara Mitsuko) tells Frank that the Resistance needs his help retrieving explosive material from a bomb found in a building after the war — and they have to do it today. Ed agrees to help, but he's hesitant. "If we mess this up, we're all going to die," he says. It'd be stressful to be friends with Ed. While they work on the bomb, he looks like he's going to pass out from fear.
Julia goes looking for George Dixon, the man from the only "magical film" in which nuclear annihilation is avoided. He's nowhere to be found, but someone spots her on the stairs and shouts her name. A great sequence unfolds in which Juliana's pursuer chases her through a train station. It's something Carol Reed or Alfred Hitchcock would have liked, and it suggests that The Man in the High Castle should embrace noir visual language more often than it does. Why not openly crib from filmmakers like John Huston? It might give the show more of the style it so desperately needs, while possibly offering a spin on a genre that rose to prominence after a war that ended differently in this world. Anyway, the train-station sequence ends in a kiss and a shoot-out, but Juliana escapes.
Back to Sarah, who shares some background with Frank as they draw closer together. Defiance turns Frank on, and it's not long before they're ripping each other's clothes off. Joe has a new love interest. Frank has a new love interest. As for Juliana? She just gets stuck with Smith's dying kid. Regardless, it's fun to see a little heat on what is often a very cool show.
While Sarah and Frank are getting turned on by explosives, Kido (Joel de la Fuente) is manipulating Onada. They're at the club we previously saw in episode two, and Onada is drunk and belligerent. Kido wants to talk about the films, but Onada just wants to set the world on fire. Before they go, Kido gets Onada to stamp something that he probably won't remember. His lady friend who works there notices.
As the episode ends, Smith confesses to his wife that he killed Dr. Adler to protect their son. Juliana gets a call from a mysterious man in the street below her apartment — it's George Dixon. "I hear you've been looking for me," he says. Finally, Tagomi mediates his way to the other side. Skyscrapers give way to cherry blossoms and he sees his wife in the window.
Other Notes:
After calling for stronger female characters, I'm happy to see Bella Heathcote and Cara Mitsuko getting more attention in this episode. Keep it up, High Castle — and don't just use these characters as plot devices.
Speaking of guest stars, George Dixon will be played by Tate Donovan! He's great and I look forward to seeing what he brings to the show.
We spent way too much time spent in the basement with the bomb. It should have been tense, but it only dragged.
When Smith looks at a map, a quick shot reveals that continents have been literally renamed. Africa, for example, is now Amazonia. I love these little world-building details.
A chilling thought to consider: Adolf Hitler is keeping this world stable. There have been several suggestions that he's the one keeping the peace, and his death would spark immediate chaos.
Wesley Strick wrote this episode! He was once a powerful name in Hollywood, writing hits in the '90s like Arachnophobia, Cape Fear, and Wolf. Things went a little downhill with the big-screen version of Doom and the remake of A Nightmare on Elm Street, so it's nice to see him back in the saddle.