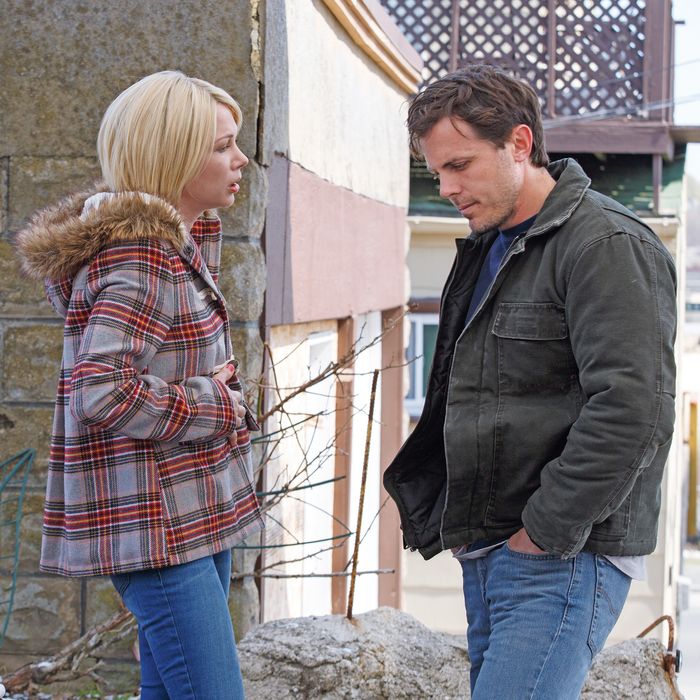 Michelle Williams and Casey Affleck in Manchester by the Sea.
Photo: Claire Folger/Courtesy of Amazon Studios and Roadside Attractions
The Main Story
While Manchester by the Sea isn't exactly the feel-good movie event of the holidays — you'll feel many things while watching it, but "good" probably isn't one of them — that doesn't seem to be hurting it at the box office. In its third weekend of limited release, Kenneth Lonergan's ecstatically reviewed drama took home an estimated $2,363,500 from just 156 theaters, good for an excellent $15,151 per-theater average. To put that in perspective, Manchester is now out-pacing Moonlight, which did a smaller per-theater number, in just over half as many theaters, on its third weekend; when Moonlight did cross the 150-theater mark, its average was about half that of Manchester's despite its near-record opening.
It's safe to say that both movies are the hits of the awards season so far, and this showing bodes well for Manchester's legs, Casey Affleck's Oscar chances, and Amazon Studios' year, which now includes three bona fide successes (Manchester and Whit Stillman's Love & Friendship, co-released with Roadside Attractions, and Woody Allen's Café Society, distributed by Lionsgate) to go along with some less-lucrative performers (Nicolas Winding Refn's The Neon Demon and Kate Winslet period piece The Dressmaker, both handled by Broad Green, and Todd Solondz's IFC Films release Wiener-Dog among them).
What Else Happened?
The top six looks very familiar, with the same films from last week returning — Moana at No. 1 with just over $28 million, trailed by Fantastic Beasts, Arrival, Doctor Strange, Allied, and Trolls — except that Arrival and Doctor Strange swapped places, the former climbing to No. 3 and the latter falling to No. 5. That's very good news for Denis Villeneuve's heady sci-fi drama, which added almost 500 theaters in its fourth weekend, crossing the $100 million mark worldwide. It's also encouraging for Paramount, which has otherwise endured a difficult 2016: The studio is sixth among the big six in total gross, and Allied, its Brad Pitt–Marion Cotillard WWII romance, won't even come close to earning back its budget domestically, despite a better-than-expected hold this weekend. But early reviews of Martin Scorcese's Silence are rapturous, and Denzel Washington's Fences is also on the horizon, meaning that Paramount at least has a chance to end the year on a few high notes.
The one other performance of note comes from Jackie, Pablo Larrain's chronicle of Jackie Kennedy's first few days following the assassination of her husband. Natalie Portman's performance in the title role has been an early leader in the Best Actress clubhouse, and its opening numbers are strong, with a $275,000 gross from five theaters, good for a $55,000 average. That's a welcome result for distributor Fox Searchlight, which has turned its awards-season hopes toward the film after The Birth of a Nation crash-landed.