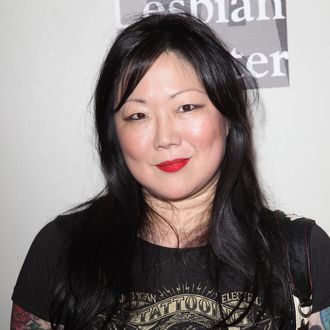 Photo: F. Sadou/AdMedia/Corbis
This week, comedian Margaret Cho was a guest on Bobby Lee's popular TigerBelly podcast, where she revealed she had numerous private email correspondences with Tilda Swinton in regards to Doctor Strange's whitewashing controversy over Swinton's casting as the Ancient One. ("Tilda eventually emailed me and she said that she didn't understand why people were so mad about Doctor Strange and she wanted to talk about it, and wanted to get my take on why all the Asian people were mad," Cho said. "It was weird because I felt like a house Asian, like I'm her servant.") In response to Cho's comments, Swinton's representatives released the unedited and only conversation between the two women, which consists of five emails dating from May. The tone of the emails offered a different account of how Cho described it on the podcast, with the women thoughtfully discussing Strange's casting choices and whitewashing in the film industry.
Vulture reached out to Cho's representatives for comment regarding the release of the emails, and received the following response from Cho: "Asian actors should play Asian roles. I believe my emails stand on their own and should be taken for the spirit in which they were intended. I am grateful that the debate has now entered the national discussion and remain a huge fan of Tilda's. Now I'm going to go fall asleep at a museum." The emails, in full, can be read here.