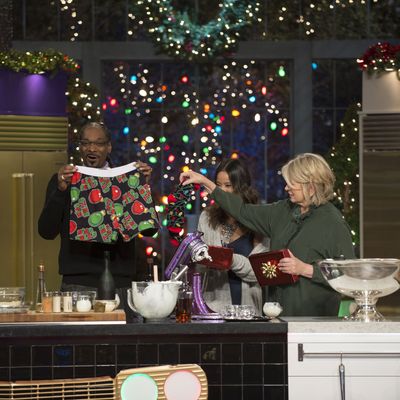 Snoop Dogg, Jamie Chung, Martha Stewart.
Photo: VH1
"Here's to Dasher, Dancer, Prancer, and Vixen — but my favorite reindeer is that big ol' stoner, Blitzen." —Santa Snoop
On the night of one of television's most honored traditions — the Victoria's Secret Fashion Show — Snoop Dogg and Martha Stewart gathered 'round the ol' VH1 hearth to celebrate and share their own holiday traditions. And I'll give you one guess which special TV occasion had more puns about balls …
That's right, it was Martha & Snoop's Potluck Dinner Party, where everyone is already in full holiday mode. For our dynamic duo, that means a lot of liquor, something fried, and an oddly meaningful through line about life lessons. Yes, Snoop and Martha are learning how to let oil breathe and that sometimes "cold" means "good," respectively, once again reminding us that so much of this show's delight comes from the open-minded and authentic way these two weirdos interact.
This week's episode gets weirder than ever because Martha is making the eggnog, and it has about as much liquor in it as a Michael Scott holiday party. Let's get to it.
The mission: Get in the holiday spirit by any means necessary. The episode opens with the Tinseltone Carolers and I certainly would not mind if they brought their musical stylings by every week. I can't think of a better way to describe 2016's most iconic cooking hosts than, "Here they come with grace and swagger FA LA LA LA, LA LA LA LA!" Snoop starts off the night by wishing everyone "a merry Christmas and a big Kwanzaa. Shout out to the homies, and a special Hanukkah to my shalomies."
The guests: Among Martha and Snoop's shalomies tonight are actress Jamie Chung, who I will always like for her humble Real World beginnings, even if I'm ever so slightly concerned for her marriage following tonight's episode and her budding attraction to fellow guest and pop star Jason Derulo. But who can blame her? Certainly not Martha Stewart, who actually has her own personal stash of sweaty Jason Derulo photos from when she was front row at his concert in France this summer. Jamie brings novelty holiday boxers — excuse me, drawers — that say "NICE BALLS" for Snoop, and Jason brings himself and his man-bun for Martha's own personal enjoyment.
The recipes: It has taken me until my adulthood to discover that eggnog is the most delicious beverage one can consume. I have to imagine that eggnog crafted by Martha Stewart takes it to an unreasonable level of goodness, and also perhaps to the level of a 20-pound weight gain followed by a full blackout, because get ahold of this recipe: 24 egg yolks, 2 cups granulated sugar, 2 quarts whole milk, 2 cups bourbon, 1 cup cognac, 1/2 cup dark rum, added to 2 quarts heavy cream, egg whites, and sugar whipped. To top it all off, it's sprinkled with grated nutmeg, and Snoop just can't resist: "Grate DEEZ NUTS?"
Jamie tastes it and says she does shots, but even she thinks this eggnog is strong. Martha informs her, "Well, it's three shots in one," in a voice that sounds distinctly like, "Question my eggnog recipe again and I'll make arsenic the 46th ingredient in the next round, Big Hero 6." Snoop asks where Martha got the Stanley Cup she's making her eggnog in, and she informs him that it's not the Stanley Cup, but her family's antique punch bowl … that's she brought here … to VH1 … on a cooking show she hosts with Snoop Dogg … where just moments ago someone said the phrase "rat's ass." My only Christmas wish this year is that I might one day sit in the live studio audience of Martha & Snoop's Potluck Dinner Party.
Around those parts, eggnog doesn't come in a box, even if it makes you leave in one. You instead get "Snoop's Yuletide Fried Catfish and Shrimp" for Christmas dinner, and Martha's croquembouche for dessert. As an extra special treat, you also get Jason Derulo speaking French! A classic French dessert, croquembouche consists of many, many choux pastry balls, filled with chocolate creme patissiere, piled together to form a Christmas tree shape. Jason helps fill the profiteroles with chocolate and Martha instructs him to, "Just put the tip in and don't push too hard" because, well … have you watched this show?
When it's Snoop's turn, he kind of gives us a recipe for his tartar sauce, but Martha continually has to inform him that he's putting in different amounts of the ingredients than what he's telling the audience. It seems like some combination of sour cream, mayo, sweet relish, and vinegar will get you Snoop's Tastacular Tartar Sauce. As he coats the catfish and shrimp in a cornmeal mixture, Martha asks why he only uses one hand: "Because I never know what I'm going to have to do with that other hand, Martha." In exchange for Snoop's valuable wisdom, Martha offers some of hers: The reason he needs to make the frying oil so hot is so that it can fry the breading without permeating into the flesh. "See? Teach me how to learn, Martha," says Snoop (and me).
Finally, after the sugar is spun for the croquembouche, and the table is set with Martha's finest dinnerware and de-labeled bottles of Sriracha and Tabasco, it's time to eat. One of my favorite parts of this show is watching all these famous people serve their plates. It's like a live version of Us Weekly's "Stars — They're Just Like Us!" section, but without uncomfortable captions. (They roll out their trash cans!) Martha Stewart is putting green beans on Jamie Chung's plate as Snoop Dogg passes the hot sauce to Jason Derulo. What a world!
Snoop tells Martha, "The shrimps is cold," and Martha briefly looks like someone has stabbed her in her very soul, but then he tells her that just means they taste good. Snoop explains that he started cooking because his mom told him and his brother that women like a man who can cook, so they both had to learn. Jamie looks pointedly out into the audience and says she wishes her husband had learned how to cook, but Jason assures her there's still time: "I'm the same way, but look … I made these crunch-in-the-mouth balls!" Ya sure did, Jason, ya sure did.
Since there's no mistletoe to gather under, everyone just passes cheek kisses around the table, and it seems like it's time for Martha and Snoop's weekly party game. But wait — there's no game tonight! I briefly panic that this VH1 holiday gathering featuring a rapper, a reality star turned actress, a pop sensation, and the world's foremost Jason Derulo stan born in the 1940s is ruined. In a true Christmas miracle, Snoop and Martha announce something even better than a game …
It's their very own version of "12 Days of Christmas," to which Snoop contributes the first day ("a bag of the finest OG!"), Jason offers the second ("two wiggle wiggles!"), Martha adds her flare ("three pillow shams!"), Jamie adds the next ("four plates of kimchi!"), and altogether now for the fifth and final day: "Five waaaasted guests!" The lucky bastards.
I'll leave you with the final, slightly altered verse in its entirety: "On the fifth day of Christmas, my true love gave to me: five wasted guests, four plates of kimchi, three pillow shams, two wiggle wiggles … and my own big-ass cannabis treeeeee!" And to all a good night.