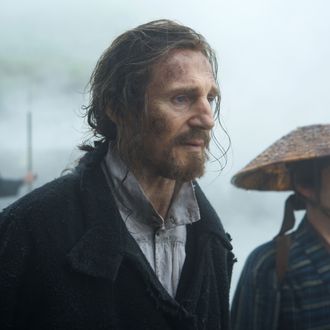 Photo: Kerry Brown/Paramount Pictures
For 30 years, Martin Scorsese's Silence seemed like a myth, a movie always bobbing just out of reach. The project was always next on Martin Scorsese's to-do list: Silence would come after Gangs of New York, after The Departed, after Hugo. Now that the epic examination of faith and holiness — based on a book by Shusaku Endo — is due this month, The Hollywood Reporter got to the bottom of the story behind the wait. The short version: legal drama. The long version: lots of legal drama.
Scorsese bought the rights to Endo's book in 1989. Back then, an offshoot of Italian production company Cecchi Gori Pictures hired the auteur and his longtime writing partner Jay Cocks to write the script. Both men agreed the first draft needed work, so while Scorsese worked on Casino and Kundun through the '90s, the Italian company brought in other writers. Two of those would-be Silence scribes — Michael Gordon and Nicholas Kazan — complicated the production down the line with chain-of-title issues, according to THR.
Fast forward two decades: It's 2008, and Cecchi Gori has a schism of its own. The two owners parted ways, sued each other, and the company fell into financial ruin when one of them was sentenced to prison. Cecchi Gori might have had the rights, but they no longer had Scorsese, who was distracted by The Departed, and then Shutter Island, and then Hugo. When Cecchi Gori got word that Scorsese was preparing Wolf of Wall Street in 2012, they had had enough and sued him for "intentional and negligent misrepresentation." (Although, according to Scorsese's lawyers, he'd paid over $3.5 million in penalties each time he took on another movie that wasn't Silence.)
In 2014, Cecchi Gori and Scorsese settled out of court. Cecchi Gori had Scorsese, Scorsese had a script, but no one had the money. They'd come close a few times, but it took Goodfellas producer Irwin Winkler to start making calls to help the team find more cash. Financiers (and a revolving door of A-list talent) fell in and out of the project until early 2015.
The only thing harder than financing a movie about two Jesuit priests in 17th-century Japan is actually filming a movie about two Jesuit priests in 17th-century Japan. The weather on location in Taiwan was erratic, they had to thoroughly research Japanese culture, and the script had to be written in 17th-century Japanese and then rewritten into a version of that dialect that modern audiences could understand.
And then — finally — the movie was finished. In late November, Scorsese met the pope and screened the movie for 400 Jesuit priests. We unordained folk still have to wait two weeks, though: Silence will come to New York and L.A. December 23.