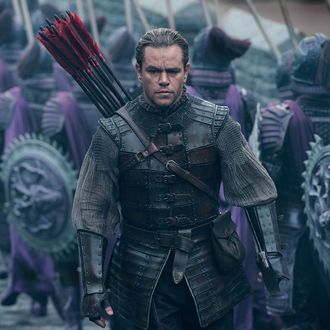 Photo: Universal Pictures
Here's something else we can blame fake news for, according to Matt Damon: The Great Wall's whitewashing controversy. The actor told the Associated Press that his role — Damon plays a swashbuckling hero swordsman defending the Great Wall of China — was actually whitewashed before he signed on, not because of his casting. Fake news, he says, misrepresented the movie and was responsible for the controversy. "[The whitewashing news] suddenly becomes a story because people click on it, versus the traditional ways that a story would get vetted before it would get to that point," Damon explained. The Bourne actor told the AP that he expected criticism to dwindle once people actually see the movie: "It's a monster movie and it's a historical fantasy and I didn't take a role away from a Chinese actor … it wasn't altered because of me in any way," he said.
The problem with the fake-news theory is that the best critique of his new movie didn't come from the news at all — it came from Fresh Off the Boat star Constance Wu. "We have to stop perpetuating the racist myth that [only a] white man can save the world," Wu tweeted over the summer. "Our heroes don't look like Matt Damon. They look like Malala. Ghandi. Mandela. Your big sister when she stood up for you to those bullies that one time."
Despite the outcry, the Great Wall star promised that he tried to imbue his role with as much cultural nuance and awareness as he could: "Although it was developed for commercial purposes, I felt there was room for me to play and put many elements of Chinese culture into it," Damon said. The Great Wall opens February 17.