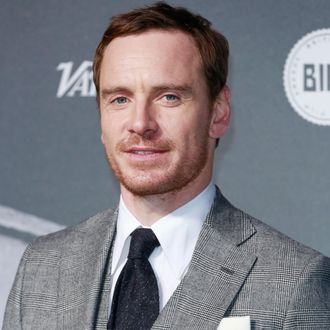 Photo: Getty Images.
Photo: John Phillips/Getty Images
Good luck getting Michael Fassbender to pencil in time to fuss around with some Jedi lightsabers. In an interview with MTV, the Assassin's Creed star said that he simply couldn't fit a Star Wars movie into his packed schedule. After spending time discussing a role in The Force Awakens with J.J. Abrams, the actor ultimately had to pass on joining one of the most successful franchises of all time. "We talked about a role," Fassbender explained on MTV's Happy Sad Confused podcast. "[Abrams and I] had a conversation. I'm pretty sure I was busy doing something else in the summer [while] he was kick-starting that." Fassbender doesn't even give the impression that it was some kind of deeply harrowing Sophie's choice — Star Wars or Steve Jobs? The Force Awakens or The Light Between Oceans? — he was just otherwise occupied (probably binge-playing Assassin's Creed).