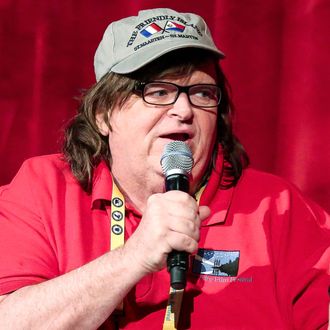 Michael Moore.
Photo: Scott Legato/Getty Images
All throughout this election cycle, documentary filmmaker Michael Moore has been a vocal and unrestrained presence — even more so than usual, which is saying something. Whether it was predicting Trump's win, coaching us on recognizing our own bubble via The Bachelorette, or posting about how Trump will "get us all killed," Moore has certainly not shied away from vocally engaging with the state of our nation at present. That trend continues today: Moore has made a plea, via his Facebook page, for the Electoral College to strongly consider voting against Trump. This is nothing new, of course — Moore has been saying some version of this in places like Facebook and Late Night With Seth Meyers since election day. Today's plea, however, came with a twist: In some states, electors face fines or penalties if they vote against the "winning" candidate; if electors vote down Trump in those states, Moore has offered to pay the resulting fines. Those fines usually amount to roughly $1,000, per FairVote.org; however, there are 29 states in the union that fall into this category, so that's not exactly nothing.
Read Moore's full statement below, and stay tuned as this national drama continues to play out.