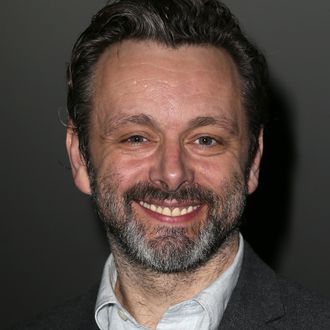 Photo: David Livingston/Getty Images
Line up a few episodes of Masters of Sex or plan a watch party of Frost/Nixon, because there's a fair chance we won't be seeing Michael Sheen in the Hollywood circuit for quite some time. In a new interview with the The Times of London, the Welsh actor has revealed he will be giving up acting "for the time being" in favor of pursuing a fight against "demagogic, fascistic" far-right politics. Sheen will be returning to his hometown of Port Talbot, Wales, to fully dedicate himself to his political-activist role at a grassroots level and stressed that the election of President-elect Donald Trump was the tipping point for choosing to take action — although Port Talbot voting in favor of Brexit also greatly contributed. "In the same way as the Nazis had to be stopped in Germany in the '30s, this thing that is on the rise has to be stopped," he said. "It's not going to look like this in 10 years' time. Everything has shifted. The dice are being rolled again." Though Sheen acknowledges moving away from Hollywood might affect his relationships with family and friends, he believes his actions will be worth it in the long run. "It will be a big change for how people relate to me," he explains. "Once I'm in, I'm fully in, and this is big. As soon as you start to be effective, then people try to crush you, because it's dangerous." Happy trails, sir.
Update, December 18: In a post on his official Tumblr page, Sheen has clarified that he won't, in fact, be quitting his full-time acting career to focus on a life of political activism in Wales. Saying that his comments were misquoted and taken out of context by The Times of London, his entire statement can be read below:
I did one interview with The Times of London a few weeks ago, parts of which (including a headline that is not a quote) have been picked up by a lot of other outlets. I DID NOT declare that I'm 'quitting acting and leaving Hollywood' to go into politics.  In the actual original interview I said I have become more involved with community issues back at home over the last few years and because of the political situation it's something I would like to focus on more. The interviewer asked me what that meant for my career and I said it might mean I work less as an actor and maybe even stop for a while AT SOME POINT. But I don't really know yet.

I certainly did NOT equate people who voted for Brexit or Trump with a fascistic 'hard right' that must be stopped. The majority of people in the U.K., including my hometown of Port Talbot, voted for Brexit. That is the will of the people and is to be respected. That is democracy. Given the concerns around the economy in the area I come from and its industrial history I totally empathise with the dissatisfaction with the status quo that the vote was partially an expression of. What I think must be resisted is the re-emerging spectre of fascism in the West. Our democracy must be defended and each of us needs to decide how we can contribute to that effort.