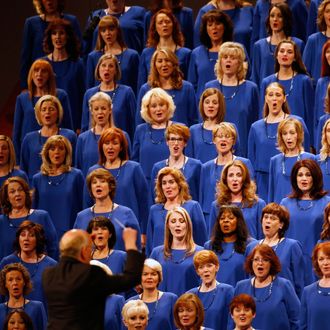 Mormon Tabernacle Choir.
Photo: George Frey/Getty Images
Donald Trump may say he doesn't want A-list talent clogging up his inauguration celebration, but it doesn't look like the lower rungs are clamoring to join the party either. After some Rockettes objected to performing for Trump, a member of the Mormon Tabernacle Choir has resigned rather than remain a part of a body that she believes is "endorsing tyranny and fascism" with its performance. Jan Chamberlin, who has been a singer in the Mormon-affiliated group for five years, explained her reason for quitting in a Facebook post on Thursday. "I have reflected carefully on both sides of the issue, prayed a lot, talked with family and friends, and searched my soul," she writes. "I simply cannot continue with the recent turn of events. I could never look myself in the mirror again with self-respect."
And while church spokesman Eric Hawkins told the Salt Lake Tribune that attendance at the inauguration is voluntary for all members, Chamberlin says she can no longer be a part of an organization when "looking from the outside in, it will appear that Choir is endorsing tyranny and fascism by singing for this man." She says that while she joined the choir to honor her father, a WWII veteran, she now must quit for the same reasons, as "tyranny is now on our doorstep." Chamberlin concludes her resignation, writing, "I only know I could never 'throw roses to Hitler.' And I certainly could never sing for him." Read her statement in full below.