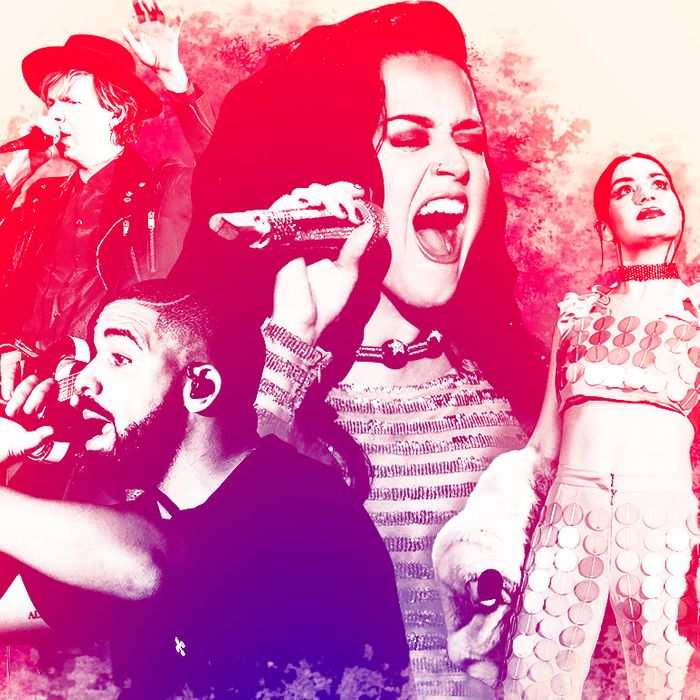 Photo-Illustration: Maya Robinson/Vulture
After a 2016 overstuffed with year-round releases from such acts as Beyoncé, Drake, David Bowie, Frank Ocean, Kanye West, Rihanna, and Radiohead, are there even any artists left to expect new music from this year? The easy answer is yes, obviously: Taylor Swift, who despite being on a self-imposed hiatus, won't likely lay low for much longer. But the better answer: Taylor Swift plus every other artist, big or small, who stayed relatively off the grid last year while the the rest of the industry fried it. Though Run the Jewels already jumped the gun and snuck in ahead of schedule, there are still plenty of albums from artists both new and familiar to get excited about in 2017.
The music industry being what it is, this list incorporates speculation, rumor, and hearsay — and despite all that, there's a good chance that the albums we never even saw coming will make the loudest noise.
Flaming Lips, Oczy Mlody (January 13)
Surprise surprise: The new Flaming Lips album is going to be trippy as hell. Front man Wayne Coyne, whose birthday also falls on the LP's release date, described it as sounding like A$AP Rocky and Pink Floyd's Syd Barrett getting trapped in a fairy tale together. And in this fairy tale, Oczy Mlody is a party drug that leads to bliss and orgies. The first taste of this adventure is "The Castle," while the album's closer, "We a Family," features Coyne's good pal Miley Cyrus. —Dan Reilly
The xx, I See You (January 13)
It's been over four years since the xx released an album, but now the British trio is finally back with its third LP, I See You. They haven't fully departed from the sparse indie-pop sounds that made them famous, but new tunes like "Say Something Loving" and the Hall and Oates–sampling "On Hold" are much more uplifting and upbeat than their older material. Before the (relative) optimism of the new year fades, we welcome the xx's not-so-dour return. —DR
Bell Biv DeVoe, Three Stripes (January 27)
New Edition splinter group Bell Biv DeVoe's "Poison" is quite possibly the only song from 1990 that still got major unironic burn at parties in 2016, and the trio is aware of this lasting appeal. In the shadow of a lengthy press cycle for BET's forthcoming three-night New Edition biopic event, a new BBD album titled Three Stripes will be released. Ronnie, Ricky, and Mike haven't really recorded together since a 2004 New Edition reunion, and their last full length as a trio came out way back in 2001 — simpler times — but new single "Run" is solid proof they've evolved from teen heartthrobs into wizened, dancing uncles in style. —Craig Jenkins
Japandroids, Near to the Wild Heart of Life (January 27)
The last time we heard from Vancouver's most rambunctious rock duo was in 2012, when they broke through with their near-perfect sophomore album, Celebration Rock. Though the years since then have been filled with music from new bands with similar sensibilities, those groups have largely served as stopgaps until Japandroids could make their triumphant return. If the band's string of insane live shows, in which they played new material, are any indication, 2017 is going to get its ass kicked off to a sweaty, rocking start. —Samantha Rollins
Kehlani, SweetSexySavage (January 27)
Though it's hard to say what exactly makes an album a capital-A album these days, Kehlani's latest appears to be it. She was nominated for a Grammy for 2015's You Should Be Here, a mixtape that once again reconsidered the format; now she'll release her proper debut album at the top of the year. Kehlani had, to put it mildly, a difficult 2016 that involved an apparent suicide attempt, resulting in a social-media detox. Her album, which has long been in the works, will likely extend the frank discussion about mental health that Kehlani started in her music years ago. But judging from the self-assured, sex-driven songs she's sprinkled among her new releases, it won't all be so heavy. —Dee Lockett
P.O.S, Chill, dummy (January 27)
Just days before the release of his last album, 2012's excellent We Don't Even Live Here, rapper P.O.S, a.k.a. Stefon Alexander, announced that he had to undergo a kidney transplant, forcing the cancellation of his upcoming tour. After recovering from the operation and recording another album with the seven-member Minneapolis hip-hop collective Doomtree, Stef turned his attention back to solo work, making a statement return with "sleepdrone/superposition," a nearly nine-minute destroyer featuring Bikini Kill's Kathleen Hanna, Lizzo, Allan Kingdom, and Astronautalis, plus his oldest son, Jake. It's the final track of a dozen on Chill, dummy, which also features collaborations with Justin Vernon, Open Mike Eagle, and Busdriver, among others. It promises a blend of aggression, anarchy, humor, and, at the very least, the best song inspired by The Revenant, "Wearing a Bear." —DR
Ty Segall, Ty Segall (January 27)
Not even 30, the garage rocker is releasing his ninth solo album and second self-titled LP. This time, Segall recorded it with his band, which includes the extremely talented Mikal Cronin on bass, playing live in the studio, which just happens to be Steve Albini's famed Electrical Audio. The lead track, "Orange Color Queen," is a fuzz-soaked ditty that would feel at home on an early '70s Bowie record. Though the album features more acoustic-based songs than normal for Ty, it's a perfect introduction to those who have yet to dive into his vast discography. —DR

Sampha, Process (February 3)
For all of Sampha's industry clout — records with Kanye, Drake, Frank Ocean, Beyoncé, and Solange — it's hard to believe he's yet to release an album. Then again, Sampha's always been one to flow at his own pace, unconcerned with how the rest of his big-name collaborators move comparatively. It takes time to harness the kind of devastation that constantly pours out of Sampha through song. Sampha's music tugs in that way, yanking at your soul until you fall. In 2015, his mother died of cancer, and he's said this album, while not wholly written about her, ended up being how he processed her death. Grab a few boxes of tissues and join him on this emotional journey. —DL

Ryan Adams, Prisoner (February 17)
To those who felt their trust betrayed by Ryan Adams's left-field Taylor Swift covers album: Fear not, your boy's back and sounding more forlorn than ever. After getting pop music out of his system and going through a bit of soul-searching (and maybe a This Is Us binge), it appears cathartic Ryan is imminent. His new songs sound pained, personal, and ultimately resolute. Adams has described feeling shattered before this record and that he wrote it to mend himself back together. "It broke my soul in a zillion pieces writing this. This record mattered more to me than any record before it and my life depended on making it. I would have died inside if I hadn't," he recently said. "It's a map for anybody who got lost like I get lost. It's hope for anybody who's forgotten what that is." And, really, that's all we've ever asked of a Ryan Adams album. —DL
Little Big Town, The Breaker (February 24)
Little Big Town's left-field Pharrell collaboration, Wanderlust, is the most easygoing country-R&B crossover record this side of Sam Hunt's Montevallo, but the group is already looking past it. The album flopped spectacularly in spite of its great ideas, so the quartet came back in pure pop-country form mere months later with "Better Man," a massive breakup tune written by Taylor Swift. Fair chance the new album The Breaker will be a solid back-to-basics effort. It's just too bad they feel like they need to go there again. —CJ
Oddisee, The Iceberg (February 24)
Oddisee follows up his criminally underlooked 2015 LP The Good Fight with The Iceberg, blending his raps with jazz, R&B, go-go, gospel, and other assorted instrumentation provided by his live band. The lead single "Things" examines the pursuit of money and whether or not it buys peace, all over a dense dance groove. As a Muslim with a Sudanese immigrant father, he surely has a few thoughts to share about the current state of the union, but he deftly uses his own experiences to reflect on the greater state of humanity, in all its beauty and flaws. —DR

Sun Kil Moon, Common As Light and Love Are Red Valleys of Blood (February 28)
Prolific singer-songwriter Mark Kozelek looks to build on the acclaim of his last two Sun Kil Moon albums, Universal Trip and Benji, by going even bolder with this upcoming double LP. So far, he's released "God Bless Ohio," a characteristically sardonic rumination on life in the Midwest that's as cold as a Buckeye State winter. —DR
Magnetic Fields, 50 Song Memoir (March 3)
The Magnetic Fields' Stephen Merritt has written his memoirs, and in true Stephen Merritt fashion, the story is told in song. 50 Song Memoir is a five-disc undertaking that dedicates one song to each year of the gifted eccentric's life, from the frustrated college thinker of "'86 How I Failed Ethics" and the loyal dive-bar drinker of "'02 Be True to Your Bar." The last time the Magnetic Fields chanced an undertaking this large they came away with the stone-cold indie-pop classic 69 Love Songs. Gargantuan shoes to fill, but ours is a capable cobbler. —CJ
The Shins, Heartworms (March 10)
James Mercer & Co.'s fifth album is the band's first since 2012's Port of Morrow and promises to be its weirdest yet. According to Mercer, who produced the 11-song set, it'll feature Beach Boys–like pop, synths, and even country influences, but with the same old kind of downcast vibes that made him a hero among indie introverts. Check out the psychedelic-tinged first single "Dead Alive" for a taste of what's to come. —DR
Jesus and Mary Chain, Damage and Joy (March 24)
It's rare for a beloved rock band's reunion to stick, and rarer still for it to produce new music worthy of the legacy, but "Amputation," the new Jesus and Mary Chain single that dropped out of the sky this month, seems poised to push the reconstituted noise-pop institution from the former into the latter category. The Scottish quintet recorded Damage and Joy with Killing Joke alumnus Youth as producer, and if "Amputation" is any indication, it'll hew closer to the poppier confections of 1998's JAMC swan song Munki than the tart 1985 classic Psychocandy. —CJ
St. Vincent (Spring 2017)
St. Vincent recently told Guitar World that her next album will be the "deepest, boldest work" she's ever done, which, if you know Annie Clark's oeuvre, is really saying something. It's hard to imagine how it possibly gets bolder than her 2015 self-titled experimental triumph, but trust St. Vincent to take it up a notch. She says this album is heavily influenced by the current political climate and that "only music that has something pretty real to say is gonna cut the mustard." If the rest of the music biz isn't already shook, they should be. —DL
Charli XCX (May 2017)
After releasing the punky Sucker to critical acclaim but modest sales in late 2014, the talented Brit is looking to take the leap into the big time with her third album. With the aim of releasing it just in time for summer, Charli has said it will be her most commercial album yet, split between pop and club-oriented tracks that still feature her flare for getting wild, with producers like SOPHIE, BloodPop, and Stargate. Though it was released this fall, the Lil Yachty–featuring lead single "After the Afterparty" has all the markings of a warm-weather party jam, a clear sign of the ambitions Charli has for the new year. —DR
Beck (TBA)
Beck's follow-up to 2014's Grammy-winning Morning Phase was slated to come out last fall, but that plan went to seed for no apparent reason. The best indicator is the single "Wow," a weirdo party starter that's supposedly reflective of the sunnier, upbeat sound Beck's been focusing on this go-round. As he told Vulture in August, he's got a collection of songs that "brings up the level of the show a little bit," and it would've been a perfect summer record, but other professional commitments got in the way. —DR

Bruce Springsteen (TBA)
Unsurprisingly, after the busy 2016 Springsteen had — a memoir, the year's best tour, rallying for Hillary Clinton, the usual — he'll aim for an even bigger 2017. He's set to release a solo album (sorry E Street fans) of new songs (his first since 2014's Wrecking Ball), and those who've heard it have called it "very expansive, very rich, and a very different kind of record." It also won't be acoustic! (He's said it'll be more aligned with "pop records with a lot of strings and instrumentation" in the vein of  Jimmy Webb and Glen Campbell.) According to the Boss himself, the whole album's already done and has been for more than a year, so keep your eyes peeled. —DL
Christina Aguilera (TBA)
Aguilera's last two albums, Bionic from 2010 and Lotus from 2012, didn't go much of anywhere, and Burlesque likely only lit your fire if you're into charming screen camp. The vocal powerhouse has always either been a step adjacent to or behind the latest pop trend, but one of the most charming qualities of Aguilera is that she doesn't seem to give a damn about that. Maybe it's just the intense nostalgia of being team Xtina back in the aughts, but the anticipation of seeing what crazy cocktail Aguilera shakes up next is still a thrill. —Jordan Crucchiola
Drake, More Life (TBA)
Drizzy's More Life is another delayed 2016 album, after he premiered the first three songs, "Fake Love," "Sneakin,'" and the Kid Cudi–dissing "Two Birds One Stone," on his 30th birthday. The format is still up in the air, as he said, "I want to do a playlist. I want to give you a collection of songs that become the soundtrack to your life." He promises it's "all original music from me," and will feature some guests, probably from the OVO stable. He has yet to announce a new release date for the project, possibly because of all the time he's spending with his potential collaborator-paramour Jennifer Lopez. All we know for sure is that it'll be another chart-topper for the Six God. —DR

Girlpool, Powerplant, TBA
Girlpool (Harmony Tividad, newly 21, and Cleo Tucker, 20) will return in 2017 with their second album in three years. Their debut, Before the World Was Big, was a tight collection of freewheeling lo-fi rock songs equally about resistance to change and craving it, sung in stunning harmony by the two best friends, who often rival Tegan and Sara. They meant to make Powerplant — which they told The Fader is ready to turn in, they just need to find a new label — with Wilco's Jeff Tweedy but got tired of waiting for his schedule to free up and instead did it on their own, just the two of them, like always. —DL
Gorillaz (TBA)
After 2010's Plastic Beach, it seemed unlikely there would be another Gorillaz record, as masterminds Damon Albarn and Jamie Hewlett publicly admitted they'd had a falling out, but the pair eventually made amends. The cartoon band's fourth album is certainly coming, though they've only hinted at what it will entail via cryptic social-media accounts, including an OK Cupid profile for guitarist Noodle that was quickly deleted. It's unclear what will make the final cut, but Albarn and Hewitt were in the studio with De La Soul, Snoop, Vic Mensa, Liam Bailey, Jean-Michel Jarre, and, possibly, Massive Attack, so it's likely that we're in for another guest-packed weirdo LP. —DR
Haim (TBA)
To follow up 2013's Days Are Gone, the sister trio reportedly decided to keep the recording process fairly bare for album number two, recording with just producers Ariel Rechtshaid and Rostam Batmanglij. Judging by the two new tunes they debuted at their string of summer gigs, "Nothing's Wrong" and "Little of Your Love," they won't stray too far from the sound that made them famous — a modernized version of '80s everlasts like the Pretenders and pretty much everyone who appeared on a John Hughes soundtrack. —DR
Kanye West (TBD)
He can lose the favor of the entire country in a sentence or less, but one thing Kanye West seems incapable of screwing up is his discography. Music saved Kanye's ass after the "George Bush doesn't care about black people" incident and again after his drunken Taylor Swift VMAs interruption. Tentatively titled Turbo Grafx 16 (after the forgotten gaming system that played RC Cola to Super Nintendo and Sega Genesis' Coke and Pepsi) the new Kanye album not only has to be great, it has to make sense of the Trump-friendly Manic Panic midlife crisis he veered into late last year. Can he do it? Sure. But will he? —CJ
Katy Perry (TBA)
Perry hasn't revealed much of what's to come on her fourth album, outside a few brief in-the-studio videos she shared on social media. After 2013's Prism, her most recent single was the summer Olympics anthem "Rise," which she co-wrote with Max Martin and Shellback, so it's certainly possible they'll have a few credits on her new record. There's also the fact that she's registered a bunch of new song titles with her publisher, including "She's So Creepy" and "Crocodile Tears," which could be the latest salvo in her shade war with Taylor Swift. Only Perry and her confidantes know for sure what this year will have in store, but she did tweet that 2017 is going to be "tight af," so that seems promising. —DR
Kelly Clarkson (TBA)
In a Facebook Live stream from earlier this year, Clarkson told fans, "Everybody's been asking me to make a soulful record for years and while we've always had soulful influences on my record, we've never actually made a soulful record. So, that's what Atlantic Records and I are about to do." Yes, we have been waiting for that, Kelly, and that next album can't come a moment too soon. —JC
Lorde (TBA)
Coming-of-age stories are essential cornerstones of the teenage experience; Lorde was famously only 16 when she wrote hers, 2013's Pure Heroine. That debut album spent a lot of time swept up in childhood whimsy and anxiety over losing that feeling; to celebrate turning 20, Lorde announced that her next album will delve deeper into the process of aging and coming to terms with the fact that you can't slow it down. "Writing Pure Heroine was my way of enshrining our teenage glory, putting it up in lights forever so that part of me never dies, and this record — well, this one is about what comes next," she wrote. Whatever that may entail, it's sure to be fiercely honest. —DL
Nine Inch Nails (TBA)
It was a sweet holiday present from Trent Reznor when he released Nine Inch Nails' new EP Not the Actual Events just before Christmas. Speaking about the five-track album, Reznor also revealed that NIN has a lot more in store for 2017: "The idea has been for two new major works come out next year." He says both will be "under the Nine Inch Nails umbrella" and that his film-score collaborator Atticus Ross is now a full member of the band, but what that means remains to be seen. We'll go out on a rotted tree limb and guess distorted keyboards and gloom. —DR
Rita Ora (TBA)
A Rita Ora EP is the ultimate pop-culture vaporware. It's like Guns N' Roses' Chinese Democracy, except instead of waiting on a release from a legendary rock band we're waiting on one from an artist that hasn't really happened yet. Rita Ora's album is everything, and it is nothing, and it might be arriving at long, long last in 2017. Or not. Probably not. But it could! —JC
Sky Ferreira, Masochism (TBD)
Ferreira's debut album, Night Time My Time, came out in 2013, and even getting it out the door was a years-long endeavor. So it's not shocking that her sophomore EP has taken so long to deliver, too, but those of us who have been waiting for the model with endearing stage fright to deliver some more electro-pop dance vibes are ready for Ferreira to fill that singular void. —JC
Spiritualized (TBD)
English space-rockers Spiritualized may never be able to escape the shadow of their 1997 masterpiece, Ladies and Gentlemen We Are Floating in Space, but in the nearly two decades since, they've certainly enjoyed trying. If front man Jason Pierce's Twitter is to be believed, the follow-up to 2012's Sweet Heart Sweet Light — the band's best and most finely tuned record since Ladies and Gentlemen — is coming on the 20th anniversary of Ladies and Gentlemen's release, meaning we should expect it around June 16, 2017. That news, combined with the announcement that the band will play Ladies and Gentlemen in full for two shows in London, are good signs for any fan of Pierce's signature blend of strung-out blues, gospel, and rock that the band will keep up its ambitious return to form. —SR
Spoon (TBA)
For their ninth album, the Austin indie stalwarts are returning to Matador, the label that put out their 1996 debut, Telephono. The only other information about the new record is that it's produced by Dave Fridmann, who produced 2014's They Want My Soul, and it will likely include the song "I Ain't the One," a snippet of which debuted in a recent episode of Showtime's Shameless. Confusingly, the full audio of the track was released shortly after but was then taken down by the label, but you'll presumably be able to hear it soon enough. —DR
Taylor Swift (TBA)
For nearly a decade, Taylor Swift put out an album every two years — starting with Taylor Swift in 2008, clear through 2014's 1989. All the variables were in place for a new album this past fall, too: new haircut, new relationship, new breakup, a few new Grammys. But the pop star wasn't kidding about taking time off, because 2016 didn't deliver new Taylor tunes. But a new year means new hope (in this context, at least), and by the numbers we are due for a fresh Swift EP any time now. Literally, any time now. Be at the ready. —JC
The National (TBA)
After releasing and touring extensively behind 2013's Trouble Will Find Me, the National went in a few unexpected directions. Front man Matt Berninger teamed with Ramona Falls' Brent Knopf to form the band EL VY, while twin guitarists Aaron and Bryce Dessner curated the star-studded 59-track Grateful Dead charity compilation, Day of the Dead. More recently, the quintet has been quietly working on its seventh album at Aaron's upstate New York studio, with Berninger saying they're jamming on "weird, math-y, electronic-y stuff" and, as a band, that they're "in the middle of the wilderness, in a rainforest full of really fun noises." So far, they've debuted one new song, "Prom Song 13th Century (Frankie & Johnny)," which is your typical National tune: the opposite of bright, bouncy, and built for dancing. —DR
U2, Songs of Experience (TBA)
No, it was not U2's best idea to release their last album, Songs of Innocence, by having it automatically download onto millions of people's iPhones. So it remains to be seen what they'll do with its follow-up, Songs of Experience, whenever they put it out. The tracks were mainly written and recorded during the Innocence sessions, with Bono saying in 2014 that some of the songs "are already as good or better" than what they'd put out. In a Christmas video to fans, the front man confirmed the LP would see the light of day this year, possibly coinciding with special shows to celebrate The Joshua Tree's 30th anniversary. —DR
Zack de la Rocha, TBA
Outside of the five-song One Day As a Lion EP and an appearance on Run the Jewels' "Close Your Eyes (and Count to Fuck)," Zack de la Rocha hadn't really produced much studio output since Rage Against the Machine's last album, 2000's Renegades. Well, that was until he put out "Digging for Windows," an El-P produced slammer that features de la Rocha's incendiary rhymes over more electronic, chopped-up beats. At the time of the release, El tweeted that they'd completed work on Zack's first solo album with material that was recorded in 2016, setting to rest rumors that it was part of a project he'd been fiddling with for years. If any year needed such a rousing voice, it's 2017. —DR