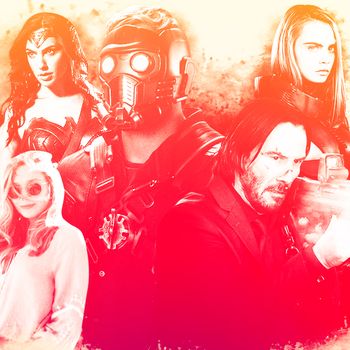 Photo-Illustration: Maya Robinson/Vulture
So, you've sampled all the best films that 2016 has to offer. You've found the magic in Moonlight. You've gone gaga for La La Land. You went to heaven with Hell or High Water. What's there to look forward to next year? So many things: 2017 brings new films from directors like Paul Thomas Anderson, Bong Joon-ho, and Sofia Coppola; a host of exciting indies from Greta Gerwig, Alex Ross Perry, and Yorgos Lanthimos; and new installments in the Guardians of the Galaxy, John Wick, and Fast & the Furious franchises. Due to the vagaries of the movie business, at least one of these films will probably end up not coming out in 2017, but, oh well, no shame in getting excited for them anyway.
Split (January 20)
From The Village to After Earth, M. Night Shyamalan had nine dicey years, but the director returned to form with 2015's creepy, strange The Visit. Shyamalan looks to continue his rise with Split, a thriller that features James McAvoy as a man with split personalities who is capable of mutating his whole body by force of will. Oh, and he's keeping a trio of teen girls hostage to appease the beast within. Creepy!
John Wick: Chapter 2 (February 10)
Three cheers for the surprisingly delightful third act of Keanu Reeves. The first John Wick movie gave the actor his most iconic role since The Matrix, and if the reluctant hit man decides to keep postponing retirement, this gun-fu train seems like it might have a few more thrilling stops left in it.
The Great Wall (February 17)
The white-savior controversy isn't the only thing at stake for The Great Wall: The monster movie — which was beleaguered by dangerous set conditions — is also a trial run for Chinese–American collaborations. Produced by the Legendary Entertainment offshoot Legendary East, the movie will test if Hollywood can help China make a blockbuster with global appeal.
Get Out (February 24)
Finally, Jordan Peele has made a black horror movie that's true to black fears: Ax-wielding madmen are just as frightening as a room full of white people who casually say "thang." Plus, you can never have enough chances to appreciate Atlanta's Keith Stanfield.
I Don't Feel at Home in This World Anymore (February 24)
The filmmaking debut of actor Macon Blair, I Don't Feel at Home in This World Anymore has a captivating premise: A woman is burglarized, then decides to take the investigation into her own hands. Even better, the woman is played by Melanie Lynskey, an actor capable of plumbing any sort of pathos you ask her to. Throw in Elijah Wood as her neighbor and co-investigator and you've got a potential highlight of this year's Sundance slate, and a few weeks later, your Netflix queue.
Logan (March 3)
Fortunes have been mixed for the solo outings of the furriest fellow on the X-Men's roster. Hugh Jackman has played Canadian super-curmudgeon Wolverine since 2000, mostly in ensemble pictures, but he got the spotlight in 2009's execrable X-Men Origins: Wolverine and 2013's mostly good The Wolverine. Jackman's strapping on the claws one last time in director James Mangold's Logan, set in a dystopian future where mutants are dying out and our hero finds himself pulled in for one last job. Early buzz from the geek community is wildly positive, largely because of Logan's surprisingly somber, Johnny Cash–scored first trailer.
T2: Trainspotting (March 3)
Choose life. Choose a job. Choose a career. Choose a family. Choose … a sequel that reunites director Danny Boyle with the original cast twenty years later? Sure, that too.
Song to Song (March 17)
Formerly known as Weightless, Song to Song marks the fourth feature since 2011 for Terrence Malick, who made just five movies in the three decades between 1973 and 2005. The film follows a pair of romances in the Austin music scene, with a cast that includes Ryan Gosling, Rooney Mara, Natalie Portman, and Michael Fassbender. At most, it could be a return to form for the director, who's been on a bit of a cold streak recently; at the very least, it'll provide the irresistible opportunity to watch Malick make a movie about the bands you listened to in college.
Wilson (March 24)
Comic-book movies litter the cineplex these days, but none of them look like Wilson. Woody Harrelson plays the title role in this adaptation of Daniel Clowes's 2010 graphic novella of the same name. It follows the travails of a chatty asshole named Wilson as he goes on a rocky and obsessive journey to revisit his past, reuniting with his former wife (Laura Dern) as they undertake an ill-fated quest to retrieve their daughter (newcomer Isabella Amara, also in the Spider-Man reboot). It'll be interesting to see if comics' rise to prominence as a source of intellectual property for Hollywood can boost a story as odd as this one, especially seeing that it's being directed by the relatively unproven Craig Johnson. Fox Searchlight seems pretty confident about Wilson though, opting to premiere it at Sundance.
Ghost in the Shell (March 31)
A big question comes up when you see the trailer for Ghost in the Shell: What is Scarlett Johansson doing in this story about a Japanese manga character? From what little footage that's been released, the movie looks stunning, but whether or not the production can elegantly handle the whitewashing controversy around it remains to be seen.
The Fate of the Furious (April 14)
The poster for the eighth F&F movie says "Family No More": Yes, the underlying ethos of the entire franchise (that this ragtag group of car thieves aren't friends, but a family) is about to be blown up. Vin Diesel's Dom Toretto is going rogue and betraying the team, opting into a life of crime — well, worse crime — alongside Charlize Theron's dreadlocked cyber-terrorist.
The Lost City of Z (April 14)
James Gray is one of our most unsung directors, and also among our unluckiest: His last film, The Immigrant, marked his second (reported) time falling victim to Harvey Weinstein's whims, and the excellent Two Lovers had the unfortunate fate of being overshadowed by Joaquin Phoenix's brief "retirement" from acting. But Gray threw his lot in with Amazon this time, and the security and freedom of a deep-pocketed streaming service means that Lost City of Z, adapted from the David Grann book of the same name and starring Charlie Hunnam as British explorer Percy Fawcett, should come untrammeled and unadulterated. Good news for us.
Guardians of the Galaxy Vol. 2 (May 5)
After the grim theatrics of Batman v Superman and the competent assembly-line feel of Doctor Strange, we need the Guardians of the Galaxy back to bring humor, color, and a distinct point of view to comic-book tentpoles. And Baby Groot. We need Baby Groot.
Alien: Covenant (May 19)
The poster for Covenant is amazing. It features the face of a xenomorph and just one word: "Run." Prometheus was a good enough movie, and it certainly featured some kind of aliens, but crucially, it lacked the alien, the xenomorph, one of the most perfect creatures in the history of science fiction. If this movie fulfills the promise of its poster, Alien: Covenant could get back to the roots of the seminal franchise.
Baywatch (May 26)
How does a TV show about women with very large breasts running in slow motion become a major motion picture in 2017, when we're a lot more critical of things like that? Can the Rock and Zac Efron flip a problematic premise around and somehow turn Baywatch into a feminist action film? If so, they'll be even better male allies than Matt McGorry.
Wonder Woman (June 2)
2016 was a rough year for the superheroes of the DC Comics pantheon. Warner Bros. put out Batman v Superman and Suicide Squad, and though both made sizable chunks of change, they were savaged by critics with an extremity only matched by the Collateral Beauty feeding frenzy. Warner is trying to turn its fortunes around with its 2017 outings, the first of which will be Patty Jenkins's Wonder Woman. In an excitingly unconventional choice, the film is set during World War I, and the initial trailers have been somewhat brighter and funnier than those of Batman v Superman. However, Wonder Woman was mostly made before this year's pair of critical catastrophes were released, so it's hard to believe the film could reverse the franchise's course entirely. If this sucker tanks, expect bloodletting at Warner as the studio scrambles to turn around its troubled flagship franchise.
The Mummy (June 9)
Tom Cruise is a great action hero, and he's great at throwing the spotlight to his female co-stars. For the first entry in the Universal Monsters cinematic universe, Cruise has got Peaky Blinders' Annabelle Wallis at his side, with Kingsman's Sofia Boutella playing the titular villain. If this new Mummy follows in the footsteps of Edge of Tomorrow or M:I 5, it could be a great showcase for them both.
Rock That Body (June 16)
This comedy about a bachelorette party gone wildly wrong has a great cast — Scarlett Johansson, Kate McKinnon, Jillian Bell, Zoe Kravitz, and Ilana Glazer — and it's the rare studio comedy starring women that has a female director, too: Broad City standout Lucia Aniello, who co-scripted.
The Beguiled (June 23)
While The Beguiled is technically a remake of the 1971 Clint Eastwood movie, you can rest assured that it'll look completely new through the eyes of Sofia Coppola. In addition to the intriguing story — a Union soldier shacks up at an all-girls school during the Civil War, and romance and betrayal predictably follow — Coppola's movie also has an all-star cast, including Elle Fanning, Nicole Kidman, Kirsten Dunst, and Colin Farrell.
Spider-Man: Homecoming (July 7)
Is this webbing still taut after Tobey Maguire and Andrew Garfield already had their shot? We're encouraged by the footage shown at Comic-Con last summer, which invests heavily in the high-school ensemble and lends a John Hughes vibe to the usual superhero shenanigans.
War for the Planet of the Apes (July 14)
The rebooted Planet of the Apes franchise has been one of the most welcome surprises in recent Hollywood history; the previous two Apes flicks have been smart, taut thrillers with stunningly believable CGI and a dearth of campy winks. Much as Rise of the Planet of the Apes and Dawn of the Planet of the Apes paired one recognizable star (James Franco in the former, Gary Oldman in the latter) with the masterfully primate-ified Andy Serkis, War has tapped Woody Harrelson to be its chief human. He'll be doing his best impression of Robert Duvall in Apocalypse Now, playing a soldier declaring, well, war on the, uh, apes.
Dunkirk (July 21)
Wars are not won by evacuations, but the summer box office might be. For his latest film, Christopher Nolan turns his attention to the Battle of Dunkirk, which saw thousands of British troops rescued from certain death in the early days of World War II. By the looks of the film's trailer, the director's swapped his usual mind-bending conceits for rah-rah patriotism: With its cavalcade of stars (Tom Hardy, Kenneth Branagh, Harry Styles) and stiff-upper-lip attitude, Dunkirk seems like one of the few films on this list that could have conceivably come out in 1957.
Valerian and the City of a Thousand Planets (July 21)
Luc Besson had his heart set on adapting this French sci-fi comic for decades, and VFX technology is finally in a place where he can realize his vision. The trailer shows a movie that looks as lovably gonzo as Fifth Element, and it's got one thing no other movie has: Space Rihanna!
The Dark Tower (July 28)
After a decade of failed attempts to adapt Stephen King's genre-defying eight-book cycle known as The Dark Tower, Hollywood has finally gotten a film version off the ground. In a perfect bit of casting, with Matthew McConaughey as the Man in Black, King's most famous villain, a charming, utterly malevolent sorcerer who will do battle with a noble cowboy-knight from another plane of reality, played by Idris Elba; if the books are any indication, their tussle will be cosmically baroque. You can make a solid argument that the books are unfilmable, but Sony's already doubled down on the project, making the unprecedented decision to flesh out the saga with a TV series in 2018. No matter what happens, you have to applaud the studio for trying a new approach to the increasingly stale art of franchise development.
Baby Driver (August 11)
No director of his generation choreographs an action sequence with the precision, clarity, and delight of Edgar Wright. This upcoming music-driven film starring Ansel Elgort as a getaway driver is almost certain to have the best car chases of the year, delivered with verve and fun.
It (September 8)
Is this Stranger Things season 1.5? Because actor Finn Wolfhard (little Mike Wheeler in the Netflix series) leading a group of children who are all being pursued by a malevolent force that takes the shape of a heinous clown sounds … like a very strange kind of thing. Which is to say, this is the perfect time — and the perfect kid — to bring It back.
Blade Runner 2049 (October 6)
On films like Prisoners, Sicario, and Arrival, Denis Villeneuve has proven himself a master of stylish mid-budget genre pictures. Now he's moving up to the big leagues, directing Ryan Gosling and Harrison Ford in the mysterious, long-gestating sequel to Ridley Scott's Blade Runner.
Kingsman: The Golden Circle (October 6)
From Layer Cake to Kick-Ass to the first Kingsman, director Matthew Vaughn has consistently delivered raucous, rated-R action movies (and Stardust!) that are just a great time. In this sequel, the Kingsmen are coming to America, and the cast has added Julianne Moore, Channing Tatum, Jeff Bridges, Halle Berry, and Vinnie Jones. The more the merrier.
Logan Lucky (October 13)
Jay Z. Michael Jordan. Richard Nixon. You should never trust an ambitious man who says he's retiring. Steven Soderbergh made headlines a few years ago by announcing he was done with theatrical features, but the break was apparently temporary: This fall, he's returning to cinemas with Logan Lucky, a NASCAR heist comedy starring Channing Tatum, Adam Driver, and a bleach-blonde Daniel Craig. It looks just silly enough to shake the cobwebs out.
God Particle (October 27)
This is the latest mystery project from the J.J. Abrams empire, and it's being billed as the third installment in the Cloverfield series. 10 Cloverfield Lane made a great bottle movie out of the original's alien-invasion conceit, and God Particle is moving the premise to space with a group of astronauts — including Gugu Mbatha-Raw, Ziyi Zhang, Daniel Brühl, Chris O'Dowd, and David Oyelowo — who make a "shocking discovery."
Thor: Ragnorak (November 3)
Those of us who love the Thor movies more than any of the other Marvel tributary franchises are precious few. Ragnorak brings new cast members Tessa Thompson, Cate Blanchett, Karl Urban, Sam Neill, and Jeff Goldblum, and a new director Taika Waititi, who previously helmed the vampire mockumentary What We Do in the Shadows and episodes of Flight of the Conchords. If any Marvel movie breaks the franchise's mold, it's gonna be this one.
Red Sparrow (November 10)
This sexy spy tale about a Russian woman getting involved with a CIA operative will be the fourth collaboration between Hollywood's two Lawrences: Francis, the director, and Jennifer, the actress. For the first time since 2011, J.Law is free of any X-Men and Hunger Games entanglements, and this movie will hopefully be a better start for her post-franchise era than Passengers was.
Justice League (November 17)
In 2012's The Avengers, Disney pulled off something never before attempted in cinema: a movie that successfully and seamlessly wove together the narrative strands of multiple superhero sub-franchises in a shared cinematic universe. In 2017, Warner Bros. will attempt their own version in Justice League, directed by golden boy Zack Snyder. Batman (Ben Affleck), Wonder Woman (Gal Gadot), Superman (Henry Cavill), the Flash (Ezra Miller), Cyborg (Ray Fisher), and Aquaman (Jason Momoa) will join hands and do battle with otherworldly warrior Steppenwolf (Ciaran Hinds). Given the abysmal reviews of Snyder's last DC outing, Batman v Superman, the studio has gone to great lengths to convince the world that Justice League will set everything straight. That sound you're hearing is the fervent praying of Warner Bros. CEO Kevin Tsujihara.
Murder on the Orient Express (November 22)
Kenneth Branagh has directed himself as Henry V, Benedick, and Hamlet, but all of that was just leading up to this: In the role of a lifetime, the dashing Shakespearean thespian will transform himself into Agatha Christie's diminutive Belgian detective, Hercule Poirot. And just like in the classic 1974 version of Orient Express, Branagh's assembled an all-star cast, including Penelope Cruz, Judi Dench, Michelle Pfeiffer, Josh Gad, Michael Peña, Daisy Ridley, and Hamilton's Leslie Odom Jr., with Johnny Depp as the unlucky victim. Whodunnit?
Star Wars: Episode VIII (December 15)
Just as Rey handed that lightsaber to Luke Skywalker at the end of Force Awakens, so too did J.J. Abrams hand over directing duties for the sequel to Rian Johnson, the heady filmmaker behind Brick and Looper. If the precedent from the original Star Wars trilogy holds, this may end up being the best one.
Pitch Perfect 3 (December 22)
If you're a sucker for the Barden Bellas, you'll follow them anywhere. PP2's Elizabeth Banks is out as director, and in her place comes Trish Sie, a veteran choreographer who's directed numerous OK Go videos, as well as the last Step Up film. Bring on the mash-ups.
Annihilation (TBD)
Annihilation is a screen adaptation of Jeff VanderMeer's acclaimed sci-fi–horror novel, and the less you know about the plot before diving in, the better. Suffice it to say that you'll get to see Natalie Portman, Jennifer Jason Leigh, Gina Rodriguez, Tessa Thompson, and Oscar Isaac in a movie about an ill-fated expedition into a place called Area X. One of the virtues of the novel is how much terror it inspires with a near-total dearth of bombast, which suggests that the film could become a taut sci-fi–horror mash-up in the vein of Alien and The Thing. Another reason for confidence? Director and co-writer Alex Garland crafted Ex Machina and penned top-notch sci-fi screenplays like Dredd and Never Let Me Go. If nothing else, Annihilation will make sure that at least one genre movie passes the Bechdel Test in 2017.
Call Me by Your Name (TBD)
A Bigger Splash director Luca Guadagnino is the perfect helmer for this adaptation of the acclaimed, racy book by André Aciman: He'll bring sun and sex to the story of a love affair between Armie Hammer and the much younger Timothée Chalamet in 1980s Italy.
The Death of Stalin (TBD)
Armando Iannucci left Veep in 2015, leaving an Armando Iannucci–sized hole in our political-satire landscape — even if new showrunner David Mandel managed to keep the HBO comedy firing on all cylinders. Fortunately, in the time we need him most, Iannucci is returning with The Death of Stalin, his first movie since 2009's In the Loop. This new one follows the scramble in the Kremlin to fill the power vacuum left by, as you might've guessed, the death of Stalin, and with a cast that includes Steve Buscemi and Jeffrey Tambor, it should be a very funny scramble indeed.
The Discovery (TBD)
The Discovery has the kind of premise you wish you'd thought of, taking place in a world where the existence of an afterlife has been scientifically proven. Within that endlessly interesting concept, Charlie McDowell's second feature — following his sci-fi relationship movie The One I Love — follows a romance between Jason Segel and Rooney Mara, and throws in Robert Redford for good measure. Netflix wants 2017 to be the year it becomes a movie powerhouse, and The Discovery could play a part in that.
The Glass Castle (TBD)
Aside from being a terrific film, Destin Cretton's Short Term 12 was an oddly prescient introduction to bright young actors like Brie Larson, Rami Malek, Keith Stanfield, and John Gallagher Jr. His follow-up, The Glass Castle, adapted from Jeannette Walls's memoir, reunites him with Larson and adds Naomi Watts and Woody Harrelson to the mix. It remains to be seen whether it'll also work as a guide to the stars of tomorrow, but at the very least, Cretton's intelligence as a filmmaker is as much of a draw as his cast.
Golden Exits (TBD)
In this indie ensemble from Listen Up Philip's Alex Ross Perry, two New York families are thrown into upheaval by the arrival of a young foreign girl. The film stars Emily Browning, Ad-Rock, Mary-Louise Parker, Lily Rabe, Jason Schwartzman, and Chloë Sevigny, which hints that this will probably be the most Brooklyn movie of the year.
How to Talk to Girls at Parties (TBD)
Next year is shaping up to be a big one for Neil Gaiman. Much ink has been spilled about the Bryan Fuller–helmed TV adaptation of his novel American Gods, but comparatively little has been said about the film translation of his delightful 2006 short story How to Talk to Girls at Parties. John Cameron Mitchell, the auteur behind Hedwig and the Angry Inch and Shortbus, is directing this story about two ordinary teenage boys who go to a party and gradually have their eyes opened to the wonder and terror of the cosmos. The cast — Elle Fanning, Nicole Kidman, Ruth Wilson, and the stage-honed Alex Sharp — is solid, though the big question here is how the hell you expand a short story whose charm lies largely in its tightness into a sprawling feature. Luckily, Mitchell is not one to shrink from a challenge.
Ingrid Goes West (TBD)
It's about time someone made a satire for the age of Instagram. Aubrey Plaza stars as Ingrid, a lonely follower who decides to move to Los Angeles and live her life in Taylor's (Elizabeth Olsen) perfectly filtered shadow. What begins as a lesson in social media self-esteem escalates into a dark tale of stalking. There's a solid chance this will be the Sundanciest movie at this year's Sundance Film Festival.
It Comes at Night (TBD)
Many admirers — including John Waters — called Trey Edward Shults's harrowing family dramedy Krisha a horror movie. So imagine our excitement for Shults's next feature, which sees him actually steering into the horror genre, and with Joel Edgerton to boot.
The Killing of a Sacred Deer (TBD)
While The Lobster introduced most people to the twisted charms of Yorgos Lanthimos, he's been an indie-film standout since Dogtooth, the Greek director's bravura 2009 Cannes award winner. But with his new post-Lobster profile, The Killing of a Sacred Deer comes with the highest expectations of Lanthimos's career to date. Fortunately, it also reteams the director with Lobster star Colin Farrell, playing a surgeon whose life comes apart.
Lady Bird (TBD)
Greta Gerwig's directorial debut stars Saoirse Ronan as a Northern California teen in her final year of high school, struggling to appreciate her hometown while being desperate to leave it. Gerwig has described it as a love letter to Sacramento, which the universe could certainly use more of.
The Lovers (TBD)
A comedy about a breakup turned makeup seems simple enough, but in the capable hands of Doll & Em director Azazel Jacobs and A24, this modern marriage story — which stars Tracy Letts and Debra Winger as spouses who find themselves becoming smitten as they're trying to split up — seems like something worth paying attention to.
Molly's Game (TBD)
The only thing preventing Miss Sloane from being a Shondaland version of The Newsrooom was an Aaron Sorkin script. Fortunately, Jessica Chastain is getting the real deal in the Hollywood poker drama Molly's Game, which also happens to be Sorkin's directorial debut. Set Chastain opposite Idris Elba and watch the verbal fireworks explode.
Okja (TBD)
Bong Joon-ho's Snowpiercer marked his English-language debut, and it was a fruitful one, with the film turning into a crossover hit after a difficult release process. For his next project, Okja, the South Korean filmmaker co-wrote a script with journalist Jon Ronson about a girl trying to prevent a corporation from kidnapping her best friend, a large animal named Okja. The intriguing premise comes with a great cast, including Snowpiercer standout Tilda Swinton, Jake Gyllenhaal, Paul Dano, Stephen Yeun, Lily Collins, Giancarlo Esposito, and a number of Korean actors. Netflix already has the rights, so no release drama this time.
Slice (TBD)
Chance the Rapper turns Chance the Actor in this mystery-comedy about a killing spree that targets delivery boys. Written by the rapper's frequent music-video director Austin Vesely, the film stars Chance as a werewolf with a motorbike. Vesely has said he was inspired by both Magnolia and George Saunders's CivilWarLand in Bad Decline. One thing's for sure: The music will be great.
Terminal (TBD)
Margot Robbie has been snapping up projects all over the place through her production company Lucky Chap, and she's starring in a lot of them. Terminal will be the company's first release, and the only image we've seen from the "noir thriller" so far features Robbie in a dark hallway wearing a fabulous coat; if that's the brand Lucky Chap is going for, they might strike gold.
Three Billboards Outside Ebbing, Missouri (TBD)
Martin McDonagh is one of the few who can compete with the Coen Brothers in the dark-comedy department, and Three Billboards Outside Ebbing, Missouri sounds like it could be his best, most Coen-y effort yet: Frances McDormand plays a mother who takes the investigation of her daughter's murder into her own hands, and Woody Harrelson and Sam Rockwell are the two cops who complicate matters. Also, Three Billboards Outside Ebbing, Missouri is a pretty great name for a movie.
Under the Silver Lake (TBD)
David Robert Mitchell's follow-up to It Follows casts Andrew Garfield as a man plunged into mystery and murder on the east side of Los Angeles. They shot a bunch of this movie on the street outside a Vulture editor's house last month — it looks super creepy!
Untitled Paul Thomas Anderson Movie (TBD)
Paul Thomas Anderson. Daniel Day-Lewis. Pretty frocks. That's all we need to know to buy a ticket to this mystery drama about mid-century fashion, and though we tried to do some detective work to discover who the film might be about, ultimately, all we know is that Anderson will deliver something singular.
Vox Lux (TBD)
After putting together a solid acting career as the token American in movies by European auteurs, Brady Corbet got behind the camera for the first time last year. The result, Childhood of a Leader, was just about the opposite of the loose-limbed, autobiographical film you expect from a director's debut; instead, it was an artful story of a child misbehaving in World War I France, with a grandeur and menace straight out of Stanley Kubrick. But Corbet's second film seems like a severe left turn, following 15 years in the career of a pop star, who's played by Rooney Mara. (Sia did the music.) In case you were worried that the 28-year-old Corbet was making it easy on himself, he's shooting it in 65mm. Who said millennials aren't ambitious?
Wildlife (TBD)
You are almost certainly familiar with Paul Dano: From There Will Be Blood to Love and Mercy to Swiss Army Man, the actor's built a fascinating career of playing men possessed by strange urges. For Wildlife, he'll move to the other side of the camera, directing a script he wrote with his partner Zoe Kazan, adapted from the Richard Ford book of the same name. While Dano may not have proven himself yet as a director, he still managed to cast Jake Gyllenhaal and Carey Mulligan as the married couple at the center of the film. That should help.
Wind River (TBD)
Taylor Sheridan's rise as a screenwriter feels like it happened overnight: Last year, he had Sicario, directed by the great Denis Villeneuve, and this year he wrote Hell or High Water, helmed by up-and-comer David Mackenzie. But for his next trick, Sheridan's going to direct his own work. Wind River stars Jeremy Renner and Elizabeth Olsen as a hunter and an FBI agent looking for the perpetrators of a murder on a Native American reservation. Sheridan's scripts have been dynamite in the hands of other people; if he proves the same aptitude for them himself, he could become one of our most exciting new filmmakers.