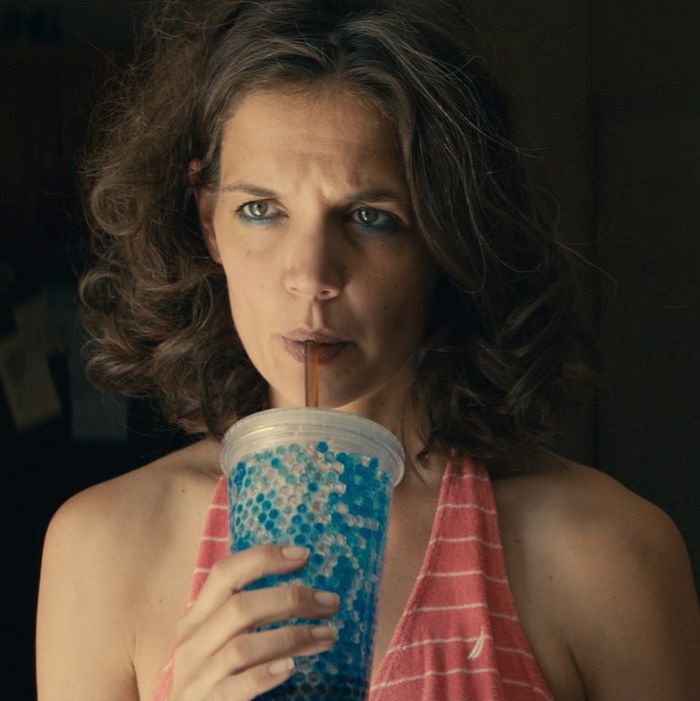 Photo: Straight Shot Films
A picaresque set during the 2008 financial crisis that involves a dodgy mortgage, if All We Had were a financial story, it would be a 99 Homes B-side, or the gritty underbelly of The Big Short. But it's a relationship story, one where a parent comes of age at least as much as her child. Based on the 2014 novel by Annie Weatherwax, All We Had narrows focus to the transient mother-daughter relationship at the heart of the story.
All We Had is the feature directorial debut of Katie Holmes, who plays a rudderless alcoholic named Rita. (Picture a dissolute and disheveled Joey Potter.) Her precocious 14-year-old daughter Ruthie (Stefania Owen) is the voice of reason: After she begs to leave Rita's latest boyfriend, the duo takes off in their battered Ford Escort with only a garbage bag of possessions and his TV. The resemblance between even a haggard Holmes and the fresh-faced Owen is worth noting — they share the same wide eyes and wavy hair, further emphasized by the fact they dress alike. Next to her daughter, Rita's hollowed-out eyes and the defeated slope of her shoulders are all the more pronounced. They're like a "before" and "after" of poverty.
As they drive east, Rita constructs an elaborate fantasy of Ruthie's future success. She'll be a doctor, maybe, and live in a yellow house with a pool that has a slide. Their immediate dreams aren't grandiose: They're for basic food and shelter, preferably not offered alongside a relationship with another deadbeat guy. Rita's not above sexual barter with a pawnbroker to sweeten a deal, or numbing a DIY tooth extraction with reluctantly shoplifted aspirin, vodka, and a cold compress can of Red Bull. She steals without regret: As she explains to her daughter, the people she's robbing "have jobs, and houses."
Inopportune car trouble strands the pair when they attempt to dine and dash at a small-down diner. (With a name like Grub and Go!, you can't help but think maybe the diner was asking for it.) However, their luck soon improves: The owner (Richard Kind) takes pity on them, and soon Rita takes a waitressing job alongside his transgender niece Pam (Eve Lindley), who warms up to Ruthie. They save enough for their own place by sharing a mattress in the storage room.
In its own way, the development underscores the precarity of underemployed women. So much of the plot — and the women's fate — hinges on the men Rita encounters. Thanks to a sleazy realtor suitor, Rita buys a house; in turn, the mortgage qualifies them for a superstore credit card. It's all good, until business at the diner dries up and Rita falls behind on payments. The movie blurs out the particulars and larger financial forces at work — there's a blink-and-miss scene with Judy Greer as a next-door neighbor who disappears from the movie as a result of the economic downturn. The screenplay often clutters the drama with other similarly undercooked tangents — a violent hate crime, or Ruthie briefly falling in with the wrong crowd at school. But even in a rote story, with prosaic direction from Holmes, the lead performances ring true.
Holmes optioned the book soon after it was published, after her own abrupt split from Tom Cruise; she and their daughter, Suri, moved across the country to New York and built a new life. She dedicates the picture to her daughter; it's fair to suggest the emotional texture of its story resonated with her own experience. That might also explain why the ending leaves things on a more hopeful note than Weatherwax's novel — one that includes AA meetings and Luke Wilson as a dentist so blandly decent he probably bores even himself. Whatever happens, the two women still still always have each other; as Rita explains to her daughter early in the film, "The nice ones always end up being the biggest assholes."