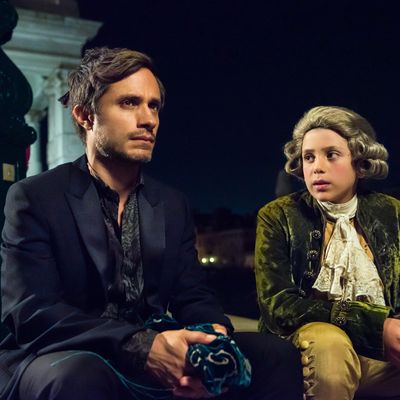 Gael Garcia Bernal (left) in Mozart in the Jungle season three.
Photo: Amazon
When Mozart in the Jungle won the Golden Globe last year for best TV comedy, to some, the award seemed unexpected. The first two seasons of the half-hour Amazon series, which focuses on the New York Symphony Orchestra and the way its members operate, both musically and emotionally, were well-received by critics. But they were not exactly buzzy.
Still, Globe voters were not wrong to honor Mozart, and they definitely weren't misguided when they gave the award for best lead actor in a comedy to its star, Gael García Bernal. This show and Bernal exude so much warmth and zest for life that both are a pleasure to watch. That continues to be true in season three, which starts streaming today on Amazon and is worth the relatively modest time investment (each episode runs 30 minutes or less, and there are just ten total), even for those who haven't touched an instrument since they took turns using the recorder in third-grade music class.
As the new season begins, the orchestra is stuck in limbo. Thanks to a continued impasse in the contentious contract negotiations covered in season two, there's a lockout in place, which means the artists can't rehearse or perform and are off doing their own things. Some are still in New York, occasionally staging protests outside the theater and making cash by driving for Uber, the official No. 1 side-gig choice of every character on television. Others, specifically Rodrigo (Bernal), the unconventional, expressive conductor, and Hailey (Lola Kirke), his oboist protégée, are in Venice, working with a fallen opera star, Alessandra (Monica Bellucci), on what is being billed as a high-profile comeback performance in which Rodrigo and Alessandra will share the stage.
Part of that performance — which is simulcast live on television, allowing members of the Mozart family who remain in NYC to experience it in real time — includes an aria that retells the story of Amy Fisher, who famously shot and injured Mary Jo Buttafuoco, the wife of Fisher's lover Joey Buttafuoco, in the early 1990s. The show initially has great fun with this idea. "Amy Fisher is real?" Alessandra asks at one point, completely perplexed. To be honest, this whole story line would have been worthwhile even if all it did was allow Bellucci to say the word "Buttafuoco."
But in one of the season's grandest surprises, the Amy Fisher aria — staged as part of a breathtaking performance that partially takes place on the water and involves an assist from Placido Domingo — evolves into a moment of intense, climactic, and flat-out gorgeous drama.
In Approval Matrix terms, that scene takes place at the exact point where high- and low-brow meet, which is a testament to one of the core values of Mozart in the Jungle: that art can soar to unexpected places and is a serious endeavor, even when built on seemingly modest foundations. It's also a testament to the gifts of executive producer Paul Weitz — he directed episode five, in which the performance unfolds — and to how sure of itself Mozart in the Jungle has become at this point. This is a series that, given its subject matter, could feel very pretentious and inaccessible, especially to those who don't run in Lincoln Center circles. Instead, it's inviting and open-hearted.
A lot of the credit for that goes to the cast, buoyed by greats like Bernadette Peters and Malcolm McDowell, but truly led by García Bernal. As Rodrigo, he is an irresistible, enthusiastic, occasionally maddening life force of a human being. This is the third season in which he and Hailey (Kirke) have danced around each other as mentor/mentee, as well as will-they-or-won't-they romantic partners, and he still pronounces her name High-A-Lie instead of Hay-lee; it's become a term of endearment and a word he says so often, it's almost like it functions as a mantra. It's those little, idiosyncratic touches and his irrepressible, natural energy that make Bernal so great here; even something as basic as "High-a-Lie, what's up?" turns into a laugh line because he says it with so much infectious glee.
Mozart in the Jungle does stumble and flail here and there. Bellucci is a convincing and welcome presence, but she's also faced with the daunting task of trying to realistically lip sync the notes that Alessandra hits; the smoke and mirrors of all that are sometimes too visible. Her relationship with Rodrigo is also written in a way that, at times, echoes the annoying chords struck in seasons one and two between Rodrigo and his now ex-wife, Anna Maria.
Still, there's far more to recommend in this series than not, including the fact that it enables its primary characters, both those who are over and under the age of 55, to continue evolving as people and creators. McDowell's Thomas, the former conductor who started to pursue composing in season two, finds an unlikely third act in working with an EDM artist, while Hailey shows interest in becoming a maestro herself, which suggests there's plenty of juicy material to justify a fourth season.
The men and women of Mozart in the Jungle are spending their most productive years pursuing a living and a craft that they are regularly told is dying, if not already dead and halfway toward six feet under. Even as they forge new chapters, the series also shows us how steadfastly they refuse to let their classical community wither away and disappear. "I love this fucked-up orchestra," says first oboist Betty Cragdale (Debra Monk), a nasty woman in every current sense of the term. "I'd take a bullet for it."
A lot of Americans working in allegedly outmoded fields can probably relate to that sentiment. Maybe that's the greatest service Mozart in the Jungle provides: reminding us that the distance between artists and other dedicated professionals isn't always as great as our culture might make it seem.