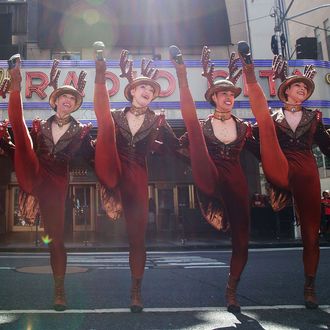 Phew.
Photo: 2016 Getty Images
Despite claims from the union that represents the Radio City Rockettes that all full-time members will be contractually "obligated" to perform at Donald Trump's inauguration next month, the dance group's owners now say otherwise. In a new statement, the Madison Square Garden Company tells The Hollywood Reporter that participation in the inauguration is voluntary and that any individual Rockette can choose not to perform if she so wishes. "For a Rockette to be considered for an event, they must voluntarily sign up and are never told they have to perform at a particular event, including the inaugural. It is always their choice," they say. And while one Rockette, Phoebe Pearl, posted in a since-deleted Instagram that she and her fellow dancers "have been performing with tears in our eyes and heavy hearts" since learning that the Rockettes would perform at the inauguration, MSG disputes her suggestion that the Rockettes are unhappy with the decision. "In fact, for the coming inauguration, we had more Rockettes request to participate than we have slots available," they say. "We eagerly await the inaugural celebrations."
Update: The American Guild of Variety Artists (AGVA) has issued the following statement regarding the Rockettes participation in the presidential inauguration ceremony.