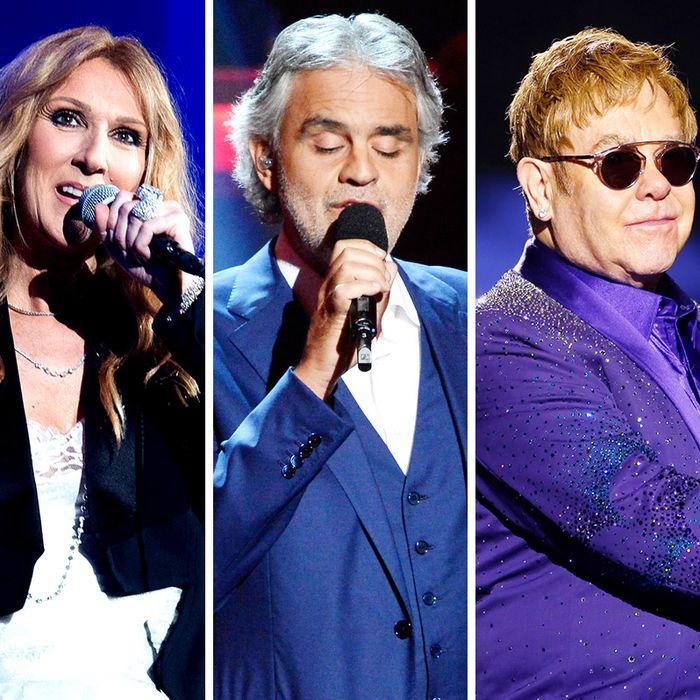 It's hard out there for the U.S. Presidential Inauguration Committee. While President-elect Donald Trump has been trying to wrangle some A-list talent to perform at his inauguration celebrations — the Mormon Tabernacle Choir, America's Got Talent contestant Jackie Evancho, and the Rockettes are some of the performers who have taken the bait so far — many other musicians have spoken publicly about declining an offer to celebrate the president-elect. Despite the seemingly low interest coming from top musicians, Trump's team is sharply denying claims that they're experiencing problems finding suitable availabilities, with one member saying that "first-class entertainers are eager to participate in the inaugural events." Below, we've compiled all of the musicians who have reportedly been approached by Trump's various reps to perform at the inauguration and have declined the opportunity. We'll be updating this list until January 20 arrives.
Elton John
Despite a member of Trump's transition team confidently announcing that John would be performing at the inauguration, John's reps were quick to deny the claim with a curt statement: "Incorrect. He will not be performing." John had previously expressed his anger with the president-elect when Trump used "Tiny Dancer" on the campaign trail without his permission this year, amusingly saying, "I'm not a Republican in a million years. Why not ask Ted fucking Nugent?"
Céline Dion
Despite Trump utilizing the help of noted Las Vegas hotelier Steve Wynn to entice Dion to perform at the inauguration — she currently has a critically adored residency at the Colosseum at Caesars Palace — Dion strongly refused the advances.
Andrea Bocelli
There are two different narratives as to why the famed Italian tenor will not be performing at the inauguration. A member of Trump's inauguration committee says Bocelli made the original offer to sing and was rejected by Trump; on the other hand, "Page Six" sources report that Bocelli backed out after being offered the gig due to substantial backlash.
Kiss
According to Kiss front man Gene Simmons's wife, Shannon Tweed, Simmons was asked if the hard rockers would perform at the inauguration, but the band will be on tour in Europe during that time. "They asked and he politely declined," Tweed explained, with Simmons himself adding, "I think people should get over it and move on. He's our president and that's it, end of story."
Garth Brooks
Like Dion, country superstar Brooks was reportedly approached and wooed by Wynn to perform. But ultimately, Brooks said he would leave the decision "up to karma" and his concert schedule. "We said, if Cincinnati goes two weekends instead of one, then of course, we're out. Sure enough, Cincinnati did five shows, two weekends and backed us up into there, so we got knocked out of it."
David Foster
The Canadian musician and producer, who has been on friendly terms with Trump for many years, was invited to help with the inauguration festivities in numerous capacities. He told People: "I was invited to participate and I politely declined." Per the Washington Post, Foster's main reason for rejecting the offer was reportedly so he didn't risk angering the big Hillary Clinton supporters of his charity.
Rebecca Ferguson
Though the British singer had originally said she'd agree to perform at Trump's inauguration only if she could perform Billie Holiday's famous protest song "Strange Fruit," she has since turned down his offer altogether. In a statement, Ferguson now says that due to "many grey areas about the offer," she won't be performing anything for Trump but still sends America "nothing but love."
Charlotte Church
In a tweet, the Welsh singer says she was approached by Trump staffers to sing at his inauguration. But in keeping with her public disdain for the president-elect ("a simple internet search would show I think you're a tyrant," she fired back), her response is simply, "bye."
Jennifer Holliday
After using two separate interviews to defend her decision to perform at a pre-inauguration concert for Donald Trump at the Lincoln Memorial on January 19, the Broadway singer ultimately decided to withdraw her involvement from the event. In an open letter obtained by The Wrap, Holliday apologized to the LGBTQ community for her "lapse of judgment." "I was honestly just thinking that I wanted my voice to be a healing and unifying force for hope through music to help our deeply polarized country," she wrote.
The B Street Band
The Bruce Springsteen cover band was initially booked to play the Garden State Inaugural Gala, but out of respect for Springsteen himself, who has frequently professed antipathy for Trump, the B Street Band has since backed out.
This post has been updated throughout.