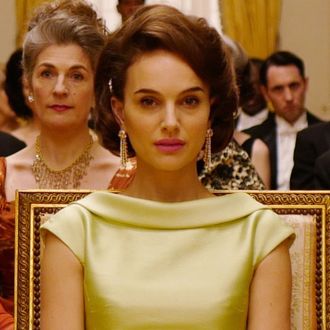 "I love beauty."
Photo: Pablo Larrains/Paramount Pictures
Jackie Kennedy was known for her love of beauty. To make that to come across on film, one might give the actress playing her some very nice coats, have her listen to a vinyl record onscreen, or make her gaze wistfully at someone playing the cello. Pablo Larraín, director of Jackie, a haunting exploration of Jackie Kennedy's grief in the wake of the JFK assassination, does all of that in his film. But as it turns out, he also had a very simple way to get to the heart of the matter. Per an Los Angele Times profile of Natalie Portman, who stars in Jackie:
Pablo Larraín, the film's Chilean director, felt Kennedy's love of beauty was so integral to her character that he requested Portman utter "I love beauty" at some point during the shooting of every scene.
The utterance didn't end up in the final cut of the film, but Portman said, "I feel like you really get the sense of the fact that Jackie was a true aesthete." But maybe that's too subtle. Larraín should recut Jackie so that it's just 100 minutes of Natalie Portman repeating "I love beauty" in extreme close-up.