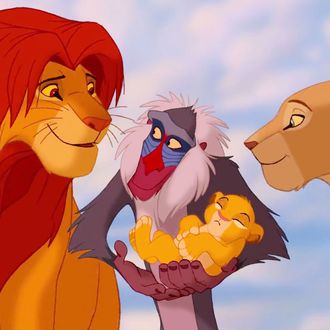 The Lion King goes to Washington.
Photo: Disney Productions
Timon and Pumbaa are taking up residence in Washington. The Library of Congress has announced the 25 films that will be added to the National Film Registry, and The Lion King made the cut. The list of movies was selected for their cultural significance and historic or aesthetic importance. This year's titles span the 20th century, from 1903's Life of an American Fireman to Wes Anderson's Rushmore (1998). Other notable picks: James Dean's first movie East of Eden, and the ultimate outlaw comedy Thelma & Louise. Lesser known titles — like Solomon Sir Jones's collection of home movies showing black life in Oklahoma in the 1920s — were also selected for the archives. See the full list of additions below.
The Atomic Cafe (1982)
Ball of Fire (1941)
The Beau Brummels (1928)
The Birds (1963)
Blackboard Jungle (1955)
The Breakfast Club (1985)
The Decline of Western Civilization (1981)
East of Eden (1955)
Funny Girl (1968)
Life of an American Fireman (1903)
The Lion King (1994)
Lost Horizon (1937)
The Musketeers of Pig Alley (1912)
Paris Is Burning (1990)
Point Blank (1967)
The Princess Bride (1987)
Putney Swope (1969)
Rushmore (1998)
Solomon Sir Jones films (1924–28)
Steamboat Bill, Jr (1928)
Suzanne, Suzanne (1982)
Thelma & Louise (1991)
20,000 Leagues Under the Sea (1916)
A Walk in the Sun (1945)
Who Framed Roger Rabbit (1988)