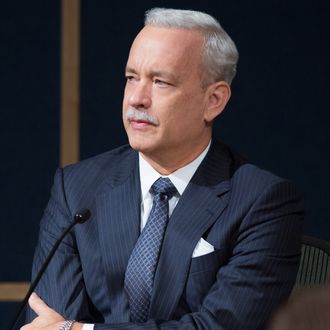 Photo: Keith Bernstein/Warner Brothers
Remember Sully? Your dad definitely does. And so do all of his over-50 friends: AARP The Magazine has named the Tom Hanks movie among its best films of 2016. "This year's Top 10 list tackles the subject of complex human relationships from all angles," said Myrna Blyth, SVP and editorial director for AARP Media, "family ties, grownup love, and longtime friendship among them." Indeed, Sully has all of those things, plus time for bathroom breaks. The AARP will choose one movie from the "Movies for Grownups" short list to take the organization's top honor. See the full list below.
Arrival
Fences
Hello, My Name Is Doris
Jackie
La La Land
Lion
Loving
Manchester by the Sea
Silence
Sully
In the most on-brand move of all, the AARP's February awards show will also honor ageless actor Morgan Freeman.