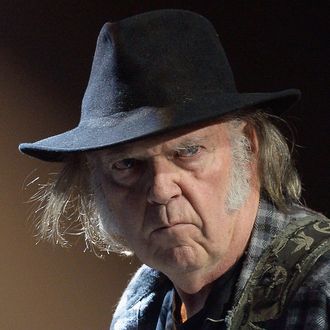 Photo: Kevork Djansezian/Getty Images for Autism Speaks
Neil Young has been one of the most vocal supporters of the Dakota Access Pipeline protesters. In September, he released a music video for his new song "Indian Givers," which featured footage of demonstrations at the site. On his birthday in November he performed at Standing Rock to express his solidarity with the "water protectors," and last week he wrote a Facebook note beseeching people to fight on in the face of oppression, and demanding that President Obama intervene to stop the harsh treatment of those protesting. Yesterday, the activists shared in the victory when the Army Corp of Engineers announced that it would not grant an easement allowing the Pipeline to extended under Lake Oahe, an important water supply that sits just half a mile from Standing Rock Sioux Tribe reservation. But Young, who has been rocking in the free world for decades, is not content to see this as the end of the struggle. He has taken to Facebook once again, issuing a plea to Barack Obama to send in armed forces to prevent any illegal drilling from taking place.
"When the announcement was made in the live broadcast water protectors were urged by speakers at Oceti Sakowin Camp not to leave. They expected DAPL to ignore the Army Corps decision and proceed as DAPL has done before.

The question now is whether President Obama will send in law enforcement or the military to halt DAPL from drilling without a permit. Otherwise, today's announcement will have no enforcement. It will be seen as another US and corporate ploy to send home water protectors, and thousands of veterans, now at Standing Rock Camp, where more than 10,000 are camped."
You can read the full Facebook post here.