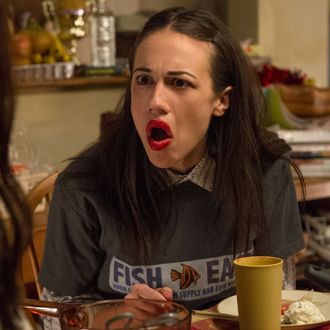 Haters Please Maintain a Respectable Distance!
Photo: Carol Segal/Netflix
In bad news for haters, but good news for teens, Netflix has renewed the Miranda Sings sitcom Haters Back Off for a second season. Created by Colleen Ballinger, the real-life name of the woman who rose to fame via her YouTube alter ego Miranda Sings, the show focuses on the travails of an aspiring internet celebrity. Like her, it is very loud. Hater Back Off's renewal implies that Netflix, which doesn't release official ratings, has had some success getting the show's target audience, teens, to actually stream it, which also means that Netflix's plan to mine internet celebrity for content won't go away anytime soon. The site will release the reality series Chasing Cameron, about Vine star Cameron Dallas, on December 27; soon, it will probably give an animated show to someone who's great at drawing on Snapchat.