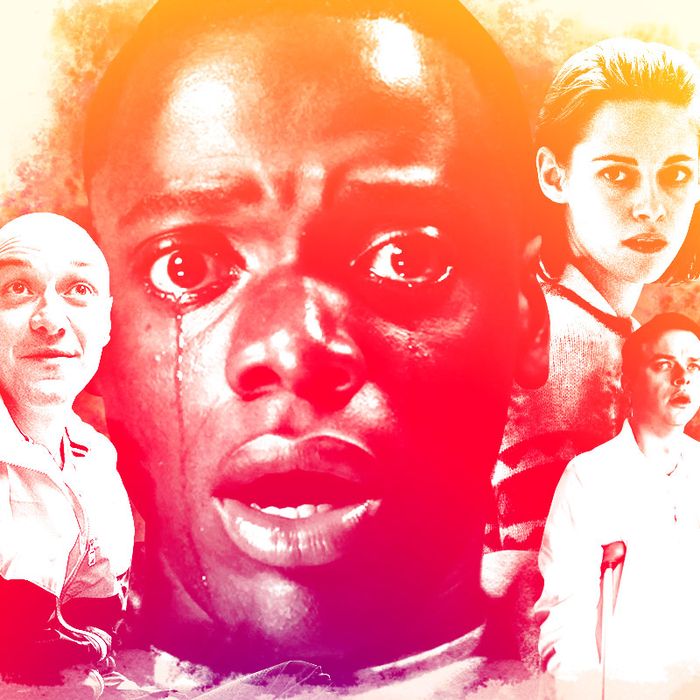 Photo-Illustration: Maya Robinson/Vulture
It's almost fitting that in a year as wretched as 2016, the most consistently interesting, entertaining, and satisfying genre of cinema was horror. The year's best scary movies provided an opportunity to work through collective fears, escape from the bleakness of the real world, and channel a national climate of fear and distrust. So 2017 has a lot to live up to, but fans looking for onscreen thrills already have plenty of titles to get excited about. Here's a rundown of the spookiest, scariest, and goriest movies we're looking forward to this year, with an assist from Christian Parkes, co-founder of Beyond Fest; Tim League, founder of Fantastic Fest; Kier-La Janisse of Australia's Monster Fest; and Charlie Reff, senior programmer for the Sundance Film Festival. (Note: Some of them recommended films are playing their own festivals, but we used our own editorial discretion in choosing which movies to spotlight.)
Split (January 20)
In the middle of his career, M. Night Shyamalan abandoned his horror roots and started making movies for kids — The Last Airbender, After Earth — that weren't up to his previous standards. It's fine, everyone is allowed to go on a creative walkabout, but thankfully, Shyamalan returned to his roots with 2015's The Visit, which confirmed that the director had not lost his masterful puzzle-box brain. Split is his next thriller, and it follows a man (James McAvoy) whose head is full of competing split personalities, all of whom work in the service of a dark beast that forces them to abduct a trio of teens. The great thing about Shyamalan is that he always swings big, and trusts his imagination. Keep a close watch on the strange and intriguing young talent Anya Taylor-Joy, who broke out in The Witch last year and continues to take offbeat genre roles.
A Cure for Wellness (February 17)
Remember The Road to Wellville, the 1994 movie with Anthony Hopkins and Matthew Broderick about an early-20th-century health facility that put people through bizarre treatments to alleviate their (fake) illnesses? A Cure for Wellness looks a lot like that, but legitimately terrifying instead of incidentally so; if you've been unsure about what the movie's first trailer is selling, those in the know assure us the film is indeed a straight-up horror movie. It's about a young company man (Dane DeHaan) sent to a strange retreat center in the Swiss Alps to retrieve his CEO, who has been holed up seeking treatment for a mysterious ailment. The place is, of course, not what it seems, and getting out turns out to be a lot harder than getting in. Wellness comes from Gore Verbinski, who's been busiest over the last decade making Pirates of the Caribbean movies. This looks a whole lot more twisted than those Disney outings, but charged up with the same grandeur and ambition that makes the director's later work so visually immersive.
XX (February 17)
When V/H/S became an unlikely little sensation a few years ago, it briefly catalyzed a renewed fervor for horror anthologies. By the time the sequel V/H/S: Viral came out — and wasn't very good — the enthusiasm had faded, but now, XX is here to, hopefully, breathe new life into the format. The four vignettes here come from The Invitation's Karyn Kusama, Roxanne Benjamin, Jovanka Vuckovic, and Annie Clark (more famously known as rock goddess St. Vincent), and considering the dearth of opportunities for female directors, it's extra heartening to see these four getting a special spotlight.
I Don't Feel at Home in This World Anymore (February 24)
This one sounds like a genre-bender. Ruth (Melanie Lynskey) is a woman in a serious personal rut; when she returns home one day to find her house burglarized, she decides she's had enough and sets out to retrieve her stolen property. Ruth teams up with her strange neighbor (Elijah Wood) to crack the case, with the pair eventually becoming embroiled in a sordid criminal adventure. The movie's Sundance page describes it as a "blood-soaked foray into a twisted moral universe," and with these two actors onboard it will surely provide the quirkiest of indie thrills. In Lynskey we trust.
Get Out (February 24)
Key & Peele's Jordan Peele makes his directorial debut with this horror film about a black man meeting his white girlfriend's parents for the first time at their country home. It's all very awkward but well-intentioned — until the boyfriend (Skins' Daniel Kaluuya), starts recognizing the other people on the property and realizes they're all missing persons. Peele's transition into horror feels like a natural one; in standout Key & Peele sketches like "Make-A-Wish" and "Aerobics Meltdown," the duo was often at their best when they were at their weirdest and most disturbing.
Logan (March 3)
Yes, as in the Marvel Logan, the adamantium-infused superhero played by Hugh Jackman. This is not exactly a horror film, but two of our festival consultants who have seen the first 40 minutes of the movie say it is a downright bloodbath. Deadpool earned its R-rating with gleeful gore and an abundance of dirty jokes, but it sounds like Logan is going to get there with a level of violence ripped from the comic-book pages. The DC films have given "dark" superhero films a bad name; hopefully this one will be able to turn the subgenre around. Six blades up!
Raw (March 10)
With Raw, French director Julia Ducournau hasn't just made one of the best horror films of the year to come, she's also managed to make its best coming-of-age movie, too. Young Justine (Garance Marillier) is a first-year veterinary-school student following in the footsteps of the rest of her family. Unfortunately, despite being raised as a strict vegetarian, she soon realizes that she's got a taste for flesh — all kinds of flesh. What comes next is a unique process of self-discovery, as the bookish Justine navigates sexual identity, party politics, drug culture, intimate friendships, sibling rivalry, academic challenges, and a deeper understanding of her role in her own family. It's an eminently modern take on a classic kind of tale, and writer/director Ducournau is at the start of a special career.
Personal Shopper (March 10)
The summary for Shopper sounds like the plot of a supernatural thriller: A young woman is overwhelmed by a mysterious spirit when she tries to communicate with the ghost of her dead brother. The intrigue comes in the reunion of filmmaker Olivier Assayas and Kristen Stewart, who starred in the director's understated and emotionally asphyxiating Clouds of Sils Maria in 2014. That movie balanced negative space with fraught confrontations between its lead characters; had any one of them been a few tics darker, Sils Maria would have made a fine, All About Eve–style horror flick. The French brand of angst seems to drape over Stewart's shoulders like an elegant Chanel jacket; she's onscreen for every tense moment of Personal Shopper, and she's rarely been better.
The Belko Experiment (March 17)
Are you ready for an adult Hunger Games? Or maybe Office Space meets Battle Royale? Belko finds a group of happy-go-lucky office workers whose day takes a turn for the horrible when their whole building locks down and a dispassionate voice comes over the intercom demanding that they murder each other. (As usual, everyone's got secret chips in their heads that will kill them if they don't.) This looks like one for the gore hounds, but the best part of Belko Experiment is that it was directed by Greg McLean, who brought us Wolf Creek, and written by James Gunn — as in Guardians of the Galaxy's James Gunn. 
Alien: Covenant (May 19)
Based on the first trailer for Covenant, Ridley Scott is stripping his sci-fi franchise back to its bones for the sixth installment of the Alien series. The crew of the spaceship Colony is on the hunt for a new paradise planet to call home, but what they find is yet another dark and terrifying world (there are a lot of those in the Alien universe) inhabited by the most perfect killing machines in the universe: the xenomorph. Michael Fassbender, Katherine Waterston, Billy Crudup, Demián Bichir, Jussie Smollett, James Franco, Guy Pearce, and Noomi Rapace star in this brutal-looking return to form from science fiction icon Ridley Scott. On desolate planets riddled with facehuggers, no one back on Earth can hear you scream.
Suspiria (TBD)
Remaking a classic is always dicey, especially when that classic comes from a legend like Dario Argento. But here's what makes a new Suspiria so compelling: It's being directed by Luca Guadagnino and co-stars Tilda Swinton. The two have collaborated twice before, on I Am Love and A Bigger Splash, two beautifully rendered character dramas. The two aren't afraid to get weird together, and the fact that an Italian auteur is bringing new life to Argento's seminal work makes it feel like the project is in the right hands. Chloë Grace Moretz will star as the American ballerina at a prestigious German dance academy, and besides Swinton she will be joined by Mia Goth, Dakota Johnson, and even the original Argento ballerina from 1977, Jessica Harper. The film is being produced by Amazon Studios, which has recently demonstrated a commitment to beautiful, bold genre pictures like The Neon Demon and The Handmaiden. 
Maniac Cop (TBD)
This one is only in the embryonic stages, but it's still a very exciting prospect. Cop will be loosely based on a 1988 film of the same name, an exploitation movie about a killer dressed in a police uniform who goes on a killing spree throughout the streets of New York. From what producer Nicolas Winding Refn has indicated, the new version will serve as more of a commentary on the current sociopolitical climate. It's reported that Maniac will serve as the first movie in a new trilogy, and there's a wild alchemy going on with Refn producing, Ed Brubaker (Captain America: The Winter Soldier) writing, and frequent Jean-Claude Van Damme collaborator John Hyams directing. This thing seems like it's going to be violent and crazy, and considering how horror films have served as a mirror for cultural fears over the decades, it will be interesting to watch the first wave of new movies directly tackling issues of police violence.
Killing Ground (TBD)
Making its international premiere at Sundance, Killing Ground should be setting you on edge already just because it's Australian, and Australians are nuts with their horror. When a couple goes camping and finds a derelict tent with no occupants, it's a bad sign. When that couple finds a distressed, lonely child wandering around in the woods, it's a very bad sign. Horror films from the Land Down Under are known for their brutal thrillers (Wolf Creek, The Loved Ones, Wyrmwood), so if high intensity and stark violence is your game, keep an eye out for Killing Ground.
Thoroughbred (TBD)
The most exciting part of about Thoroughbred is the cast. Olivia Cooke (Me and Earl and the Dying Girl), Anya Taylor-Joy (The Witch), and the dearly departed Anton Yelchin star in this movie about a pair of teenage girls who, in the process of rebuilding their estranged friendship, discover an affinity for killing. Being a teenager can be a horror show on its own, and being a teenage girl entangled in toxic friendship with another teenage girl is truly one of society's great natural terrors. Taylor-Joy and Cooke both have the stuff to play some seriously weird disaffected youths, and if their chemistry pops, this could be a wonderfully weird emotional journey — with murder!
Berlin Syndrome (TBD)
Another Australian thriller. Teresa Palmer, coming off an excellent lead performance in the summer surprise Lights Out, stars in this movie about a woman who has a one-night stand with an alluring man and wakes up to find she's been locked in his apartment. Seeing Palmer in another claustrophobic thriller is an exciting proposition, and Berlin gets a special nod for its female director, Cate Shortland.
Housewife (TBD)
The bits and pieces of information available about Housewife are very exciting. For starters, it's the first English-language feature from Turkish director Can Evrenol, who took audiences on a brief tour of hell in the well-received (and very fucked) Baskin from 2015. Second, Evrenol told Screen Daily that the new movie will continue to explore the themes of his previous work — "sexuality, family, social claustrophobia, and nightmares" — except this time, there will be a female lead, a a woman who starts to lose her grasp on reality 20 years after her mom killed her sister and father. If Baskin was his John Carpenter homage, Evrenol says, Housewife will be a nod to Dario Argento and Lucio Fulci. It's not definite that Housewife will land next year, but it would be a huge bonus if it does.
A Dark Song (TBD)
This small Irish film premiered at Fantastic Fest 2016 where it was incredibly well received, and it sounds like an eerie, disturbing foray into the horror of the occult. In the wilds of north Wales, a grieving woman hires an occultist, whose strange ritual will take six months to complete. The less known before going into this movie the better, so we won't disclose any more details here, but the ritual itself sounds incredibly freaky.
The Girl With All the Gifts (TBD)
This heartfelt zombie feature ran through the festival circuit in 2016, and is scheduled for mass consumption here in the States at the end of 2017.  Like many thrillers about the undead, The Girl With All the Gifts takes place in a world where the infected have taken over the Earth, while those who are still able-bodied go on the run in hopes of surviving and rebuilding civilization. Where this movie sets itself apart is in its central relationship. A young infected girl named Melanie belongs to a rare crop of kids, flesh eaters who have maintained their consciousness, which are humanity's best chance at finding a cure to the zombie pandemic. When their containment facility is overrun, Melanie escapes with her teacher, and the two must survive in the wild with both the undead and the British military at their heels. Tense and rich and filled with empathy for every character onscreen, The Girl With All the Gifts is the best zombie movie you will see in 2017.