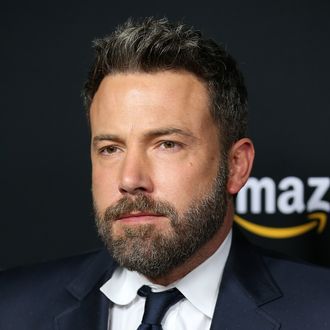 Ben Affleck, aka Sad Batman.
Photo: Phillip Faraone/Getty Images
It looks like DC fans will be waiting a little longer for their next Justice League installment, as that part of Warner's film-release calendar has gone a little bat-shaped. As Slashfilm reports, the Zack Snyder–helmed Justice League 2 is being pushed back in favor of Ben Affleck's Batman film (reportedly titled The Batman). And hereupon is where the DC nerds do a bit of conspiracy theorizing: While a new date for Snyder's film has yet to be officially set, THR reported today that he is embarking upon another feature in the interim (the long-gestating The Last Photograph), meaning he has enough time to direct an entire feature before JL2 materializes. Slashfilm picked up on this, noting that there is a currently unclaimed placeholder in DC's schedule for a November 1, 2019 release. This, ergo, is where JL2 could bump to, since Affleck's Batman is set to take JL's current spot: June 14, 2019. Ipso facto, new Batman comes before next Justice League, and new Justice League likely comes November 1.