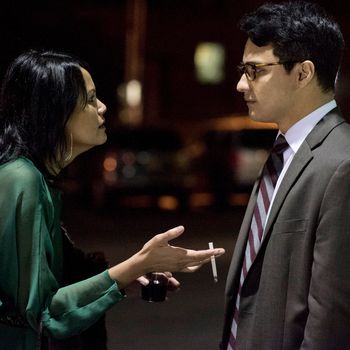 Brandon Perea as Alfonso.
Photo: Netflix/JoJo Whilden
This wondrous hour of visual storytelling begins on the rooftops of Cuba and ends with the promise of opening up a spectral plane. Such ambitious juxtaposition helps explain how a show can flirt with high-fantasy concepts as explicitly as The OA does — interdimensional portals! Angel hunters! — yet still feel grounded and accessible.
Hap is in the land of thick cigars and classic cars in an attempt to add the elusive fifth angel to his collection of prisoners: a local musician named Renata, played by the Spanish screen queen Paz Vega, of Sex and Lucia and Talk to Her. Renata plays flamenco guitar like a pro, though she's only been practicing for three years. What's her secret? Apparently, it helps aspiring musicians to have recently undergone a near-death experience. After he approaches, Renata reasonably refuses Hap's overtures to come to the U.S. and join his not-sketchy-at-all "experiments," leaving him to plot an alternate path, one that undermines the growing alliance between OA and Homer by recruiting him to bait the Latin beauty. As OA says, it's hard to blame Homer, a guy who's been locked up in a basement for years, for merely wanting to feel the touch of a woman.
"Paradise" treads the closest to pure horror out of any The OA episode thus far, and it's screamingly effective. The scenes of Homer in Cuba flirt with paranoid-conspiracy thriller. After escaping from his hotel room, he scampers frantically through the lobby begging someone to call the authorities, only to find that all the onlookers simply assume he is Hap's brain-damaged son. It's the ultimate nightmare scenario: surrounded by the outside world, but with invisible chains still preventing his release.
A more overt horror narrative takes shape in the episode's climax, when Scott (Will Brill), the lesion-covered, emaciated grunge kid who is emotionally the weakest of the captured quintet, is subjected to Hap's death-machine headgear without the aid of the Devil's Gas wiping away his memory or inhibitions. We've already seen the amount of soul-destroying prep work that goes into murdering one of these people under surveillance, but whereas Homer's stoic bravery was a buffer against such cruelty, Scott's noticeable panic at the prospect of being drowned alive is enough to instill fear into even the most hardened viewer. The moment of his execution is a genuinely haunting one — as is his resurrection, which takes place as OA and Homer perform their "movements" several scenes later.
Back in the present day, it may be time to accept that the occasional digressions into Teen Angst territory — here, the scholarship dilemma of Alfonso and his mother — are a deliberate component of the show's vision, rather than a poorly conceived distraction from it. Something about the disconnect between The OA's two realities still isn't sitting right, perhaps because they seem forever on the cusp of a "thrown-together by fate" narrative cheat. Still, it's hard to deny the naturalism of the fellow characters in our hero's subdivision. They seem like the absolute last people on Earth equipped to save supernatural beings from a force as malignant as Hap. That very unlikeliness, of course, is exactly the point.
There will be the temptation to laugh at the show's open embrace of interpretive dance as a crucial plot element, especially as a tool that will open interdimensional gates. Interpretive dance is, after all, a favorite punching bag for those who like to exploit the spacey-artist stereotype, of which Brit Marling fits a bit too snugly. But there's an aesthetic bravery to the way The OA employs outsized body movement as something truly transformative — not unlike the similar philosophy grounding one of 2016's best films, The Fits, a tightly coiled coming-of-age thriller that positioned dance as the only liberating force in a confusing world. Life is freedom. Death, too, may be freedom of a different kind. If you can't express these sorts of things with words alone, what tools are you left with? What can you do when every other aspect of your life is under lock and key?
The OA's ability to sell us on this kind of conclusion is what allows the show to succeed on such a fascinating level. When OA and Homer move their bodies, thrusting their entire beings into the steps, we believe they are summoning the very freedom they have been robbed of. It's the kind of transcendence that separates the truly innovative stories from the more earthbound ones.
Stray Observations:
Indie film fans may not recognize Brill, the clean-shaven psychopath in last month's horror outing The Eyes of My Mother, as the grungy Scott.
When Hap is out in the real world, the image of him stalking around with that gas mask brings to mind No Country for Old Men's Anton Chigurh.
Having a world-famous Spanish actress play (presumably) a Cuban may be the one eye-rolling casting decision on this show. Considering that it's also making a decent effort to shape real, flesh-and-blood stories for a trans teenager, an Asian-American mother, and an older woman, perhaps this misstep is forgivable. I'll leave that to others to decide.