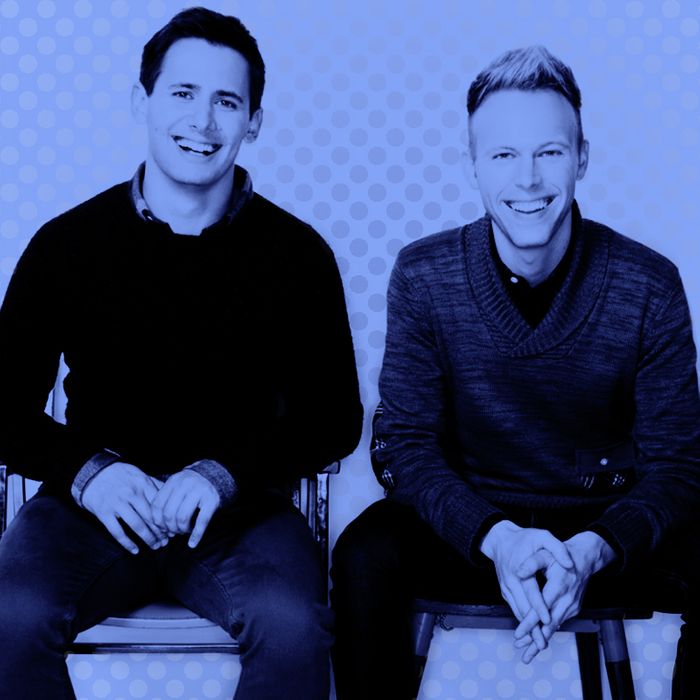 Photo-Illustration: Vulture and Photo by Dirty Sugar Photography
One day back in July of 2014, Benj Pasek and Justin Paul's managers called them with a strange message: They had just met them.
"They were basically like, 'We met your match in L.A. We met these two guys, they're both 29' — I think we were 29 at the time — 'best friends from college, they love musicals, and you guys have to work with them,'" Paul said, recalling their introduction to future collaborators Damien Chazelle and Justin Hurwitz. "And we're like, Okay, that sounds great!"
The quote above is attributed to Paul, but it could just as easily have gone to Pasek. The two men, who are both 31 now and have the natural, easy charm of born entertainers, tell stories in a sort of collaborative unfurling, starting and finishing each other's sentences. Their friendship goes back a decade, to their college years at the University of Michigan; they have the almost genetic rapport of two people who have spent years working together.
At the time the duo met their doppelgängers, Chazelle and Hurwitz were relative unknowns: Whiplash's five Oscar nominations were still half a year away, and all Chazelle had to his name was a feature he'd made in college — the improvisational not-quite-a-musical Guy and Madeline on a Park Bench — and a few screenplays. Pasek and Paul, meanwhile, had already been nominated for a Tony for their work on A Christmas Story, The Musical and had had songs featured in the second season of Smash, though they'd yet to make their entry into film. By their own recollection, they "had no money."
Chazelle and Hurwitz were looking for lyric writers for a project they had in the works, and even though Pasek and Paul wrote both music and lyrics, their management was so enthusiastic about the pairing that they figured they'd pursue it. Initially, the four men connected over the phone, discussing their love of emotionally honest, sincere musical theater rather than the kind of productions that made fun of the fact that characters were breaking into song.
Pasek: "I remember, we ended that phone conversation, and we talked to our agent—"
Paul: "—and the feedback that came in, or at least their interpretation of it, was, 'Okay, so we talked to them, and you know what, I think they like you, but they don't love you—'"
Pasek: "—and we've since said this to Damien, and he's like, 'You're crazy,' but like, it could be true?"
To turn that like into love, their manager had an idea: They should go out to L.A. — on their own dime, of course — and tell Chazelle and Hurwitz that they were going to be in town — for other reasons, of course. There, they could have dinner and seal the deal. It worked. Before the meeting, Chazelle and Hurwitz gave them a piece of music to work with. It was called "Ballad," and it was the tune that would eventually become "City of Stars." They wrote some tentative lyrics on the flight out. Pasek described their dinner at L.A. mainstay Pizzeria Mozza as a "nerd fest," with the group realizing a shared adoration for the same strain of musical theater — "MGM classic musicals and the Alan Menken–Howard Ashman Disney musicals, and Sondheim and all that stuff." They even happened, purely by coincidence, to be staying in the same apartment complex that Hurwitz lived in.
"I guarantee you that, had we pulled in behind them, they would've thought we literally were stalking them," Pasek said. "Thank God our car got there first."
From there, it was a match, and their partnership would eventually result in La La Land, the current front-runner for Best Picture and a surefire contender in a host of other categories — including and especially Best Score and Best Original Song, where the film has earned two Golden Globe nominations. In fact, the real question regarding Best Original Song isn't whether Pasek and Paul will be nominated, but which piece from the movie will get the nod, the favorites being "City of Stars," the Ryan Gosling–Emma Stone duet that anchors the film's emotional narrative, and "Audition," Stone's show-stopping finale.
As Pasek and Paul dug into writing the movie's lyrics, they tried to combine that touchstone they shared with Chazelle and Hurwitz — the romanticism and idealism of those old musicals, with a modern sensibility that would fit the characters of Sebastian (Gosling) and Mia (Stone). Pasek described Chazelle's vision of the film as "Los Angeles being this mecca for dreamers where these people come to pursue seemingly impossible pursuits, and how it's heartbreaking and exhilarating simultaneously," and they sought to balance those two concepts in their lyrics.
"We knew from Justin's music that it was bittersweet, that there was aching and longing and optimism and acknowledgement of failure," Paul said, and that concept ended up making its way into the final version of "City of Stars." "Ballad" had originally been written just for Mia, but as the duality of La La Land became clear, the song transformed into a duet; in the film, it soundtracks a montage that follows the arc of Sebastian and Mia's relationship from wide-eyed lovers to a couple who have to reconcile their personal ambitions with their mutual involvement.
Pasek describes "City of Stars" as having a "fierce irony" in the hands of Chazelle, and their lyrics play no small role in establishing that. Few songs of new love feature lines so foreboding as, "Is this the start of something wonderful and new? / Or one more dream that I cannot make true?" The sentiment works referring both to the relationship between the two characters, and the promise they see in Los Angeles. "It was always Damien's intent that the first time you view it, it should be a song where you're like, Oh God, it's a love song," Pasek said, "and the second time you're like, It's heartbreaking."
Meanwhile, all of this was still happening pre-Whiplash. At the beginning of their collaboration, Chazelle had quizzed Pasek and Paul about what it was like to get their Tony nominations. But when he invited Pasek and Paul to the premiere of his new film, the dynamic shifted just a bit.
"For us, we were onboard because he was smart, passionate, and you could tell he loved musicals and movie musicals," Pasek said. "So we were convinced because, meet the dude. But then, after we began this collaboration, I guess four months later Whiplash premiered at the New York Film Festival and then we sat and we watched the movie and we were like, Oh. My. God."
During the Oscar run of Whiplash, Pasek and Paul got to watch the director they'd thrown their lot in with become a top-tier filmmaker, and the expectations for La La Land rise accordingly. But they still had to make the movie. Pasek and Paul were in New York while Chazelle and Hurwitz were in L.A., and they'd trade work back and forth over email and phone until that wasn't an option anymore, at which point they'd meet in person and hammer out final versions.
Final, at least, until Chazelle and Hurwitz were on set, when Chazelle would occasionally decide to go in a different direction. "There were definitely moments where he would choose lyrics that were our second choice, but we trusted him," Paul said. Film is a director's medium, and as Paul puts it, "the smartest thing we ever did was trust him."
Now that trust could prove Oscar-worthy — but even if it doesn't, Pasek and Paul should be fine. Their new show, Dear Evan Hansen, which they were developing in Washington, D.C., during the shooting of La La Land, just opened on Broadway to rave reviews after a successful Off Broadway run. Loosely inspired by a story from Pasek's youth about a socially anxious high-school senior who becomes involved in a family's grieving over the death of their son — and featuring heavy doses of social media — Dear Evan Hansen covers significantly different ground than La La Land, making the concurrent musicals a testament not only to the talents of their songwriters, but to the sincerity with which Pasek and Paul are pursuing musical theater. Pretty soon, some manager might be telling his young clients to go book a flight to try and impress them.