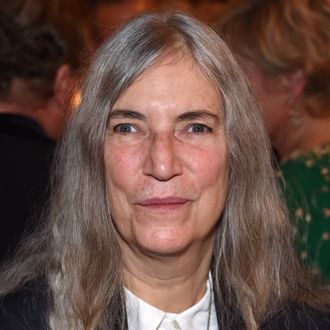 Patti Smith at the scene of the crime.
Photo: Pascal Le Segretain/WireImage
Patti Smith is going to make you regret ever doubting her — not through intimidation or force, mind you, but by penning an essay so moving that it'll leave you feeling like a real jerk. The rocker had a difficult public moment over the weekend, when she performed in honor of literature laureate Bob Dylan at the Nobel Prize Award Ceremony. Singing "A Hard Rain's A-Gonna Fall," Smith quickly ran into trouble, stumbling over the lyrics and restarting the song midway. Now, Smith has written an essay about the incident for The New Yorker (if only we could all have such a platform to explain our embarrassing encounters away). In it, Smith shares that unlike some game-show contestants of yore, she definitely did not forget the lyrics; she was just very, very nervous. Reliving the moment, Smith remembers, "I was struck with a plethora of emotions, avalanching with such intensity that I was unable to negotiate them … Unaccustomed to such an overwhelming case of nerves, I was unable to continue." Still, "I hadn't forgotten the words that were now a part of me. I was simply unable to draw them out," she explained.
And Smith says that the pall of her mistake was not so easy to shake off, as she returned to her seat feeling "the humiliating sting of failure." It was only when other Nobel attendees reacted to her performance that she began to recover. "For us, your performance seemed a metaphor for our own struggles," Smith recalls some scientists telling her, a message that led the musician to a realization. "Why do we perform? It is above all for the entertainment and transformation of the people. It is all for them," she says. Of course, while Smith may have been a victim of stage fright, she did actually show up. Cold comfort, but more than can be said for Bob Dylan. Read the full essay here.