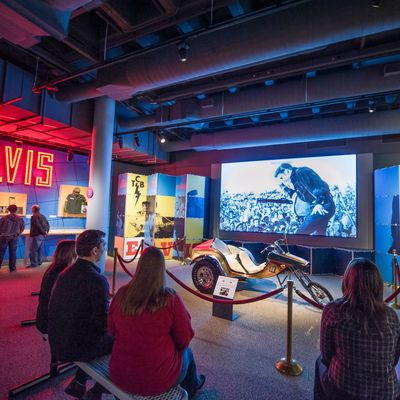 Photo: Rock and Roll Hall of Fame
Yesterday morning at eight a.m., the Rock and Roll Hall of Fame announced its 2016 inductees: congratulations to Joan Baez, Electric Light Orchestra, Pearl Jam, Yes, and Tupac Shakur, who's reading this article at a public library in South America, where he's been living for 20 years. By 8:05 a.m., the announcement of this motley and not very inspiring list had incited the annual spree of complaints:
Who Cares?
Music Lives Inside Us, Not In a Museum.
It's a Farce Because [Name of a Cult Band I Wildly Overrate] Hasn't Been Inducted Yet.
Why Are Disco and Rap in the Rock and Roll Hall of Fame? It's Not Called the Disco and Rap Hall of Fame.
That last one is the most eye-rollingly tedious argument of them all, because it applies the most narrow definition of rock and roll, which, surprise surprise, keeps out most women, gays, and POCs. "Madonna is NOT rock and roll." You're funny. Madonna is more rock and roll than Journey. She even plays a guitar onstage!
Every rock fan has a favorite band they cannot believe hasn't been inducted into the Rock and Roll Hall of Fame (RRHOF). For some people I know, it's the Monkees. For others, it's the Moody Blues. I think both groups have dim arguments for inclusion, but I'm quite certain the lack of respect for Roxy Music is insane. I, of course, am right.
The list of acts who were nominated this year but didn't get enough votes for induction includes the Cars, Chic, Depeche Mode, Janet Jackson, Jane's Addiction, Chaka Khan, Kraftwerk, MC5, Joe Tex, and the Zombies. There's a world in which people think Joan Baez is better than Janet Jackson, and ELO is better than Kraftwerk. Sadly, we live in that world. But if you want to understand why the RRHOF often makes bad choices, you have to first understand who the voters are. I am one. Let me tell you about us, and why we suck.
Over the last ten years, the clique of Baby Boomers who control the RRHOF have culled the nominating committee of many retirement-age VIPs, and added younger people. By "younger," I mean in their mid-40s.
The nominating committee, currently about 28 members, consists of musicians (Steve Van Zandt, Robbie Robertson, Paul Shaffer), music execs (John Sykes, Rick Krim, Seymour Stein), managers (committee chairman Jon Landau, Cliff Burnstein), and lots of journalists, including at least eight current or former Rolling Stone contributors, which exceeds the number of women on the committee (five). They meet every September in a conference room at Rolling Stone. (Jann Wenner, the founder, editor, and publisher of Rolling Stone, is chairman of the Rock Hall Foundation.) In recent years, the smaller nominating committee has done a fine job of nominating acts who'd been ignored because they didn't fit the Boomer definition of rock. Tom Morello of Rage Against the Machine persuaded a skeptical committee to nominate KISS. Questlove pushed Hall & Oates onto a ballot. One or both got a nomination this year for Bad Brains.
Once the committee determines the ballot, it's mailed to more than 800 writers, executives, and musicians. We vote and determine who gets in. This is where the problem is. The committee has put Chic on the ballot for 11 years, because they know Chic is a fantastic fucking band whose songs continue to influence young musicians, and every year, voters shun Chic for the likes of, say, Journey, who are closer to the classic Boomer ideal of rock.
"Joan Baez isn't rock," you say. Yes, but she's "authentic" — writes songs, doesn't use Auto-Tune, performs at benefits, and, most important of all, is a Boomer. BOOMERS REVERE BOOMERS. And while the committee has gotten younger, the voting members have not. Everyone who's been inducted in the RRHOF gets a ballot. It's a sign of respect, and it acknowledges their expertise and achievements. However, many of these voters are older than the Atlantic Ocean. And by comprising a majority, they control the vote. They evidently don't care about Chic ("Disco sucks") or Depeche Mode ("Dudes in eyeliner singing about S&M") or Kraftwerk ("Don't play guitars and are German"). "The nominating committee is a more educated, elite, and sophisticated group of people [than the voters]," Wenner acknowledged when I interviewed him about the Hall in 2015.
By now, people on the committee are more than exasperated by me and the voters. Last year, when Chicago, Steve Miller, and Deep Purple got in, I emailed a member of the committee (which I'm not on) and said, "Better groups won't get in until you take away voting rights from older, conservative voters." He replied, "You nailed it." He described the trio of inductees as "brutal," and added, "Somewhere, Lee Abrams is laughing at us all." (Industry joke. Abrams is a radio consultant, and the reason you know the words "mountains come out of the sky and they stand there.")
So why doesn't the committee change the demographics of the voters the same way they changed their own demographics? For one thing, doing so would probably contradict the Boomer music canon Rolling Stone created and perpetuates. If Chic is as good as Deep Purple, then the magazine's long dislike of disco (and, broadly, Top 40 pop) might seem, in retrospect, dubious. What if all the great music wasn't made in the '60s? What if Sgt. Pepper isn't the greatest rock album ever made?
But also, the Hall hosts a concert each year, which is broadcast on TV. They want to sell tickets and get good ratings, which generates income, which funds the museum in Cleveland and its excellent exhibits and archival projects.
Am I implying that the Hall cheats to get the results it wants? Many people suspect this; I don't. I'm not a Rock Hall Truther. Though I admit, it would be easier to make my argument if the Hall had any transparency at all about the vote totals. (And, maybe, if the Hall didn't have two staffers who work in the offices of Wenner Media; and if the Hall didn't thus pay rent to Wenner.) The Baseball Hall of Fame, for instance, announces vote totals for every player on the ballot. The Rock Hall announces only who finished at the top. Don't expect this to change. In 2011, Jon Landau, who chairs the nominating committee and manages Bruce Springsteen, proudly said to the New York Times, "We've done a good job of keeping the proceedings nontransparent. It all dies in the room."
So no, I don't think it's a #riggedelection. But I do think the results are beneficial to the Hall's interests. Rock groups sell tickets and get ratings. Pearl Jam will attract more viewers and make more money for the Hall than Chic would. Same with Journey versus Kraftwerk, who'd probably send robot selves to accept their award. In any given year, if you want to know who will definitely get in, find the most popular white rock band on the ballot. They're a clinch. I took money off friends a few years ago because I was confident Rush would get in, even though they're not a critically adored band.
The RRHOF benefits from the poor decisions we voters make, and that removes the motivation to kick out older voters — which would be genuinely disrespectful, though I doubt many would object — in order to get the results they damn well know are better and more just. There aren't a lot of dollars in justice.
How can the Hall fix the Boomer problem? One solution would be to add hundreds of younger voters who don't think music of the '80s and '90s is crass and distasteful. But the Hall isn't exactly trusting of younger people, and they're unlikely to cede control to a bunch of crazy kids.
Another solution would be to eliminate me and all the other voters. Kill us off. Let the "educated, elite, and sophisticated" nominating committee make the final decisions. As much as I'd miss casting my vote for Chic year after year after goddamn year, that's probably the right decision. Elites make better voting choices than the general public, as we've already seen this year, in a far less harmless election.
Full disclosure: This year, I voted for Chic, Janet Jackson, Kraftwerk, Tupac Shakur, and Yes. I did not write in a vote for Roxy Music, or for Bernie Sanders.