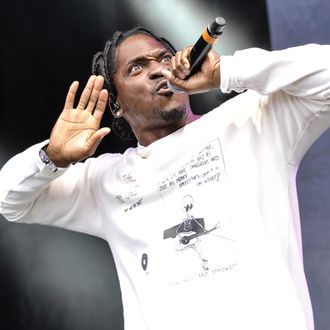 Poor Push.
Photo: Kris Connor/Getty Images
Just as Pusha T was on the front lines of the election for much of the year, campaigning with and for Hillary Clinton and Tim Kaine, he was close to her side the night it all came crashing down. In a reflective new Complex cover story, Pusha T shares what it was like learning that Donald Trump would be America's next president from inside the Clinton headquarters, after a long fight against that future. "As the evening went on, you could feel the energy shift — we were extremely disheartened. I just thought it said so much about America," he remembers thinking. "I just didn't understand how he could speak so ill to so many different groups of people and they still find a way to support him. The [support from] white women was a bit much for me. I thought that said a lot. The blatant disrespect to that group in particular, over and over again throughout the campaign — the people who voted for him did not care." He's especially wary of how Trump's America will continue to permit detrimental harm against minorities: "Trump is trying to extend the lifeline of and expand upon white privilege. The racism in America — it's no longer hidden. They don't feel the need to hide anymore, because your president didn't hide it in any capacity."
As for a lesser threat, Pusha also spoke on Drake's diss in "Two Birds, One, Stone," in which he alleged that Pusha's drug-dealing past is largely hyperbole. "I would never, ever attribute that [song] to myself," he says. "My past is cemented. My past happened. Like slavery happened. The Holocaust happened. You can't ever question anything that has actually happened." It happened! Okay?