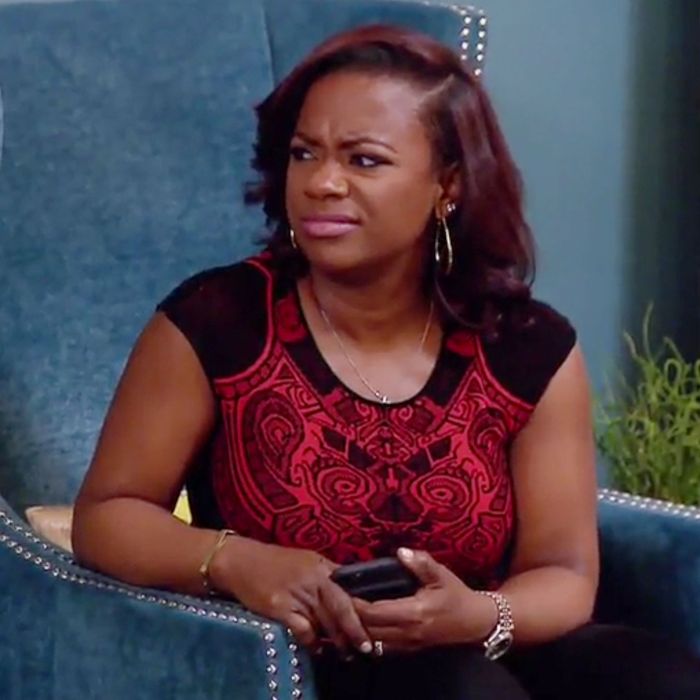 Kandi Burruss.
Photo: Bravo
Sometimes our dear Housewives make foolish decisions. That's why we love them. And believe me, there are some foolish decisions all over this episode, from Porsha going to babysit in a white mermaid dress to Kandi agreeing to sit down for lunch with Phaedra despite years of tomfoolery between them.
Let's start with the first foolish decision: Porsha and that white lace gown going to babysit. (I keep accidentally typing "babyshit" and that's how I feel about this segment.) Porsha is babysitting Phaedra's boys as a test run to see if she'd like to have children. So she decided to get back with her ex-boyfriend on the premise that she wants him to impregnate her, but never really questioned if she's good with children? That's two foolish decisions in one. When Phaedra comes home from whatever business she was doing at 7:30 p.m., Porsha tells her that Todd is really into Facetiming with her boobs and he's going to meet her family. She also tells Phaedra that she needs to grease up her lips and go on a few dates.
Somehow getting a DUI has made Sheree's son decide he needs get into modeling. Ah yes, the one industry where excess and irresponsible behavior simply isn't tolerated. Sheree is all-in on this plan and helps him organize have a shirtless photoshoot in their basement. You know? What parents do? Bob comes home and tries to cover his son because what is happening is strange.
It's time to check in with Kenya. Oh, Kenya. She sulks around Moore Manor like it's M-O-O-R manor and she's in Wuthering Heights. She calls her dad to tell him that Matt is destroying her home, and she wants him to intervene. Where is the logic here? My boyfriend is increasingly violent and angry so I'm going to have him sit down with my dad who doesn't know him nor is a mental health professional to accomplish … quoi exactly? It turns out Kenya comes by her foolishness honestly and her dad agrees to hop on a plane.
Meanwhile, Cynthia comes off relatively well in this episode. She's merely purchasing houses and checking out her friend's children's abs in a coffee shop.
Kandi heads to the Kandi Factory to sit in her velvet chairs and listen to her coterie of employees talk shit about her friends and their families. While she's entertaining her court, she gets a phone call from Phaedra's office to schedule an early dinner. Kandi sets up a series of clips about how her mother wouldn't shut up about the bomb threat at their OLG tasting lunch. Kandi doesn't know what will come from this dinner, but I can tell you it won't be good.
Porsha takes Todd over to ther family's house, where her mom incorporates asking about Todd's intentions into the grace before dinner. Todd sits silently, smiling at everyone over dinner instead of getting to know them. Porsha's sister calls him out and he opens up and tells Porsha that he loves her for the first time. Also, he reveals that he may not want more children. Wow. He went all over the place with that one.
Kenya sits down with her dad and talks about her issues with Matt again. We get it. We freakin' get it. He's angry. There might be a good person in there. You love him. Blah, blah, blah. She takes her dad to a cigar bar to meet Matt and once again, Matt acts a fool and doesn't show up but sends 17 text messages. Yo, dude. No one is reading 17 text messages.
Kenya decides the best course of action is to have her dad call Matt because this is the 1700s and no man would reject being summoned by an older landowning gentleman. On the phone, Matt insists that Kenya is manipulating him so that's why he didn't want to come. Kenya's father gets frustrated and hands the phone to Kenya and she says, "My dad says your tone is abrasive," and he hangs up. Y'all. I'm so tired of these two. Matt shows up — presumably after being summoned by the producers — and sits down with Kenya while her dad tries to mediate their relationship. They just snap at each other without making eye contact. Kenya, I understand you don't want to be alone, but you gotta be alone, girl. Whatever you were getting out of this "relationship" is gone. Matt appears to have run out of lines the producers and Kenya have been feeding him to say about the relationship. He's just trying to improvise what a couple fighting would sound like, but he comes off like a bad actor in a soap opera. Kenya storms out and I wish she would just keep walking.
Finally, Phaedra and Kandi sit down to a very early dinner to talk about why they hate each other. At first, they sit and stare at each other while Phaedra wears her insane white ruffled blouse. Phaedra reminds me of like a cartoon sexy frog sitting on a lilypad when she's just lying in wait. This all starts with Phaedra being upset that Kandi didn't stop Mama Joyce for talking shit about the bomb threat. Phaedra launches into her manifesto about helping black men and the black community. The whole thing devolves into Kandi and Phaedra accusing each other of lying about how much they've lied behind each other's backs. Does anyone care? These two haven't been friends for years. Phaedra accused Todd of being broke and Kandi joked about Apollo going to jail being a relief for Phaedra. Apparently they both have a list of things that, if revealed, would ruin the other. Just reveal it all. Publish each other's Reynolds Pamphlets! This whole tense dinner ends with Phaedra shouting, "Maybe I loved you more than my husband," which is just … odd. Kandi leaves. Phaedra sips her drink that has a toasted marshmallow on it.