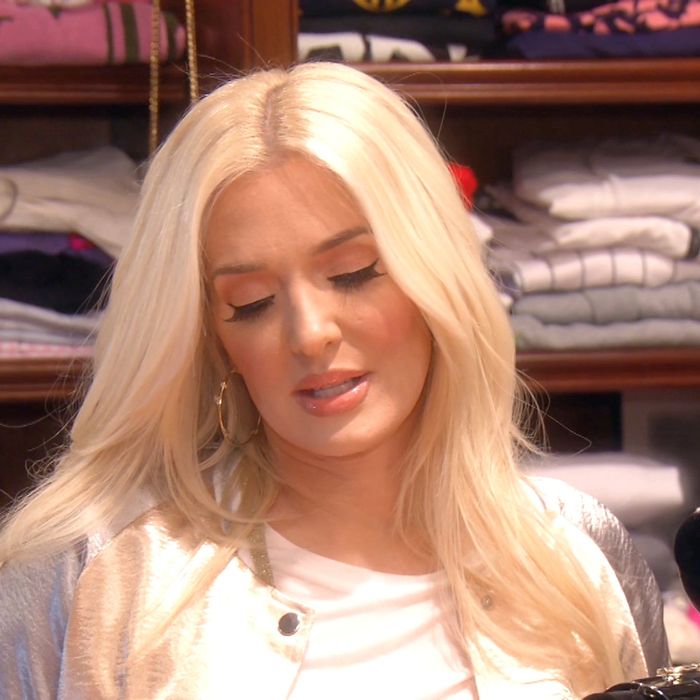 This week on Rich Women Doing Things, the rich women once again do things. They go shopping for leather pants and striped handbags, they go to pet rescues and wash dogs (or watch their husbands wash dogs), they talk about starring in soap operas, and they talk to those very same husbands on speaker phone, holding their rose-gold iPhones in their limp wrists like shucked clam shells that already had the meat sucked out of them. That is what the rich women did, and we all had to watch.
While there is a little bit more drama this week than in the past three long weeks, there is still not much going on. The problem is, once again, that I actually like all of these women and they seem to be doing very well. Lisa Rinna goes to QVC and sells a boatload of faux-cotton dusters to people who are buying faux-cotton dusters at 3 a.m., and she is making a boatload of duster money. She's making so much money that '80s heartthrob Harry Hamlin will never have to work again. That is a lot of duster money. Dusters.
Lisa Vanderpump is helping to end dog meat, because that is just a wonderful charity. Kyle Richards is watching people audition to play her and her mother and her mother's friends on a show about her life growing up in the '70s. Of course Kyle's project is all about her, but at least she has a successful entertainment venture for the first time since Nancy Reagan was out of the White House. (She also has an assistant who skulks in the corner, eating like her sister Kim, who mixes her chicken salad with her bare hands.)
Everyone's marriages are flourishing, their business are thriving, and their gays are perusing their closets — I'm sorry, "costume archives" — and finding wonderful things for them to wear. It's all too nice and civil and wonderful. Even Dorit, who we're not supposed to be talking about, finds time to take her daughter to the doctor with her husband, PK. The doctor takes the "headband" off "Phoenix" and declares that her skull is no longer lopsided. No matter how you feel about Dorit and PK, a dolphin tattoo of a man, you can't be mad about a squishable little baby who no longer has a flattened skull. If you can, then you probably eat dog meat and Lisa Vanderpump has hired a ninja assassin to drown you in your own vomit.
Speaking of Dorit, thanks to the Eileen Davidson Accord of 2013, we still have one more week until we can pass judgment on her as a person and a Housewife. However, there is no way to talk about this episode without talking about her behavior toward Erika. The only thing that happens is that Dorit totally overreacts to her husband PK, the crusty part of your heel before a pedicure, staring at Erika's Jayne. As we learned last episode, Erika showed up at a party wearing a short dress and no panties and some of the ladies caught a flash, but PK, a Monster energy drink left out in the sun, was sitting across from her and somehow Erika is the one to blame.
Several of the women, including Erika and Lisar, point out that if PK were getting such an eyeful, maybe he should have abstained from staring at it like he was Liza Minnelli and it was the world's last remaining Quaalude. Maybe he should have pulled Erika aside and told her. She would have been embarrassed, but she would have corrected her behavior and it wouldn't have been an issue.
Instead, Dorit decides to blame Erika for her husband's bad behavior. That makes zero sense to me. That is like covering women up because men won't be able to control themselves. This year, it seems like the patriarchy is coming from inside the house.
In order to quell Erika's behavior, Dorit goes around and talks about the "crotch chronicles," as Eileen Davidson calls it, with all of the women before bringing it up to Erika. When the confrontation finally arrives, Erika is not only embarrassed about the incident, but doubly embarrassed that Dorit has been talking to all of her friends about it. They all knew it was a bad idea, especially Kyle, who was there when Dorit hatched the plan to buy Erika a pair of panties as a "joke." Naturally, Kyle said nothing because she knows how boring Rich Ladies Doing Things is this season and thought a little pussy talk might liven things up.
So, they're at the Escape Room thing — seriously, asking these women to work together to escape a room is like asking a bunch of water buffalo to fix the national debt — and Dorit hands Erika the box of panties and they have a chuckle, but then Dorit keeps talking. Oh, Dorit, shut up. She was ahead for a minute, but as she shows Erika how much she obsessed over this issue, she's just making it worse.
"The more you talk about shit, the worse it gets," Erika says. That is some very sage Housewives advice. Not only is it true in this incident, when Dorit amplifies the situation by not shutting up, it's also true that when the women talk about incidents with each other before confronting the culprit, it always gets worked up into a bigger thing. That's when Kyle is like, "Oh well, she told me this," and then Erika hears what she told Kyle and reacts to that and then she goes back to Dorit and there is another round to this fight and that is how someone not wearing panties to a White Party becomes the key event of the entire season. If that happens, I will eat dog meat so Lisa's ninja assassin drowns me in my own vomit.
My favorite part of the whole incident was at drinks after the Escape Room. Lisa Vanderpump, not even trying to snipe from the side anymore or pull the strings offscreen, asks Erika, "What happened?" and Erika does not take the bait at all. "She gave me some underwear," she replies, as cool as a cucumber. "That's it?" Lisa asks. "Ask her," Erika replies, not heating up at all. She tried to turn it into a non-incident, but it was too late for all of that. It was something, even if just a little something.
But this show — and certainly Lisa and Kyle, the two co-holders of the central diamond — tried to make it into something more. That's because we want more than just rich women doing things. We want rich women to fight. We want rich women to bungle and make us feel better about our own blunders. We want rich women to wear only articles of clothing without complete sleeves so that we can see that not even all that money can buy taste. We want rich women to hate as we hate. Most of all, we want the rich women to feel, to have those shocking emotions of rage and sadness and inexplicable frustration that come from trying to deal with someone who won't listen to reason or good sense. We want something to pierce our bubble, to get inside and let us experience authenticity through the television, and if the rich women can't do that, then maybe there are some poor people who can.