6 Reasons Why Scorsese's Silence Is Worth the 30-Year Wait
Nearly three decades ago, Martin Scorsese purchased the rights to Japanese author Shūsaku Endō's novel Silence, which follows two Jesuit priests from Portugal on a quest in 17th-century Japan. After reading the book on a train to Kyoto, Scorsese fell in love with the story of man's connection to faith in the face of great persecution and was inspired to make a film exploring this spiritual conflict. Over the past 30 years, Scorsese has fought unceasingly for this namesake passion project, working through arduous script-rewrites and relentless legal battles even as he stockpiled Oscar nods for other hits, including a win for The Departed.
Like some of Scorsese's past projects, namely Kundun and The Last Temptation of Christ, Silence explores Christianity in dark and complex ways, centering on the physical and spiritual journey of Sebastião Rodrigues (Andrew Garfield) and Francisco Garupe (Adam Driver) as they attempt to rescue their mentor, Father Ferreira (Liam Neeson). Ferreira's been captured by the Japanese government after introducing Christianity to Japanese villagers post-Shimabara Rebellion, an uprising in southwestern Japan that began in 1637 and was fueled in part by the countrywide prohibition of Christianity. (After the rebellion, this prohibition was strictly enforced.)
The film will open nationwide January 13, after having premiered in New York and L.A. on December 23. And there's already Oscar buzz around the project — for Scorsese's directing, Garfield's performance, its screenplay, and editing. Here, we break down six reasons why Silence has taken nearly three decades to bring to life, and why it's more than worth the wait.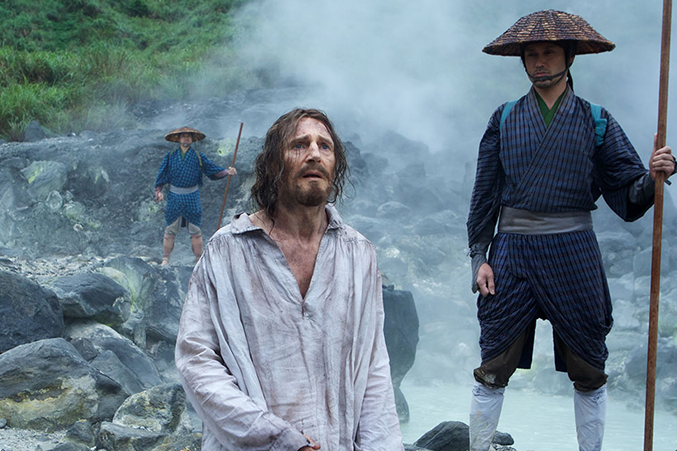 The Search for the Story's Existential Core
After Episcopal Archbishop Paul Moore Jr. attended a screening of Scorsese's 1988 film The Last Temptation of Christ, he sent the director Endō's book. Scorsese was taken by the concept of apostasy — when a person abandons their faith — and related to the protagonist's inner struggle. "I've tried, in my work, to find out how to live life," he told the New York Times in a conversation about the film. "[I've] tried to explore what our existence really is and the meaning of it."
Scorsese purchased the rights to the novel in 1989, and an offshoot of Italian production company Cecchi Gori Pictures hired him and his writing partner Jay Cocks to produce a script. Despite the strong emotional narrative of the character Rodrigues, Cocks had a hard time finding a "thematic through line," he told the Hollywood Reporter. So Cecchi Gori hired two new writers to rewrite the first draft. Eventually the script ended up back in Scorsese's and Cocks' hands, and the result is a solemn, powerful tale of personal belief systems challenged by extreme oppression and violence.
The Ambition of Pulling Off a Well-Done Period Piece
Set more than 300 years in the past, Silence forced Scorsese and his team to recreate an era that few American historians could speak to with deep knowledge or authority. After assembling a squad of historians to meticulously research Japanese culture of the time, producers then had to make sure they were accurate in instances such as referring to the different rankings of samurais. The final draft of the script had to be entirely rewritten in 17th-century Japanese, and "'then we had Japanese historians and language consultants adapt that into a version that a modern audience would understand,'" producer and researcher Marianne Bower told the Hollywood Reporter. The filmmakers also consulted with Father James Martin, author and editor-at-large for Jesuit magazine America, to ensure their depiction of Jesuits during that time was true to life.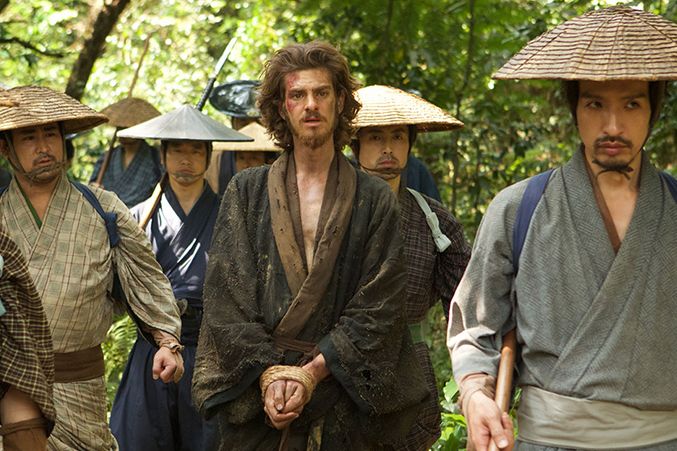 The Task of Securing a Formidable Lead
Multiple actors — including Daniel Day-Lewis, Benicio Del Toro, and Gael Garcia Bernal — were attached to Silence at different stages of its life, but complications led each to pursue other projects. With a year to go before the shoot, Garfield signed on and proved himself worthy of the demanding lead role. He immersed himself in Jesuit literature, met regularly with a priest, and completed the Spiritual Exercises of Ignatius of Loyola, a rigorous set of meditative and contemplative practice from the order's founder that he's since compared to a 12-step program. Fasting for the role required him to restrict his diet to vegetables and unseasoned soup, and he at one point took a seven-day silent retreat.
In light of Garfield's intense preparation, Scorsese has claimed his leading man could "out-Jesuit a Jesuit." And given his part as a conscientious objector in Mel Gibson's Hacksaw Ridge (released in November), this is Garfield's second role this year in which he's "found himself courting religious martyrdom amid extreme carnage, his face a mask of suffering," writes David Edelstein. Critics are praising the 33-year-old's performance, with some saying it's difficult to imagine another actor for the role.
Gut-Wrenching Character Research
Scorsese and Garfield weren't the only contributors whose commitment to the project went above and beyond typical filmmaking standards. To ensure their performances were as authentic as possible, the rest of the actors went to extreme lengths. For instance, in order to understand what torture methods were like in 17th-century Japan, Neeson simulated them in real life, hanging "upside down by ropes over a pit of excreta," the New York Times reports. To reenact a crucification at sea, Japanese actor Yoshi Oida hung on a cross as a wave machine pushed water over him. Driver lost 51 pounds for the part, and by the time he shot his final scene, he was reportedly hallucinating from hunger.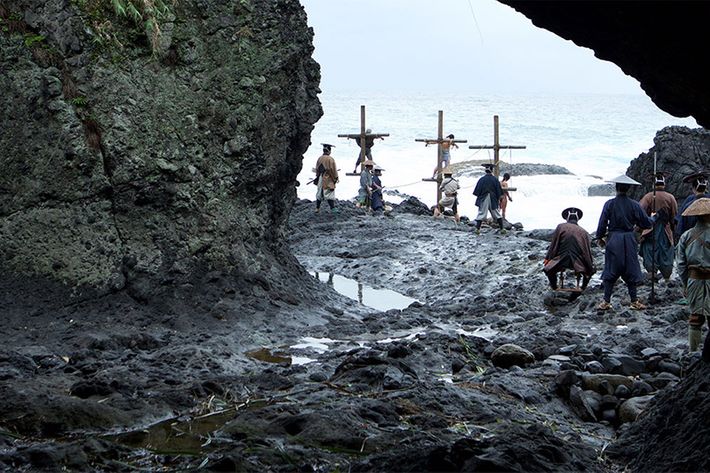 Beautiful, But Brutal, Shooting Conditions
Scorsese is known for making films set in urban environments — "apartments, hotels, bars, or churches," he noted to Variety last year. But Silence was filmed mostly outdoors and along the coasts of Taipei, as well as the cities of Taichung and Hualien. "To be able to sit and watch a scene with birds and animals has been an immersion into another world," the director explained. But the natural elements on location also included semitropical Taiwan's erratic weather patterns, which fluctuate from extreme heat to typhoons.
"I remember almost passing out, and everybody just stripped and kept shooting," Scorsese told the Hollywood Reporter of the record-high temperatures. The following day, the cast and crew were "buffeted by winds and rain," and they ended up shooting through a typhoon. One scene was delayed due to a lightning storm, causing the makeup tent to blow off the side of a mountain. "We had 400 extras in buses sitting on the top of a mountain with lightning and thunder," Scorsese's producing partner Emma Tillinger Koskoff told the title, "and we just had to sit it out."
Carefully Crafted Artistic Restraint
From a director known for such rollicking escapades as Gangs of New York, audiences may be surprised at how understated and personal Silence is. Music is minimal, and the sparse soundtrack consists heavily of ambient noise — crashing waves and swarms of cicadas. By allowing the actors to exist fully in their environment, the piece allows the audience to be fully absorbed in each scene, swept up in quiet, powerful takes.
Similarly, not a lot of elaborate camerawork was used in the film. Scorsese abandoned his signature long shots and fast-paced cuts, creating a world A.V. Club calls "daunting in its mystery, cruelty, and symbolism." In between shots of the stunning landscape — filming took place along Taiwan's mountainous coast — the film relies heavily on the leads' intimate performances. (To watch out for: Reviewers have noted how occasional aerial shots seem to imitate the eye of God watching over the men on their pilgrimage.)
Watch the trailer for Silence below.
This is paid content produced for an advertiser by New York Brand Studio. The editorial staff of Vulture did not play a role in its creation.