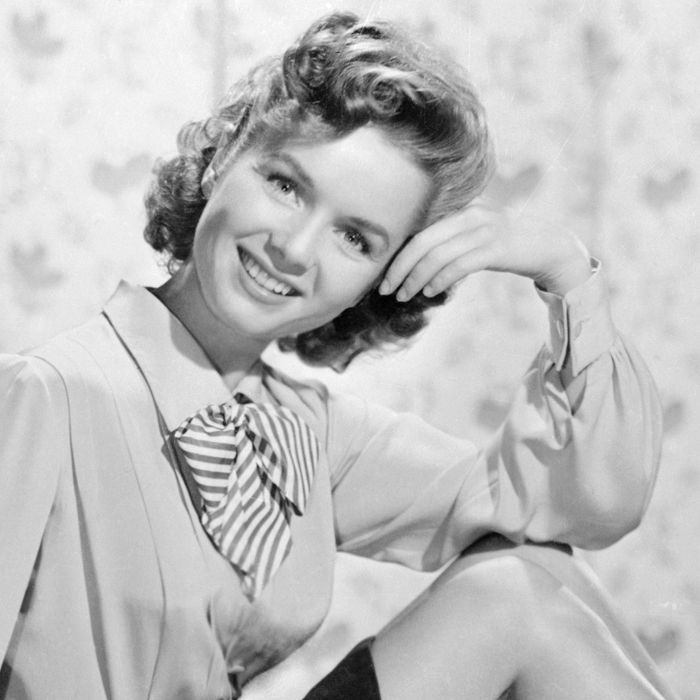 Debbie Reynolds.
Photo: Bettmann/Getty Images
Debbie Reynolds died Wednesday night, just a day after her daughter, Carrie Fisher, died from a heart attack. At 84 years old, Reynolds was Hollywood royalty, leaving a long and glittery legacy in cinema. She began in the studio system in the late '40s before breaking out alongside Gene Kelly in Singin' in the Rain in 1952. She would continue to sing, dance, and stomp her way through the decades, with musical hits like Tammy and the Bachelor and The Unsinkable Molly Brown, for which she scored an Oscar nomination. Younger generations got to know Reynolds through her later work; she played Debra Messing's mother on Will & Grace, voiced the titular spider in Charlotte's Web, and made appearances on Golden Girls, Roseanne, and RuPaul's Drag Race. Here's a brief retrospective of the musical highlights from Reynolds's illustrious career.
Three Little Words (1950)
If Debbie Reynolds sounds a little different in her breakthrough role of singer Helen Kane in 1950's Three Little Words, that's because she was dubbed over by the real-life Kane's signature Betty Boop–style vocals. Dubbed or not, Reynolds had enough star power to receive a Golden Globe nomination for Most Promising Newcomer.
Singin' in the Rain (1952)
Aside from childbirth, Reynolds said that shooting Singin' in the Rain was one of the hardest things she ever had to do. She didn't know how to dance before the film, and Gene Kelly didn't care that her feet bled because she was rehearsing so much. Well! Reynolds soldiered through and displayed that pluck, gumption, and vim she would become famous for.
I Love Melvin (1953)
Reynolds caught on to the dancing thing pretty quickly, shooting a slew of musicals over the decade following Singin' in the Rain, including this number, in which her character explains how she became so quick on her feet.
Give a Girl a Break (1953)
Reynolds starred, and danced, alongside burgeoning choreographer Bob Fosse in this MGM musical comedy, with music by Burton Lane and Ira Gershwin. The film received middling reviews, but you wouldn't have guessed it from Reynolds and Fosse's ecstatic "Balloon Dance."
Hit the Deck (1955)
It's Debbie Reynolds surrounded by a bunch of dancing seamen, just as God and the gays intended.
Tammy and the Bachelor (1957)
Reynolds starred as the titular teen in the first of the four Tammy films, proving she was a vocal powerhouse with this recording of the torch song "Tammy." The song was a top-40 hit, landing at No. 1 on the pop charts; spawned multiple covers; and got an Oscar nomination for Best Original Song.
The Unsinkable Molly Brown (1964)
Reynolds would go on to receive an Academy Award nomination for her performance as Margaret Brown, who survived the Titanic disaster, in The Unsinkable Molly Brown. There was a lot of drama behind the scenes: The part had originally been offered to Shirley MacLaine, and even after Reynolds was cast, the director Charles Waters refused to give her guidance for much of the time. But just like her character, she was indefatigable and shot brilliant dance sequences like the one at the end of "He's My Friend."
Charlotte's Web (1973)
A lot of kids knew Reynolds's voice before they knew her face. As Charlotte, the wise spider from Charlotte's Web, she taught many young children the concept of death and loss for the very first time. Try not to cry at your desk while you listen to her singing "Mother Earth and Father Time."
Leapin' Lizards, It's Liberace! (1978)
Good friends with Liberace, Debbie Reynolds performed as part of the showman's Las Vegas special. The pair are having a ball with this Annie number "I Don't Need Anything But You," which — spoiler alert — features a costume change. She would go on to portray Frances Liberace, the singer's mother, in Steven Soderbergh's 2013 HBO movie Behind the Candelabra.
Do It Debbie's Way (1983)
If you were an actress alive in the '80s, chances are you launched at least one exercise video. In 1983, Reynolds released the extremely low-impact Do It Debbie's Way, complete with a big-band swing soundtrack, an all-star cadre of celebrity exercise buddies like Dionne Warwick and Teri Garr, and Shelley Winters shouting from the back of the room, "How many girls here slept with Howard Hughes?" You better believe Debbie also bursts into song.
Oprah (2011)
In this appearance on Oprah, Reynolds and Fisher perform a rare mother-daughter duet that traipsed through their own careers. First, Reynolds dipped into "You Made Me Love You (I Didn't Want to Do It)," which she sang during a big Broadway revival of Irene. Fisher was in the chorus at the time, and George S. Irving, who also died this week, was her co-star. Then Fisher sings "Happy Days," which she also performed during the stage adaptation of her book, Wishful Drinking. She can thank Mom for encouraging her to sing in the first place.
Will & Grace (1999–2006)
Like her daughter, Reynolds had no problem poking fun at her image in smaller roles. On Will & Grace, she played Bobbi Adler, Grace's exhausting, inexhaustible mother who was obsessed with musicals and convinced she would have been a big, big star.