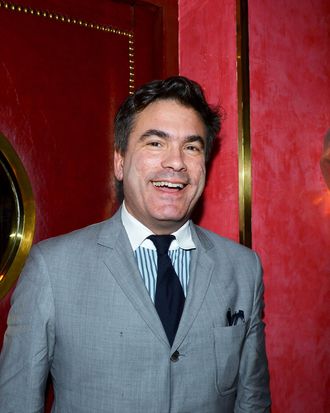 Photo: Patrick McMullan/PMC
What most people don't realize about the life of a red-carpet reporter is the waiting. We all work for different publications, but out in those trenches we literally stand together, crammed into too-tiny assigned spots, locked behind barricades, waiting for up to four hours for the occasional three-minute interview with a celebrity who may or may not, in the end, blow us off. And in all that waiting we talk, we listen, we help one another, we become a community. Competitors, colleagues, friends, even family.
Jeffrey Slonim, whose tragic death at age 56 came as a shock to the media, fashion, and entertainment industries he inhabited, wasn't just a fellow reporter; he was our captain, in grace, in experience, in determination, and in sheer, astounding longevity. And like so many others, I have been gutted with the knowledge that he took his own life, likely as a bad reaction to prescription drugs for an unrelated medical condition, according to a family member. This Sunday, the notion of family in its many expansive definitions — the one you're born into, the one you choose, and, often, in the case of work, the one that forms around you without you noticing — was brought into heartbreaking relief at an Upper West Side chapel, as those of us who had stood beside Jeff on red carpets for so many hours, over so many years, gathered with those who'd loved him in youth, in friendship, in marriage, in fatherhood, and tried to say good-bye. 

I can't remember when I met first Jeff — 12 years ago at least, most of my adult working life — but I can almost guarantee it involved an interrogation. He did it to everyone. "So, who are you? And who do you write for?" Jeff had been running the gauntlet on the celebrity-interview circuit ever since he started working for Andy Warhol at Interview in his early 20s, in 1984, ("he kind of invented the form," as Jeff's reporter-friend Bennett Marcus puts it), and he seemed to regard each newcomer as a potential usurper, or at least a potential annoyance, until proven otherwise. He warmed up quick, though, and soon his was the smiling, human face I sought out as refuge from a sometimes glamorous, but often dehumanizing, job. 

Jeff was something of a red-carpet legend, a staple of New York society who was equally welcome on the other side of the velvet rope. A Yale grad, he had an apartment on the Upper East Side and a house in the Hamptons that he shared with his two sons, Finbarr, 19, and Declan, 15, and lovely Irish wife, Fiona. His older brother, whom he talked about all the time, was the renowned artist Hunt Slonem, who spells his last name differently for some reason. On Sunday, his two older sisters, Anne and Amy, told stories of bringing their baby brother home from the hospital, pretending to be lions and elephants for him, and hearing him rave about the woman he'd met on a trip to Greece, who would become his wife. 

Half the time, Jeff was on the other side of the velvet rope. He'd been an usher at Warhol's funeral, thrown a book party for his brother with Sharon Stone. Julianne Moore had been his homecoming date at J.E.B. Stuart High School in Falls Church, Virginia, and she'd beam and grab his hands whenever she saw him on a carpet. It was so touching, having witnessed their interactions as a reporter and subject over the years, to see her there at that church on Sunday, reminiscing with Jeff's other high-school friends. 

Sarah Jessica Parker, Jennifer Lopez, Beyoncé, Brooke Shields, Donna Karan, all the Kardashians, the list of celebs who'd bee-line to him on carpets was endless and included anyone who remembered Jeff as having been there through the entire undulating arc of his or her career, which was everyone. Yet here he was, slogging away, putting the youngsters to shame with his work ethic and stamina, but always willing and ready to be a mentor. It seemed like every red carpet ended with Jeff reciting a list of all the other parties he was going to hit after the one we were at, which was usually two or three more than I was going to, or even knew about. And then, after all that, he'd usually go back to the office and file through the night. To be in his presence was to feel like you weren't working hard enough, or soaking in enough of this magnificent life. Jeff would be shaking his head that it's taken me two months to write this.  

The great mystery, of course, was why in the world he kept doing it, staying at the grind of an industry where the returns, especially for print reporters, were ever-diminishing, and the highs and triumphs of getting a great interview, or meeting someone you'd always wanted to meet, or dancing at an amazing premiere party were so often coupled with the sting of curt publicists or the humiliation of famous people refusing to acknowledge your existence. For the six years that I ran New York Magazine's party-reporting operation, Jeff and I stood next to each other practically every other night, before the pace shredded me and I had to "retire" at the ripe age of 32. But I never saw Jeff anything less than completely delighted after a good night. He was always telling us he only worked this hard because he was paying for two private-school educations. But he loved it, pure and simple. The rush of those highs was bigger and meant more to him than they did to me. Which may mean he felt the lows more acutely, too.

At a screening a few days after Jeff died, the event organizer Andrew Saffir reserved a spot on the carpet as a tribute to him with a sign bearing his name and picture, the hole made manifest. It has been near impossible not to replay every recent interaction and question if one of us, any of us, could have seen it coming. To wonder if, or how, we might have stopped him. Did you notice if he'd been sad? Did you? He'd mentioned feeling the squeeze of ever-constricting media budgets, and was always amusingly fretful about pretty much everything, but he hadn't seemed prone to despair. What if he'd been different in private, or alone? What if some of us could have worked harder to secure him better work? What if we'd reached out more often, made sure he knew how important he was? None of this changes the terrible sadness of him being gone.
My pervasive memory of Jeff is having deep conversations about his kids and our lives in the hour or so of required waiting reporters had to do on red carpets before anyone else showed up. Jeff was always here first, usually in a tailored suit and some signature flair he'd coordinated with the theme of whatever event we were covering; I'd bet money that he wore something purple to opening night of The Color Purple. He set a tone for how we should treat this job, and how we should treat one another. In the days after his death, Facebook was flooded with tributes from other reporters. The ones whom he'd shown the ropes when they were quivering interns. The ones who came to him for dating advice. The one who got stranded in the Hamptons and whom Jeff rescued rescued in his vintage Jeep Grand Wagoneer. The one who got a call from Jeff asking if she was okay when he heard that her publication had cut its freelance budget. The one who's going to law school in part because of Jeff's encouragement. Sometimes I wonder if the reason why celebrities loved talking to Jeff so much, as he peered down his frameless glasses, and pulled out his huge old-school cassette recorder and crumpled computer printout of questions, is because he did for them what he did for us, which was make them feel like they had someone in their corner who genuinely cared.

He was a fascinating guy to be embedded with; he'd majored in political philosophy and economics at Yale and his inherent braininess spilled out even as he asked about beauty routines for his long-running column on the back page of Allure. And then he'd surprise you with hidden talents, like that he'd been a professional piano player, and knew his way around a brass instrument. At one party in the Hamptons in honor of Ne-Yo, Jeff picked up a trumpet that had been laid out on the dinner table as decoration and just started wailing on it. He had skills! I was terrible, but Jeff of course told me I was brimming over with natural talent, and encouraged me to swipe a hunting horn on my way out the door. 

And then there's the moment with Jeff I cherish most: the night after an event when he invited me and nightlife photographer Patrick McMullan (they'd been friends since the Warhol days) over to his apartment to help finish off a birthday cake he'd treated himself to. You could tell that this cake was out of the ordinary for him because of how proud he was for us to taste it — a decadent extravaganza from famed UES bakery Lady M, of layer upon layer of crêpes and pastry cream, topped with caramelized sugar. His boys had gone to bed and we sat around his kitchen table, surrounded by his '80s Pop Art collection, with his wife, Fiona, telling stories while downing champagne and eating that amazing cake. Jeff kept reminding us that we were eating gold because he couldn't believe how much he'd paid for it. 

How sad to think that the last time I saw Jeff, this May on the red carpet of the Met Ball, was truly the last time. He loved the Met's white-tie formality, and usually came in a tux with tails, plus, one year, a top hat and vintage cane. We weren't among the privileged press granted entrance to the gala itself, but Jeff had a trick for getting better access. A nonsmoker, he'd bring a pack of cigarettes so he could fake it and hang out in the smoking section long after the red carpet had shut down — this after six hours on his feet; the Met is the longest night of the year. A couple of times, he roped me into his scheme, too, and we caroused out there for hours and walked away with our best quotes of the night. Everyone wanted to talk to the only people crazy enough to still be there.