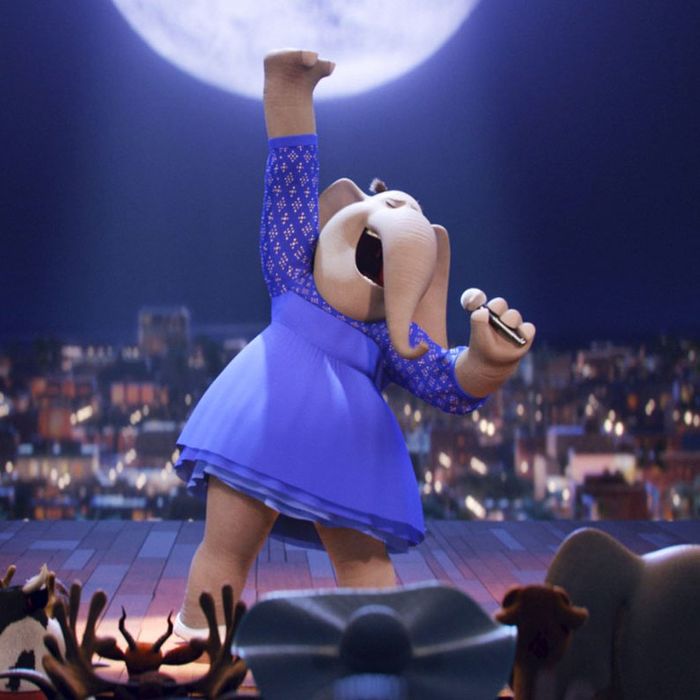 A moment this elephant will never forget.
Photo: Universal Pictures
Sing is an animated film with singing animals that's all about art's sad dependence on the generosity of a fickle overclass. Wait, no. Sing is an animated film with singing animals that's about how community and kindness insulate us from the chill of 21st-century capitalism. Sorry. Here I am writing a review of a kid's movie as if the world was ending. Maybe it's more fair to write something more suited to the world in which Sing was conceived, not the one it's been born into? 
Here it goes. Matthew McConaughey voices Buster Moon, a down-on-his-luck koala bear who has dreamed of a life in the theater ever since he was a mini-koala, starstruck by a regal soprano sheep. He now runs an ailing theater, and his creditors are breathing down his short neck. With the help of his assistants, a daffy elderly iguana with a glass eye, and a rich-kid sheep who lives in his parent's pool house, Moon settles upon hosting a singing competition as his best chance to save the day.
Cue montage of would-be winners and their sweet cartoon-animal dreams. There's a stay-at-home pig (Reese Witherspoon) who belts Katy Perry's "Firework" out the kitchen window and longs for glamorous escape from her loveless marriage and 25 piglets. Kingsman's Taron Egerton voices a Cockney-accented gorilla who wants to prove himself to his bank-robber dad; YouTube star Tori Kelly is an elephant who loves to bake and hungers for an ounce of self-esteem.  Scarlett Johansson is sultry and sulky as a talented indie-rocker porcupine who auditions alongside her untalented, misogynist indie-rocker porcupine boyfriend. Speaking of misogyny, Seth MacFarlane shows up in the form of a Sinatra-crooning mouse, who's only slightly easier to bear than MacFarlane is as a human.
MacFarlane aside, it's hard to close the window on Sing's charming serenade. I cheered for the porcupine as admittedly shallow feminist sensibilities took root in her "work." I was enchanted when, in the grand tradition of Pee-Wee Herman's morning routine, the pig engineered a Rube Goldberg machine to feed her family breakfast and get them out the door. I even fell for the movie's most crowd-pleasing set piece, when this same, formerly matronly pig MILFed out in an empty supermarket with a generic Latin dance routine.
I agreeably tapped my foot along with well-worn pop songs like "Call Me Maybe" and "Shake It Off," and allowed myself to ponder the wonder of humanity as Kelly's elephant covered Leonard Cohen's "Hallelujah," which marks, incidentally, the 12-billionth time this song has been covered. I ceased smiling like a big dummy only during the two points in the film which had been engineered to make me cry, at which point, voilà, tears.
This movie's studio, Illumination, are the folks who brought us Minions and Despicable Me, and the words artsy and edgy aren't exactly high up in their brand vocabulary. Much like Kevin Hart's bunny in Illumination's Secret Life of Pets, Sing's family of elephants veer towards racial caricature. The pig's big dance number comes to the Gypsy Kings' "Bamboleo," a song as familiar and enjoyable as a police siren, which might tell you everything you need to know about the level of innovation on display. Moon even gives a speech about how people like their art palatable and uncomplicated, a moment that's almost self-aware enough to give the movie some depth.    
As the credits rolled on Sing, my less gushing but by no means miserable companion asked, "Is there a reason this story absolutely had to be told with animals?" The reason, I said, is that animals are adorable in a way that people aren't. Still, this is not Zootopia, which had a clear philosophy underlining its anthropomorphism; none of the animal species here seem to have been chosen for any reason.
Oh, well. You're either someone who didn't like American Idol at all or you're someone who loved it and and believe the concept could only be improved upon with the addition of talking cartoon animals. Hallelujah.