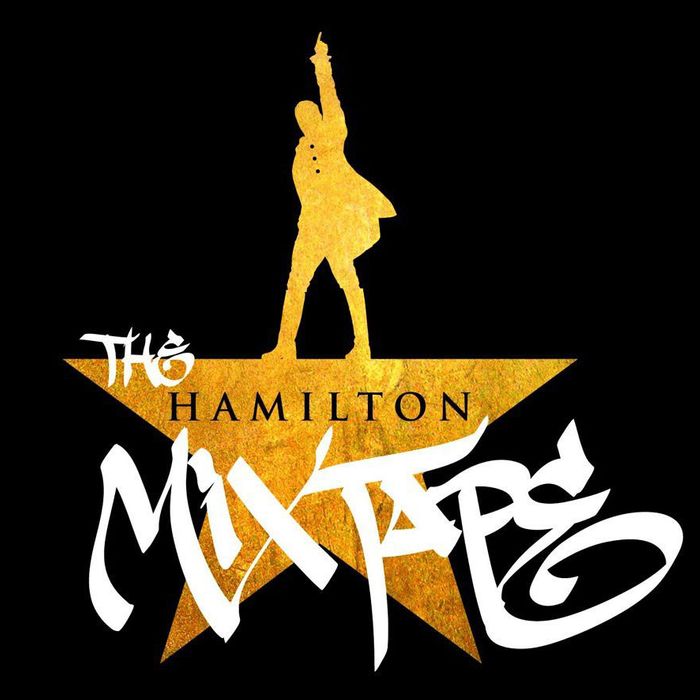 Almost a year and a half after its summer 2015 open in Broadway's Richard Rodgers Theatre, Lin-Manuel Miranda's Hamilton remains a ticket so hot that the next batch of open seats is for a block of shows in November of 2017. For many, to love Hamilton is to admire it from afar. Part of what keeps the fandom excited about the show in the absence of ticket availability is the cast recording and its pitch perfect balance of hip-hop and theater sensibilities; it created a bridge to Broadway for people long since cheesed by musicals and lured theater fans too squeamish for street life dispatches into an appreciation for the sounds and cadences of rap, if nothing else.
The star-studded, just-released Hamilton Mixtape aims to give the cast recording new life for both audiences, and the gesture is both a no-brainer and a rarity: Rap has an odd relationship with covers, which is to say that very few of them exist in comparison to genres like rock and country, where artists salute and interpret each other's work all the time. (Rap's homage is slight and referential, slipping in through sneaky samples and repurposed lines so that authorship and honor always sit on the shoulders of the record's marquee name.) Conversely, Hamilton's hip-hop heart beats so loudly, and its sentimental underbelly churns so powerfully that it made perfect sense for Miranda to call Nas and the Roots and Sia and the like to revisit and reinterpret these songs.
The Hamilton Mixtape touts a cast of collaborators drawn alternately to the Founding Father's rise and fall as a writer and soldier and the musical's sensitivity to the struggles of the network of sisters, wives, daughters, and mistresses moving in and out of Hamilton and Burr's lives. Songs that skew toward the latter category make the excellent argument for the Hamilton soundtrack as unrealized pop gold. Regina Spektor and Ben Folds's duet on "Dear Theodosia" sounds like a bygone chart topper from the post-millennial piano pop era. (Chance the Rapper and Frances and the Lights' stately, electronic end-of-album reprise further proves the source material unimpeachable.) The R&B moments simmer: Alicia Keys's frayed upper register commutes the purity of Eliza's commitment to Alexander in "That Would Be Enough," until Jill Scott's warm eroticism in the Maria Reynolds cooker "Say No to This" leads the man astray, and Andra Day pours out the brokenhearted Eliza's sense of betrayal with "Burn."
The mixtape's rapping guests don't stick to the script, but they do use notable lines to launch into personal reflection. Nas and his Harlem-born signee Dave East trace hip-hop's role in their pathways out of poverty on "Wrote My Way Out," which runs back the "picked up my pen, and I wrote my way out" line from the musical's "Hurricane," before Lin-Manuel Miranda himself joins to recall struggling to keep faith in his craft through times where it didn't seem lucrative or cool. "Immigrants (We Get the Job Done)" uses the titular aside in the cast recording's "Yorktown (The World Turned Upside Down)" as a set piece for pointed political reflection in two languages from Mexican-American rapper Snow tha Product, Residente of the Puerto Rican reggaeton group Calle 13, British Pakistani actor-rapper Riz Ahmed, and Somali-Canadian star K'naan. The breadth of the voices punches through the concept of hip-hop — and Hamilton — as innately New York cultural phenomena and mines the unifying notes of perseverance underfoot.
Hamilton hasn't just touched the hearts of thousands who may never get to see it because it's clever and catchy, though it certainly is. The songs hold up because we see ourselves in them. The loopiness of the premise — American history told through rap and interpretive dance — dissolves on the strength and sincerity it relays. The Hamilton Mixtape isn't the first time a pop-culture phenomenon has sold us a tie-in mixtape — if you dare, check the Game of Thrones ones — but it's different because it feels like hip-hop (and R&B and pop) borne naturally out of the themes of the musical rather than an exercise in cross-pollinating audiences for commerce. Sometimes a love of your craft is your main selling point.