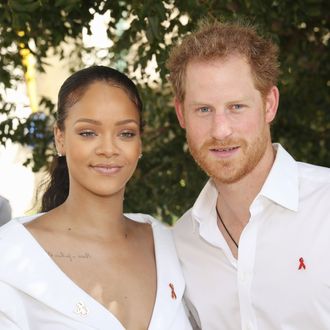 Rihanna and Prince Harry.
Photo: Chris Jackson/Getty Images
Decades from now, when everyone is sitting by the open hearth together at Balmoral, Prince Harry and Robyn "Rihanna" Fenty could be telling their origin story over tea and sticky pudding. It would go something like this: They met in Rih's native Barbados, where the pair "got on famously" while celebrating the island nation's 50th anniversary of independence. They also sat side-by-side while getting tested for HIV to raise awareness about the virus on World AIDS Day, and basically every camera in sight captured the glint in Harry's eyes when he met Rihanna.
Can a camera capture love at first sight? The answer is apparently yes.
The BBC is calling this Harry's "15-day tour of the Carribean," but we're calling it "Harry and and Rih's 15 first dates."
Is this the face of a man willing to risk it all for love? Let your own eyes decide.
We're sure the queen, like every other sensible human with eyes and a beating heart, would adore Rihanna. (The pop star is a known dog lover, much like the U.K.'s ruling matriarch.) So let your mind get lost in the possibilities. Robyn Rihanna Fenty-Windsor. Rihanna Wales. Robyn, Duchess of [insert fiefdom here]. In time, maybe it could just be Queen Rihanna, if you're nasty. Title speculation aside, royal watching would be a lot more fun with them than it is with responsible PTA parents Kate and William, and Prince George and Princess Charlotte are definitely going to have more fun at Aunt Rih and Uncle Harry's island manse than they do at Windsor Castle.
Best of luck to Earth's favorite new (hypothetical) "It" couple!