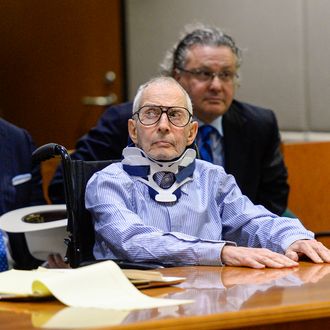 Robert Durst at his arraignment in Los Angeles on November 7.
Photo: Pool/Getty Images
The story of Robert Durst just gets weirder and weirder: Per the Los Angeles Times, the millionaire suspected murderer who was the subject of HBO's acclaimed The Jinx: The Life and Deaths of Robert Durst told police in 2015 that he was high on meth during some interviews for the series. The revelation came to light in court documents released today which detail a long interrogation Durst underwent last year. Durst was captured in March of 2015 holing up under an assumed name in a New Orleans hotel room. It was after his capture that the interrogation took place; Durst allegedly told L.A. police officers sent to question him that he "had to be swooped" and "speeding" during interviews for The Jinx. The series ended with Durst saying, "What the hell did I do? Killed them all, of course," into his mic during a bathroom break.
As Vulture recently reported, Durst was arraigned on November 7 in Los Angeles, at which point he plead not guilty to the murder of Susan Berman. Berman's death and her links to Durst and his missing wife were the subjects of a good portion of The Jinx's episodes. Durst's preliminary hearing is scheduled for February 15.