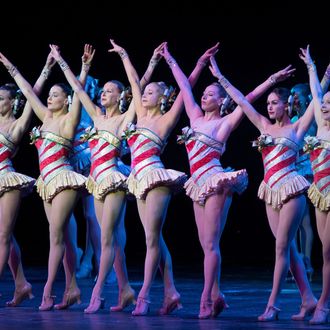 Photo: Mike Pont/Getty Images
When news broke last week that the famed Radio City Rockettes would be performing at Donald Trump's presidential inauguration, the original shock of the announcement was reportedly soon met with anger from many of the dancers. A leaked email obtained by BroadwayWorld from the union that represents the Rockettes outlined that full-time employees would be contractually obligated to perform even if they objected to the occasion. The Madison Square Garden Company soon spoke out about this seemingly forced participation, saying that dancing at the inauguration was completely voluntary and that any individual Rockette could choose not to perform. Still, a few anonymous Rockettes have been slowly speaking out about their disdain for the decision, with one dancer telling Marie Claire that the majority of the dancers immediately said no when presented with the opportunity.
"There is a divide in the company now, which saddens me most," the anonymous Rockette, who used the pseudonym Mary to avoid losing her job, told Marie Claire. "The majority of us said no immediately. Then there's the percentage that said yes, for whatever reason — whether it's because they're young and uninformed, or because they want the money, or because they think it's an opportunity to move up in the company when other people turn it down." Mary also explained that to her knowledge, no women of color have signed up to perform on Inauguration Day. "It's almost worse to have 18 pretty white girls behind this man who supports so many hate groups," she said. "They're going to be branded in history as one of those women. How's it going to look?" In addition to the Rockettes, the only performers currently confirmed for the inauguration are the Mormon Tabernacle Choir and 16-year-old America's Got Talent runner-up Jackie Evancho. The list of performers who have rejected the gig, however, keeps growing longer.