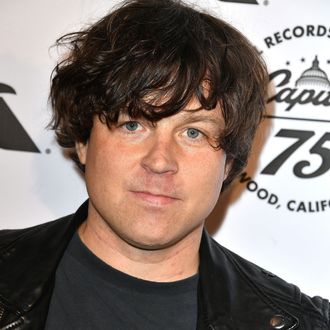 We could only be mad at him for so long.
Photo: Steve Granitz/WireImage/Getty Images
Continuing the time-honored tradition of desperately questioning your love started long ago by the Shirelles, Ryan Adams is here today to grovel at your feet. He's emerged from the ashes of his Taylor Swift covers album (the one he now freely admits he should've kept to himself) with a new, completely original song, "Do You Still Love Me?," all about the completely unoriginal act of begging you to take him back. "I've been thinking about you, baby / Been on my mind," he begins. Sounds promising. But then: "Why can't I feel your love? Heart must be blind / What can I say? I didn't want it to change, but in my mind, it's all so strange." Okay, fine, maybe in his strange mind covering Taylor Swift to such an extreme did sound like a good idea. Perhaps we can all learn to love Ryan again if we just revel in the fact that this rollicking new song is a return to form and move forward — specifically to February 17, when he'll drop his 15th album, Prisoner. Better days are ahead, people.