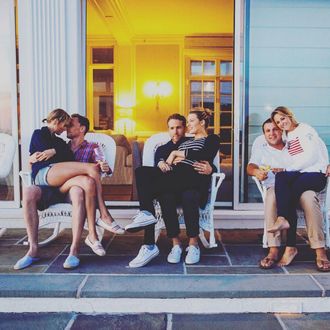 Photo: Courtesy of Instagram/britmaack
Taylor Swift's annual Fourth of July party was special for a few reasons this year. For one, Swift gave it an official name: "Taymerica." For two, she brought her then-boyfriend Tom Hiddleston, who wore an "I Heart T.S." tank throughout the festivities. And for three, she invited Blake Lively, who invited her husband, Ryan Reynolds, who looked like this during the exciting event:
Reynolds was happy to be there, for sure. In case you had any doubt about that, Entertainment Weekly asked Reynolds about his expression in the photo above for its Best of 2016 issue. He told the magazine that he simply has resting sad face. "If I'm not aware a photo is being taken, my natural resting face is one of a man dying," he said. "I had no idea somebody was taking a photo. Therefore I was resting comfortably in my persona of a man whose soul is visibly exiting this earth." I believe Reynolds about his face, but I do not believe that this photo was candid.