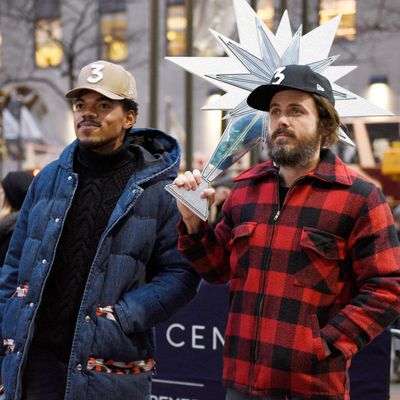 Chance the Rapper, Casey Affleck.
Photo: Rosalind O'Connor/NBC
As Manchester by the Sea garners more and more Oscar buzz — and as Hollywood continues to skirt discussion of the sexual-harassment suits Casey Affleck settled out of court in 2010 — Affleck has arrived to host the last Saturday Night Live of the year. Despite reservations viewers may have about Affleck himself, the Ocean's Eleven actor has shown a clear capability for understated-yet-playful performances. He's mostly known for his brooding, haunted characters, so he'll likely have the wherewithal and willingness to play with that type, too.
Donald Trump Christmas Cold Open
Surely the real Donald Trump had to be restrained from tweeting about this sketch last night, as it features the president-elect (Alec Baldwin) fielding visits from cabinet pick Rex Tillerson (John Goodman) and Vladimir Putin (Beck Bennett). As Tillerson and Putin catch up and plan their oil futures together, Trump chatters about his meeting with Kanye and why destroying Vanity Fair is such a big priority. Throw Kellyanne Conway (Kate McKinnon) in there, and it's yet another savvy package that depicts an oafish, petty, and generally disconnected Trump.
Casey Affleck Christmas Monologue
This pre-show chat finds Affleck wondering why he's hosting the Christmas show, refusing to sing, talking about the "incredibly depressing" Manchester, and eventually taking hosting advice from Baldwin, Goodman, and "Black Santa" (Kenan Thompson). Despite the presence of some SNL pros, it's pretty dull stuff. A monologue will never make or break an episode, but if you know who Casey Affleck is, it's not worth watching this hodgepodge of ideas without a through line.
Dunkin' Donuts Commercial
What begins as a standard testimonial for Dunkin' Donuts gets taken over by one Boston dude (Affleck) with a thick accent and an attitude problem. He defies the simple requests of shop employees, gets into a wrestling match with his pal on camera, and eventually hurls a cup of coffee at another dude's windshield while crying out, "Go back to Starbucks!" All of the bad behavior makes for a fun minute-and-a-half. Also, because of SNL's new branded content, it's a commercial parody and a commercial all at once. Thanks, the future of media!
Robot Presentation
Speaking of branded content, SNL might as well dump it all at the top of the night while everyone is still watching, right? In a sketch weirdly similar to another sponsored sketch from a few weeks ago, Microsoft employees (McKinnon and an underutilized Fred Armisen) unveil a smart robot (Beck Bennett) that happens to find men's bodies sexy and wants to talk about its sexual interests all the time. A potential investor (Affleck) has lots of questions about these robots, but can't quite open his mouth without coming across as a little homophobic. There's not a lot to recommend in this one.
Jingle Barack
This homage to "Christmas in Hollis" casts Run DMC stand-ins (Thompson and musical guest Chance the Rapper) to celebrate the last Christmas with Barack Obama as president, while expressing concerns about Christmases to come. The dancing, rhymes, and costumes are delightful, even if there aren't a lot of great, hard jokes in the piece. Plus, the real DMC shows up with a plea never to trust a white dude in a red hat — that is, Santa wearing a "Make America Great Again" ball cap. The highlight: Leslie Jones flying in on a sleigh to confess that Joe Biden makes her knees get weak.
Christmas Miracle
In this recurring sketch, a pair of country folk (Cecily Strong and, this time, Affleck) recount an amazing journey through the realm of the supernatural while poor Mrs. Rafferty (McKinnon) reports of the odd beating she took instead. This time, rather than an alien abduction or near-death experience, it's Santa-related. While the couple had a magical time with St. Nick at the North Pole, Mrs. Rafferty had a much-less-glamorous interaction with some of Santa's other helpers — a nine-foot tall goat man called Crinklemouse and a lesser elf named Shart who smelled like hard-boiled eggs. Although the once-startling surprises of McKinnon holding forth about her "cooter and tooter" feel expected now, the sketch is still really fun.
Weekend Update
"Well, Donald Trump is about a month away from his inauguration, and people are starting to notice some red flags," says Michael Che, before the Soviet hammer and sickle pops up over his shoulder. That's how Update begins, and from there, the hosts keep hitting on the story of Russian hacking. As Che explains, denying Trump the presidency now would be "like giving a monkey a machine gun and then trying to wrestle it back from him. At this point, all we can do is just pray he can't figure out how it works, gets bored, and just puts it down and walks away." Gags about Kanye's meeting with Trump land well, too.
Vanessa Bayer and Fred Armisen come on as "Putin's best friends." While wearing big fur hats, they praise Putin until their doubts creep in, then they start whispering about little hypocrisies, like when his party invite said "no gifts" and he still shamed them for not bringing something. It's true, people do drop into the sotto voce when talking trash, but applying this conceit to friendship with Putin isn't the best fit. Rather than having another guest on, the Update hosts read some jokes that got cut earlier this year. Though jabs at Chipotle and Lyft are silly and a little gross, they're still worth it. Despite the lackluster character bit, it's a smart year-end finish for Update.
New York Now
On paper, this sketch seems like a good idea: Somewhere in Queens, a group of would-be thespians put on a nontraditional, wacky Christmas pageant that's more comedy props and slapstick than scripture. After reporters give us a taste of the show — e.g. Mary opening a can of peanut brittle and finding spring snakes instead — they interview the performers involved. Watching people perform badly for the length of a sketch is one thing; Watching them talk about their bad performance is another entirely. None of the goofy bits are compelling, and the underlying notion about the performers being bad parents just doesn't come through.
Hillary Actually
This elegant sketch, which parodies the cue-card scene from Love Actually, delivers a firm message in a gentle way. Hillary Clinton (McKinnon) shows up at the door of a female member of the Electoral College (Strong). While the elector's husband believes his wife is listening to carolers, Hillary quietly delivers a message on cue cards about why the elector should vote for anyone other than Donald Trump. "It doesn't even have to be me," the cards read. "It could be … The Rock. A Rock." The plea is charmingly delivered, and it even includes a $1,000 check to cover the fine that the elector would face if she failed to vote for Trump. The last message might be its clearest: "Keep in mind, if Donald Trump becomes president, he'll kill us all."
Mrs. Claus & the Elves
In another recurring sketch, three naughty elves (Thompson, Bayer, and Affleck) don't follow through on their kitchen duties and hope to be physically disciplined by Mrs. Claus (Aidy Bryant). It's the same formula as past incarnations, but to up the dirty factor, the elves talk about tossing Mrs. Claus's salad and anticipate getting peed on by laying down some towels. There is one great provocation — "Why don't you funnel that anger right into our butts?" — but there's not a lot of new inspiration here. For his part, Affleck doesn't seem to have as much fun with the material as Ryan Gosling did when he played the third elf last year.
Christmas Bar
The entirety of this sketch is built on one phrase: "I can't believe I'm saying this, but … " It begins simply, with one Brooklyn dude Tony (Mooney) who finds it hard to believe he's asking Jessica (Bayer) for a date. From there, a rival challenges Tony for Jessica's hand, the men fight, a bouncer restrains one of them, a medic arrives, and the dying rival gets invited to heaven by God — all the while, characters can't believe they're doing and saying things. I've spoiled it for you here because there's really no reason to watch it. The false modesty implied by this bit of empty verbiage is certainly dumb, but it doesn't earn all the attention it gets here.
Casey Affleck's first hosting gig won't go down in SNL history, but he shows decent competence throughout his sketches. The writers clearly think of him the same way they think about Ryan Gosling, but Affleck just isn't as giddy of a performer. Perhaps if he brought the zeal he showed in the Dunkin' commercial to all of the live sketches, it would've been a stronger night. The episode is something of a mixed bag, but the strong open, Update, and other holiday-related material make it a winning finish to 2016.