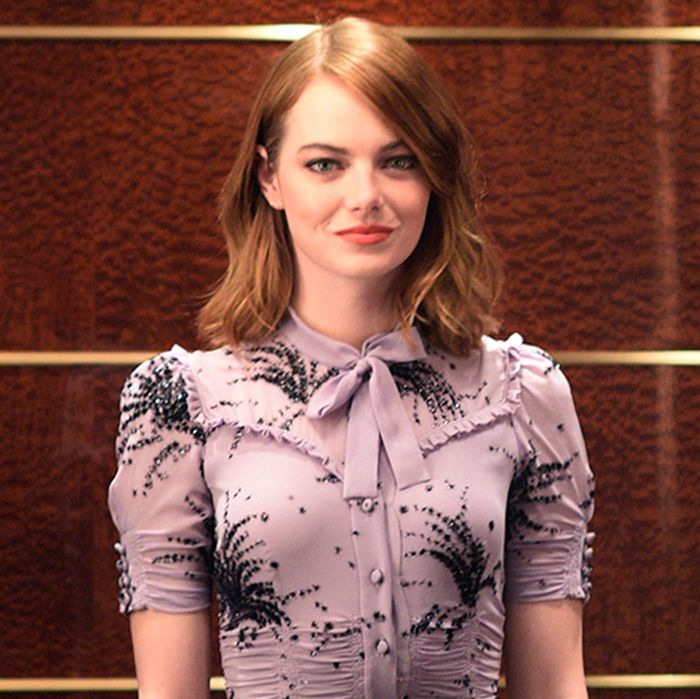 Emma Stone.
Photo: Rosalind O'Connor/NBC
No one movie has utilized the full range of Emma Stone's comedic talents, so it's nice that Saturday Night Live provides so many opportunities for her to play broad. During her two prior SNL hosting gigs in 2010 and 2011, Stone played everyone from Lindsay Lohan to a clueless bridal-party attendee who brought cocaine, anal lube, and a "human toilet" to the party. She even showed up on the SNL 40th anniversary as Gilda Radner staple Roseanne Roseannadanna. In the run-up to her third outing, there was no doubt that Stone would hold her own yet again.
Classroom Cold Open
This week, SNL writers match Alec Baldwin's blowhard Trump character with the underlying dread many people have expressed about the possibilities of a Donald Trump presidency. As aides try (and fail) to explain the intricacies of Syria, Iran, and North Korea, Trump gleefully retweets high-school kids and dudes with skulls for avatars. The president-elect just can't focus: He talks about "building the swamp" — his brain just can't contain two ideas at the same time — and taking a photo in which Mitt Romney looks like "a little bitch." (One of the aides startles when hearing Trump's inauguration is seven weeks away. "I just hadn't heard it put in weeks before," he says.) Eventually, Steve Bannon walks in. His ghastly appearance is a great reveal that plays both on the sinister aspects of his character and the country's fears about his role in the White House.
Emma Stone Monologue
Stone's chummy walk-and-talk through the studio lets her reminisce about her SNL memories. She last hosted five years ago and she didn't go to high school, so Studio 8H provided all of the "cliques, parties and awkward hookups" for her. Much like actual high-school reunions, everyone seems a little worn, broken, or desperate: Vanessa Bayer resents Stone's successes and Bobby Moynihan lives in the glory days while Simple Minds' "Don't You Forget About Me" plays. It's cute, but there's no real time to dig in and really capitalize on the promising premise.
High-School Theater Show
This sketch marks the return of the theater students who are incredibly proud of their self-righteous and ham-fisted sketches about big issues. Prancing about in all-black outfits, the teens take big, misguided swipes at race, politics, sex, and American culture. (An anonymous sick person is so proud of having AIDS, for instance, she wishes it on everyone.) The best bit involves a portrayal of a bleak American future ("Mommy, do we have to?" "Yes, honey, that's the rules of the Holocaust"), which someone in the peanut gallery recognizes as a good point. "They can never know you said that," says another parent. Though the idea of a bad show with bad players wears thin, the players are having a lot of fun and there are some lovely, silly moments.
The Christmas Candle
In this song, three '80s ladies (played by Stone, Aidy Bryant, and Kate McKinnon) twirl in the show and reveal that there's a "more powerful Christmas savior" than Jesus. It is … a $9 peach-scented candle that's been gathering dust in a closet, a last-minute girl for any co-worker, distant relative, or acquaintance deemed unimportant enough to remember. This candle is the "one true candle" that "we all get and then give away." The ladies argue that no one should overthink it, or try to make it look like a better gift by pairing it with some lotion, because it is eventually handed to "every single woman and most gays." The song elevates to a wonderfully schmaltziness, giving the last-minute present a celebration it deserves.
Posters
A frustrated high-schooler (Pete Davidson) falls asleep in his room and dreams that the heroes on his posters come to life to teach him an algebra lesson. A snowboarder, a video-game assassin, a stand-up comic, and a sexy model posing with a hot dog want him to see the value of math in his everyday life — well, not all of them. The model (Stone) just wants him to think about how many big, gross hot dogs she can eat, and whether the mustard will splatter on her shirt. It's a charming play on the teen movies that feature this sort of miracle, and Stone kills as the vapid, horny temptress who's hated by the other would-be motivational speakers.
The Hunt for Hill
In this parody, Bigfoot hunters Rafe Degraw and Coop Dixon (Beck Bennett and Kyle Mooney) head to Westchester County to hunt the most elusive prey of all: Hillary Clinton. After consulting an eyewitness who recently saw the vanquished presidential candidate ("It seemed like it kind of wanted some time to itself … so I immediately started running after it"), the hunters head into the woods and try to draw her out by echoing her rhythmic laugh and leaving an article about the Wisconsin recount in a conspicuous place. It's an inspired bit, especially since people keep running into the real-life Hillary in the woods.
Weekend Update 
For some reason, the in-studio audience feels sensitive during this week's Update, groaning almost as often as they laugh. They get quiet as Michael Che posits that Trump took a call from Taiwan because he doesn't know the difference between Taiwan and China: "He probably just thinks one makes his hats and the other makes his ties." Ditto when Colin Jost enumerates all of the places Trump will tour to thank the people who helped him get elected: "Ohio, Pennsylvania, Russia, the F.B.I., WikiLeaks, and Hillary's campaign headquarters." Hillary's loss is devastating, but that's a great joke. After that, Leslie Jones wheels out to talk about why women's sexual satisfaction is questionable in long-term relationships. Though the whole bit is essentially just a dick joke, Jones sells it with her emphatic delivery and infectious enthusiasm.
In the second half, the audience still can't quite get onboard with the more daring material, though they're fine with jokes about Nickelback. (To their credit, it's a pretty dark joke about Nickelback.) Che has a really nice run about why the federal government banned smoking in housing projects before Vanessa Bayer comes on as Rachel from Friends. Bayer has always had a sure handle on this character — in particular, the peppy cadences and empty platitudes — but she finds something new to grapple with when Jennifer Aniston shows up. The two actors have a playful exchange that further highlights the elements of the impression that Bayer gets really right.
Cleaning Crew
Before the company's big Christmas break, the cleaning crew (Jones, Stone, and Cecily Strong) ask if they can perform a seasonal show for the staff. Through vaguely Eastern European accents, the trio sing songs about a super-horny Santa who can't keep his pants on long enough to deliver presents — he even sleazily tells the elves they can get a turn with his woman. Equal parts gross and boisterous, this sketch is a winner. While the trio gaily sings about chimneys going one way, the trapped audience members, including an ultra-supportive office maven (Bayer) and a disgruntled ex-wife (Melissa Villaseñor, with only one line), are incredibly well-drawn.
Film Screening
Another in the growing catalog of sketches labelled "Wind Kate McKinnon Up and Watch Her Go," this panel brings modern-day actresses together to talk with old-world Hollywood film star Debette Goldry (McKinnon). Telling anecdotes about eating arsenic to make her skin pale and tickling FDR's pickle, Goldry makes it clear how far the entertainment industry has come — in ways that make actresses today look both privileged and entirely wimpy by comparison. While Goldry talks about which part of her body is her toot, pretty much all of the other performers take turns hiding their faces. McKinnon breaks them all.
The Nativity
If Jesus were really born in a manger, Mary just might have felt what she does in this retelling of the Nativity story: puffy, gross, and not ready to receive any guests. Unfortunately, Joseph (Mooney) lets all the worshippers and wise men and llamas inside to get a peek; almost all of them remark on how tired Mary looks. The feminist slant on the scene is a nice one, and if Joseph were more of a douche or the visitors were a bit more oblivious to Mary's suffering, it would've aligned better. It's always tricky to do apocryphal Christian material, but as it is, the sketch doesn't quite pay off.
Every SNL is bound to have its slow moments, but all in all, this episode is pretty consistent. Stone delivers as a host, once again. Her delivery and ability to inhabit characters are proven quantities, and she really fleshes out each moment that's offered this time around. The sketches themselves take on a broad range of subject matter — and not one game-show parody in sight! See you in the Five Timers' Club, Emma.