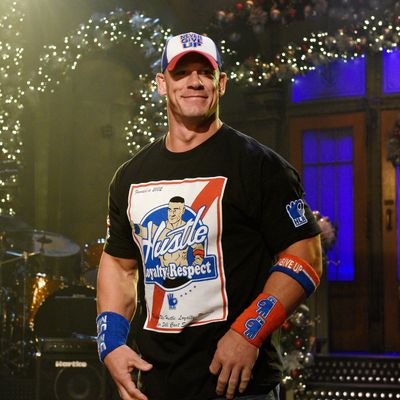 John Cena.
Photo: Rosalind O'Connor/NBC
John Cena has never hosted Saturday Night Live before, but he is no slouch when it comes to being silly. Even among the big personalities of WWE, Cena exhibits a flair for theatrical gimmicks, such as rapping in a Vanilla Ice costume and dubbing himself the "Doctor of Thuganomics." In recent years, he appeared as Amy Schumer's sexually confused boyfriend in Trainwreck, offered Tina Fey and Amy Poehler every drug imaginable (including Flintstones Gummies) in Sisters, and went big as Hulk Hogan on the NBC variety show Maya & Marty. Whether he'll take to Hollywood like the artist formerly known as the Rock, it's hard to say, but how Cena performs on SNL might win some nonbelievers to his side.
The Lead With Jake Tapper Cold Open
This week's opening sketch takes on the latest big news from the Trump transition team: a variety of cabinet appointments that seem to go against the nature of the agencies in question. As Jake Tapper (Beck Bennett) tries to make sense of a potential EPA director who doesn't believe in climate change and a labor secretary who is opposed to raising the minimum wage, Kellyanne Conway (Kate McKinnon) welcomes Trump's pick for head of the DEA, Breaking Bad's Walter White (Bryan Cranston). Beyond the initial joke and surprise appearance from Cranston, it's basically a chance to let Cranston joke about cooking meth. It's not particularly incisive, but on the plus side, it's not belabored.
John Cena Monologue
The monologue immediately addresses the elephant in the room — Cena's most recognizable credit is the WWE — and toys with it in a really delightful way. Bobby Moynihan refuses to play nice in a sketch and instead challenges Cena as the Waddler, a Roddy Piper–looking character whose signature trait is his odd style of comportment. Cena is subsequently called out by Leslie Jones ("What's your wrestling character supposed to be?" "Wrestling character? I'm Leslie Jones, bitch!") and Kenan Thompson, who smashes a chair on Cena's back. Everyone has fun chewing the scenery, and Moynihan's awkward wriggling makes it particularly worth watching.
Dating Show
On Hook a Hunk, one of MTV's typical innuendo-laden dating games, Michelle (Cecily Strong) fails to notice her three suitors because she only has eyes for the Hunk host (Cena). While the male contestants fail to woo their object of desire with awful puns, Michelle and the host move fast: They're suddenly talking about his younger brother's death and feeling like "the only two people alive." The other guys feel left out, and then things get interesting. The writing of this sketch feels stilted, but the awkward (b)romantic exchanges between old pals Beck Bennett and Kyle Mooney make for a fine finish.
The Karate Teen
This filmed spoof on The Karate Kid features Mikey Day as a Daniel LaRusso–type underdog and Cena as the blonde bully during their pivotal fight (which, in the movie, features that dramatic crane kick). This time, the kid's coach (Kenan Thompson) encourages him to "listen to the wind," an idea that provides less-than-favorable results. Although there's a fun sight gag that involves a man being ejected from a pair of martial-arts pants, the twist on the original scene is too limited and the repetitions of the joke don't justify the lead time.
Science Presentation
At the University of Alabama, a lunkheaded football player (Cena) swears he will only play in the bowl game if he scores an A+ on his science project — but the sports-obsessed professors who adjudicate the presentations, one of whom is wearing red-and-white face paint, aren't sweating it. While other students (Mikey Day and Cecily Strong) build particle accelerators and talk about condensation in cloud chambers, Cena's jock nails bananas to a board and reports that they are "a yellow snack that monkeys eat." The sketch is certainly reflective of the atmosphere on some campuses, and surely hits home with some college kids, but the dumb athlete jokes wear thin pretty quickly.
Dyke & Fats Save Christmas
In this promo, once again filmed like a '70s TV series, officers Les Dykawitz (Kate McKinnon) and Chubbina Fatzarelli (Aidy Bryant) foil a variety of holiday-themed plots before reporting back to the chief (Cena). Though he avoids the trap of calling them Dyke and Fats — only they are allowed to do it, naturally — he does call them "broads" and feathers fly. While the sketch doesn't go any further than it did the first time, the premise of this buddy cop show and the ridiculous gags are winning enough to enjoy.
Weekend Update
The first half of Update finds Michael Che and Colin Jost pondering Trump's lurch toward the White House. Che's take on the fact that Trump is skipping intelligence briefings: He wants the "petty" and "vindictive" Trump to know as little as possible, and hopes they send him to briefings with an iPad and headphones so he can watch Frozen. The best burn belongs to Jost, who says it's weird that Trump tweeted about cancelling his order with Boeing for a new Air Force One because he "usually waits until after the work is done before he refuses to pay." Kate McKinnon emerges as depressed German chancellor Angela Merkel, who is disappointed about Trump's rise. The character is not even in McKinnon's top five, but there are nice moments, such as when Merkel defines "alt-right" for Germans: "Why grandpapa lives in Argentina now."
In the second half, Che and Jost consider what it means to hire a black mall Santa Claus and take a jab at Hillary Clinton. The latter is not interesting for the joke itself, but for the studio audience's reaction, which behaves as though it saw a puppy kicked live onstage. (Yeah, the comparison to embattled South Korean prime minister wasn't exactly sweet-natured, but still, it's more proof that comedy audiences have been pretty sensitive since the election.) To end the segment, Cecily Strong comes on as the mush-mouthed Cathy Anne, who ostensibly is there to address the mess of Pizzagate. Although it's not the character's best run, she, too, gets points for mocking the label "alt-right" as nothing more than a synonym for Nazi. "Just say what you are," she cries, "You're not McCafé, you're McDonald's. And I'm not here for a fancy clapaccino [sic], I'm here because I burned some bridges at Wendy's."
Where'd Your Money Go?
This game show finds host Charles Barkley (Kenan Thompson) trying to curb the spending habits of sports stars who have a difficult time holding onto their cash. The game is pretty convoluted, but it boils down to the athletes talking about why they trust call girls and what they'd do if they bought a cheetah. The premise isn't bad, but the stilted format and a lack of great jokes just keeps it from taking off. One bright light is Cena's boisterous, dopey Rob Gronkowski.
Joanne & the Tree
Joanne from Accounting (Bryant) volunteers to put the star on top of the office Christmas tree, but loses her balance, falls from the window. and finds herself clinging to the ledge with one hand and holding onto the tree with the other. Of course, Joanne's co-workers are much more interested in saving their lovely tree than her life. This one lives or dies by your tolerance for insensitive tools repeatedly hurting pleasant people who mean well; my threshold isn't particularly high, especially when the sweet-faced Bryant is involved.
Through Donald's Eyes
In this pre-taped sketch filmed from Trump's perspective, it's clear the president-elect sees everything in black and white. Cable news only reports about landslides and victories until a beauty queen insults him on camera — then he sees red and has to tweet about it. Anything that involves other people is just too much for Trump to process. It took smarts to assemble this world and by all rights, the sketch has great potential — unfortunately, it feels more like an uncomfortable form of voyeurism that isn't far from the truth.
Romance Bookstore
In the Scorched Corset bookshop, those who seek a little literary titillation will also receive a show of sorts. Carol (Bryant) can't just fetch books from the shelves, she has to run into the stacks with her Fabio-like partner, Jean-George (Cena), and fantasize about being on the cover of romance novels. The fantasies get more and more out there ("I'm a horny, wealthy ghost with full-throttle knockers!") and the shop's owner (Thompson) gets more and more fed up. There are some wonderfully ravishing turns of phrase here, and Bryant and Cena go all out as unseen fans makes their hair look oh-so windswept.
Talent Competition
During this TV talent show, the blonde, black-clad Klovak brothers (Cena and Day) prepare to perform their signature animal act. The only problem? Their owl, Majestic, flew into a stone wall six months ago and is still recovering. As a result, it can't perform any of the wild feats the brothers describe; instead it just shits and vomits everywhere. Yep, it's a gross-out joke — perfect for the five-to-one slot, but the outrageousness of the owl barf doesn't make up for the sense that the sketch is underwritten. Points for the visibly brain-damaged owl puppet, though.
Unless he stayed awake through Weekend Update, chances are Trump won't have much SNL fodder for his Twitter account this weekend. (Without the ego fuel of Alec Baldwin's impression, surely Trump would find no reason to keep watching.) Though there isn't one painful sketch in the show, the writing isn't as strong as it has been in past weeks. Still, John Cena had a great showing: He's affable, charming, a natural live performer, and funny to boot. The sketches may not have soared, but Cena did.