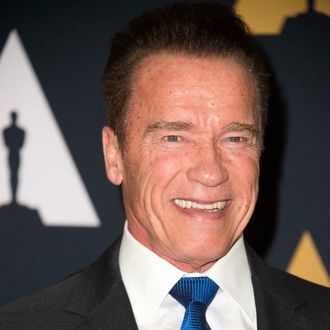 Arnold Schwarzenegger.
Photo: VALERIE MACON/AFP/Getty Images
Hot on the heels of yesterday's news that Donald Trump will in fact retain an executive-producer credit (and collect a five-figure fee) on NBC's forthcoming The New Celebrity Apprentice, the series' host Arnold Schwarzenegger today shrugged off any notion that this situation is at all awkward or, you know, unprecedented. Speaking at a Q&A session about the forthcoming series, Schwarzenegger compared Trump's credit and fee to his own EP credit on Terminator and receipt of royalties while he was the governor of California. "My credit on Terminator said 'Arnold Schwarzenegger' when I was governor. I made royalties. That didn't change," he said. The Terminator himself did not, however, acknowledge that being president of the United States is not the same as being governor, nor did he acknowledge the uniqueness of the situation as a whole. As The Hollywood Reporter notes, no sitting president has ever had an executive-producer credit on a television series or movie while in office.
Interestingly, Apprentice franchise producer Mark Burnett was not present at this Q&A in spite of the fact that his name is the third set to appear under the EP banner (next to Trump's and Schwarzenegger's) when the new series debuts next month. Schwarzenegger, by contrast, is alighting on a press tour leading up to the debut, so we should hear a lot more from the new The New Celebrity Apprentice host, a staunch Republican with his own "Trump-like" past, who supposedly didn't vote for his fellow executive producer.